Review best saya (Japanese wood knife sheath) & why you need one
I love creating free content full of tips for my readers, you. I don't accept paid sponsorships, my opinion is my own, but if you find my recommendations helpful and you end up buying something you like through one of my links, I could earn a commission at no extra cost to you.
Learn more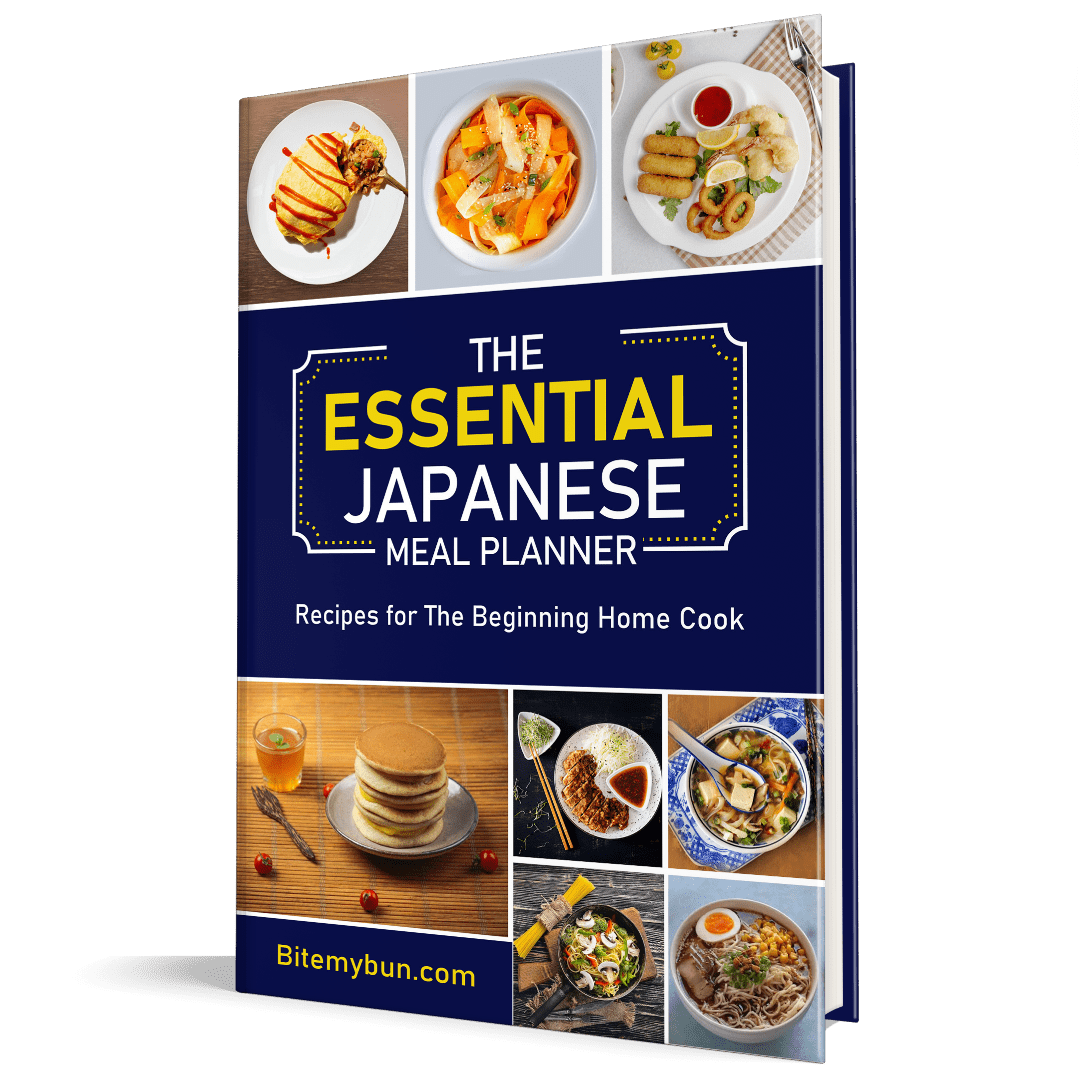 Check out our new cookbook
Bitemybun's family recipes with complete meal planner and recipe guide.
Try it out for free with Kindle Unlimited:
Read for free
When you hear the word saya you think of a Japanese sword, right?
Well, the saya traditionally refers to a katana sword sheath or scabbard. It's different from the knife sheath saya which has a more basic and practical design.
If you already spent the money on a quality Japanese kitchen knife, it's important to store it properly to prevent any damage to the blade.
That's why you need a wooden knife sheath.
Traditional brands like Yoshihiro, Shun, Sakai, Mercer are all good options for wooden sheaths. They are specifically designed according to the blade shape and length, depending on what type of knife you need to cover.
When shopping for a good knife cover, you'll soon realize that wooden sayas are the best ones on the market. There are several top brands to look for.
I'm sharing what you need to know before choosing a saya sheath and then the best wooden cover options for your Japanese knives.
Take a look at the table first then read the full reviews below.
Also check out my review of the best Japanese knife storage solutions for additional protection
10 Tips to Save a Bundle on Asian Ingredients!
Introducing our brand new FREE PDF guide: "Saving Secrets: Unveiling the Art of Saving Money on Asian Ingredients" It's your first newsletter email, so start saving today! 📚🧧
We'll only use your email address for our newsletter and respect your privacy
Buying guide: find the right saya for your knife
When it comes to saya sheaths, there's no one size fits all because their fit depends on how long and thick the blade is, plus the shape.
There are traditional knives like the chef's knife but then also cleaver knives like the nakiri which have a wide square-shaped blade.
There's a wood sheath for every type of blade.
Sheath size
First, you need to consider the size of the sheath. It must fit pretty tight on the blade so it doesn't slip off randomly when you maneuver the knife.
So, the sheath must be proportional to the knife's blade size.
If, for example, you have an 8″ gyuto knife, you need a wooden sheath made specifically for an 8″ knife.
A bigger sheath is no good or it can slide off and cause injury. Also, this can be pointless because you want to cover the blade for protection anyway.
In some cases, the sheath is designed for 7-8″ knives and if that's the case, it means both a 7″ and an 8″ blade can fit inside the saya.
When buying a sheath take the measurements of your knife blade: measure the length, thickness, and width.
A tight saya can do more damage than a looser fitting sheath. A loose saya can be remedied with some DIY but the tight saya can actually ruin the blade's edge!
When your Japanese knife needs sharpening make sure to have this special stone handy
Material
The traditional Japanese knife sheath is made of magnolia wood, also called ho-no-ki.
Magnolia wood is the perfect material for a knife sheath because it is moisture-resistant so it doesn't allow the water droplets to damage or corrode the knife's blade.
Also, magnolia is softwood and doesn't have resin which can negatively interact with metals. Resins are not very safe for human health and you should avoid them touching cookware and cutlery.
Beechwood is a popular sheath wood as well and it's very strong and resistant but it can be pricier than magnolia. Shun sheaths are usually made of yellow-tinged beech wood.
Some cheaper brands make ash wood sheaths and those are good too because ash is durable and you can stain it too.
Safety pin
A wood sheath comes with safety pins that make sure the sheath stays secure.
The pin, although small, is an essential component of the saya because, without it, the sheath doesn't stay on perfectly.
But, these pins are easily lost so you should look for brands (i.e Yoshihiro) that also offer replacement safety pins for your sheath.
These pins are usually fit a bunch of sheath sizes but look at the exact size first.
Best Japanese wood knife sheaths reviewed
Fitting a saya to a knife is a lot more challenging than you'd think. There's a reason why people always ask a question about how to make sure the knife guard fits the knife blade.
The trick is that you need to take the measurements and check the width of your blade before you begin to shop.
If you walk into a knife shop they can help you but when shopping online through Amazon, I recommend checking reviews because people will complain about ill-fitting sayas there.
Verified reviews are the help you need in your search for a good saya.
I've also included helpful information on whether a certain sheaths brand is compatible with another brand or not based on customer reviews.
Best saya for gyuto knife: Yoshihiro Natural Magnolia Wood Cover
Size: 1.85″W x 0.09″H (47mm x 2.5mm), available for GYUTO 210mm (8.25″)
Material: Magnolia wood
Safety pin: plastic
Since the gyuto is Japan's version of the Western chef's knife, most people own this type of knife already so you likely need a well-fitting wooden saya.
If you're after a good wooden sheath for your chef knife, you'll find the Yoshihiro product is a great value.
The Yoshihiro knife sheath is designed for Yoshihiro brand knives only but people are having a lot of luck adapting it for other brands and knife types too, so it's at the top of my list.
It's not marketed as a universal sheath but it's perfectly suited for the Yoshihiro gyuto knife and others!
Even if you have a knife with a 165-millimeter blade like the Kato Yoshimi, you can still use this larger sheath, but you will have a lot of extra room at the tip.
Some people are using this sheet for the Tojiro 240 millimeter gyuto knife and it fits pretty well.
For a knife like Ashi Ginga, there's a lot of play and the sheath moves around. What you can do is drill a second saya pinhole to make it fit better.
If you're a stickler for a perfect fit this might annoy you but generally, most users don't mind a bit of wiggle room.
That's because it's very hard to find authentic Magnolia wood sheaths for all the types of Japanese knives especially here in the States and Canada.
There are two versions of this knife sheath the first is an original Magnolia wood with a natural matte finish.
The second option is a lacquered finish but this is harder to maintain over time. However, all you have to do is apply a coat of linseed oil from time to time to keep it looking nice.
Overall, the original sheath is better than the lacquered version because the bolt fits better. Some customers complain that the lacquered one doesn't fit some of the knives.
But what people are loving about this Saya is that it's well priced so you're getting the original Yoshihiro quality for only slightly more than a plastic sheath.
Plastic is incomparable to wood when it comes to Japanese blade protection.
A very notable feature of this wooden sheath is that the safety pin is made of plastic.
For some professional chefs, this takes away from the overall quality because it looks and feels a bit cheap and unexpected from Yoshihiro.
When it comes to practicality and usability though, it's not a big issue.
While it would seem that a plastic pin is not as durable, it's a perfect fit for this sheath.
In fact, the small pin it's very high quality and doesn't expand from humidity so it always fits perfectly and protects your blade.
The knife sheath is very versatile and adaptable and is so lightweight so you can carry it safely from home to work.
If you've never used a sheath before this product is a great choice because it's long-lasting.
Did you know Japanese knives can be made of white or blue steel? Here's the difference between aogami and shirogami explained
Best saya for santoku knife: Shun Sheath Universal Fit
Size: for 7-8″ chef's knife & santoku (8 inches long, 1.5 inches tall, 2 mm wide)
Material: beech wood
Safety pin: traditional locking pin with red thread
The Shun sheath is one of the most versatile knife covers. It's designed to fit most of Shun's 7 and 8-inch knives, more specifically the santoku knife and the chef's knife.
But once you check the compatibility table you'll soon realize it can fit many types of kitchen knives.
The reason is that it's designed to have a looser fit and therefore this saya is not as snug as other Japanese wooden sheaths.
It fits Shun brand chef's knives, santoku knives, Asian Cook's knives but it's also marketed as "universal" so you can probably get it to fit on your other knives too. This makes it extremely versatile and useful.
There's one drawback though – because it isn't designed for a certain knife, it isn't the snuggest fit.
Some people complain that the fit is sloppy, and the blade's tip catches on the end for some knives. It may work great for ordinary storage, but if it is moved around too much, it appears that the blade will be damaged.
Therefore, don't use the sheath for travel, and it's better to use a proper knife roll.
Compared to the Yoshihiro knife and the saya cover that comes with it leaves room at the end and appears to be a much more snug fit, perfectly encasing the knife.
You might be under the impression that the sheath doesn't fit your blade perfectly.
In some cases, you have to put the blade in facing left. You have to try to see if it fits better facing right or facing left.
It's very easy to use once you stick the blade into the wooden cover the bottom edge of the blade is secured.
Then you take the little locking pin and stick it back into the hole and the sheath is gonna stay put snug but not overly tight so the steel blade edge and the words don't actually touch and damage each other.
Shun has been in business for over a century and they're known for great service as well as amazing kitchen knives. They stand out from Yoshihiro because they use a different type of wood and tools to make their sheaths.
Unlike the Yoshihiro and Sakai sayas, this Shun knife cover is made of beech wood, not magnolia. The beechwood has a beautiful yellow-tinged finish similar to bamboo and it looks very stylish in your kitchen.
Is beech necessarily worth the higher price tag? Not really because it seems to be more prone to cracks.
In fact, some customers reported that the sheath had tiny cracks after a couple of months of use. This issue is rarely noted with magnolia wood sheaths but it can be a manufacturing issue.
Beechwood is quite thin and cracks easily and the main reason it cracks is that when you put the pin inside, the area around the hole is delicate. Usually, the small cracks don't really affect the functionality but for a pricy sheath, it's a bit of a letdown.
Here's my criticism of the beechwood sheath – it just cracks faster and seems more delicate than magnolia sheaths.
The Shun saya cover is designed to maximize breathability and as you might know, better air circulation prevents bacteria and mold formation.
A notable difference is that the locking pin in the Shun sheath is different compared to the Yoshihiro.
This one is not made of plastic, and it is tied to a red thread which is the traditional design for Japanese knife sheaths. Such a feature is a sign that the knife sheath respects the traditional Japanese manufacturing processes.
The pin is tied with the traditional Japanese red thread. Not only does this keep your knife protected but it fastens the sheath securely without fitting overly tight on the blade.
The bottom line is that it is suitable for a wide range of blades and provides excellent protection.
Best budget saya for gyuto & chef's knife: Mercer Culinary Natural Ash Wood Cover
Size: for 8″ chef's knife & gyuto (8 x 2.5 x 1 inches)
Material: ashwood
Safety pin: plastic
If you're looking for the cheapest sheaths because you have multiple knives, the Mercer is a wooden saya that offers pretty good protection.
This sheath is made of ash wood, which is different from magnolia. It is common on the East Coast but it's durable and slightly elastic so it makes for a good sheath.
Also, ash is moisture resistant so it's supposedly less likely to get moldy. According to the product description, the item doesn't expand.
But here's the issue: some people claim that the sheath swells up and your blade gets trapped inside.
This problem isn't very common but just keep it in mind. Warping is a sign of lower quality.
If you own very expensive knives, you should invest in a Yoshihiro, Sakai, or Shun wood blade cover because these don't swell.
You don't want to risk ruining your premium knife blade. But, if you have a cheaper Japanese knife, the Mercer is suitable for the task.
Ashwood has a benefit because it isn't full of strong resin and this means that it doesn't react with your knife's carbon steel blade. Therefore, you can expect less rust or corrosion.
The overall wood quality is quite good but the fit is a bit of an issue. Although the measurements seem like they would fit, some people claim the sheaths doesn't fit perfectly so it's either too snug or too loose.
Another criticism is the pegs/locking pins which are hard to put on and take off. This makes it hard to maneuver the sheath quickly.
You can end up slicing through the sheath if you push the blade in too hard so be careful.
Overall, those who bought the Mercer sheath are pretty satisfied with how it protects the knife. It stays snug so your blade doesn't slip out of the cover.
Since the saya is half the price of the others on this list, it's a good choice if you have to buy many.
I just wish they made more sheath sizes so you can also store paring knives, vegetable cleavers, and your deba.
Best saya for Nakiri vegetable cleaver: Yoshihiro Natural Magnolia Wood Cover
(view more images)
Size:  1.81″ W x 0.098″ H  for 6.5″ nakiri
Material: magnolia wood
Safety pin: plastic
If you have a nakiri or usuba vegetable knife, you need a special square-shaped sheath to fit this unique blade shape.
It's a good thing Yoshihiro makes specialty magnolia wood sheaths for their knives.
Finding a wooden sheath for your cleaver is no easy task but with a purchase from Yoshihiro, you know you're getting a good value item.
The Yoshihiro saya is one of the strongest and most durable on the market and the pins fit perfectly so you don't end up cracking the delicate wood.
The pin sits tightly in the holes and does not fall out. Because of the snug fit, it's simple to push the pin out and remove the saya without it flying out and falling down your sink drain!
Compared to cheaper sheaths like Mercer, your magnolia saya doesn't expand or warp if properly maintained. This knife cover's customer reviews are overwhelmingly positive because the product is very well built.
The cover fits the Yoshihiro perfectly because it's not too snug or too loose so it doesn't touch the blade's edge. This is the best way to keep your kitchen knife in excellent shape.
This knife sheath has a beautiful lacquered finish on the exterior only. The interior of the sheath has a natural wood finish (no lacquer) so even if your knife's blade touches the wood, it doesn't chip or get contaminated with lacquer.
Lacquer is always prone to chips and once it comes off, it can ruin the aesthetic style of the sheath.
Unfortunately, if you want to use this knife sheath for a Shun nakiri, it might not fit well and it can even damage the blade because you end up forcing the blade into the tight saya.
A Japanese chef would recommend you buy the sheath from the same brand as your knife because this ensures a perfect fit.
If you're looking for a long-lasting knife sheath, Yoshihiro's cleaver cover is the top product for the job. It's got all the features you need.
Check prices and availability here
Best saya for Yanagi knife: Sakai Magnolia Yanagi Knife Sheath
Size: for 10.6″ yanagi knives
Material: magnolia wood
Safety pin: w00d
You know that your yanagi sushi knife must be extremely sharp. If it becomes dull from improper storage, you won't be able to slice thin strips of fish or fillet the meat for sushi and sashimi.
This Sakai magnolia knife sheath is the knife protector you need because the wood absorbs any excess moisture from the seemingly dry knife.
Therefore, the blade doesn't rust or corrode and retains its sharp edge.
This sheath fits any 240 mm Yanagi knife with both an octagonal or the classic "D" shaped handle. Also, it works with left-handed knives too, so it's a versatile protector for your sushi knife.
A notable difference between this sheath and the others in this review is that it has wooden locking pins.
Those who love traditional Japanese knife design will appreciate this feature. Other similar items have plastic pins which are flimsier. Some people still expect ebony pins so if you're looking for that distinguishing feature, you'll be disappointed.
The problem is that the wooden locking pin is stiffer and if it expands it doesn't go in or come out easily and this can get annoying.
After all, you want easy access to take the blade out of the cover or put it back for storage.
Many people wonder if this saya fits the Tojiro sujihiki knife (2″ wide blade) but the answer is no. Sakai doesn't claim that their items work for other brands too.
If you want to make sure the sheath you bought fits the blade, take some measurements before purchasing the product.
If you're looking for exceptional design, the Sakai knife sheath has the most flawless smooth finish and it's perfectly sanded.
Therefore, it's ideal for storing knives in restaurants too, not just home kitchens because an item like this looks very stylish and high-end. You really get what you pay for with this product.
The saya's weight reflects the way it's built – you can tell it's made of authentic magnolia wood and you can feel that it's a dense and durable wood. It's nothing like though
If you're a big sushi enthusiast that knows all the different types of sushi by heart and only has a high-end Japanese yanagiba knife, you can save money in the long run by using a high-quality Sakai cover because it's a very durable product.
Also check out my roundup of the best sushi making kits for making your own sushi at home
Takeaway
If you're looking for a well-made saya the Yoshihiro magnolia wood sheath is a fine choice for all your Japanese knives. Just be sure to check measurements beforehand.
Some knives like cleavers have unusual dimensions so they might be hard to cover. But, with the tips from these reviews, your search is hopefully over.
The budget-friendly options are okay too if you don't want to pay too much but they are prone to breaking and can damage the blade if they're too tight-fitting.
Just keep in mind the following tip when shopping: expensive cutlery deserves a good saya that a chef would recommend so stick to the well-known Japanese brands.
Protecting your kitchen knife is extremely important and you shouldn't skip the wooden saya. Once protected, you ensure the blade maintains its sharpness and spotless steel blade for longer.
If you are a leftie, it can be hard finding suitable knives. That's why I've listed all the best left-handed Japanese knives here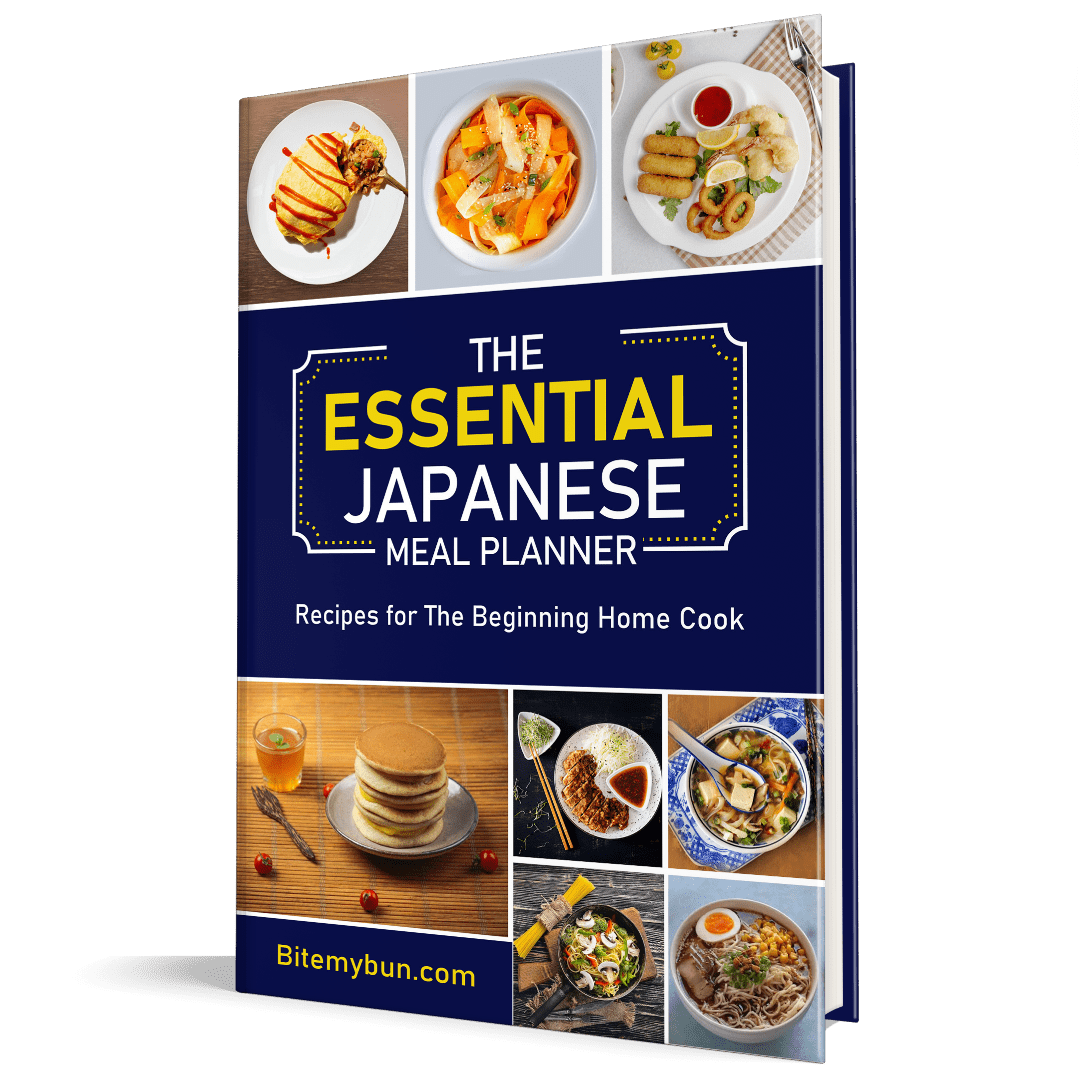 Check out our new cookbook
Bitemybun's family recipes with complete meal planner and recipe guide.
Try it out for free with Kindle Unlimited:
Read for free
Joost Nusselder, the founder of Bite My Bun is a content marketer, dad and loves trying out new food with Japanese food at the heart of his passion, and together with his team he's been creating in-depth blog articles since 2016 to help loyal readers with recipes and cooking tips.