Best nakiri Japanese vegetable knives | These make chopping veggies a breeze
I love creating free content full of tips for my readers, you. I don't accept paid sponsorships, my opinion is my own, but if you find my recommendations helpful and you end up buying something you like through one of my links, I could earn a commission at no extra cost to you.
Learn more
Chopping, slicing, dicing, and mincing vegetables is one of those tasks that takes a long time when cooking Asian cuisine.
The reason why Japanese chefs get it done so fast is that they have a specialty vegetable cutting knife called the Nakiri.
The overall best nakiri knife for home cooks is this Dalstrong Asian Vegetable Knife for its 7-inch blade that is ideal for cutting any fruits and veggies. It's also budget-friendly and made of quality carbon steel with a pakkawood handle. With the thin blade, you can make precise cuts.
I've reviewed the top nakiri vegetable knives and narrowed them down to the absolute best. I'll also talk about what to look for when buying one so you can make the best choice for your kitchen.
The nakiri veggie knife has a cleaver-like square flat blade. It's double-bevel and super sharp, making cutting any vegetable, even sweet potato, and radish an easy task.
The nakiri knife has a very thin blade, designed for precision so you can cut vegetables with uniform thickness.
Whether you're a novice or a professional chef looking for the best Nakiri knife for your kitchen, there's a great option here for you.
Check out the preview table, and then read the full reviews down below.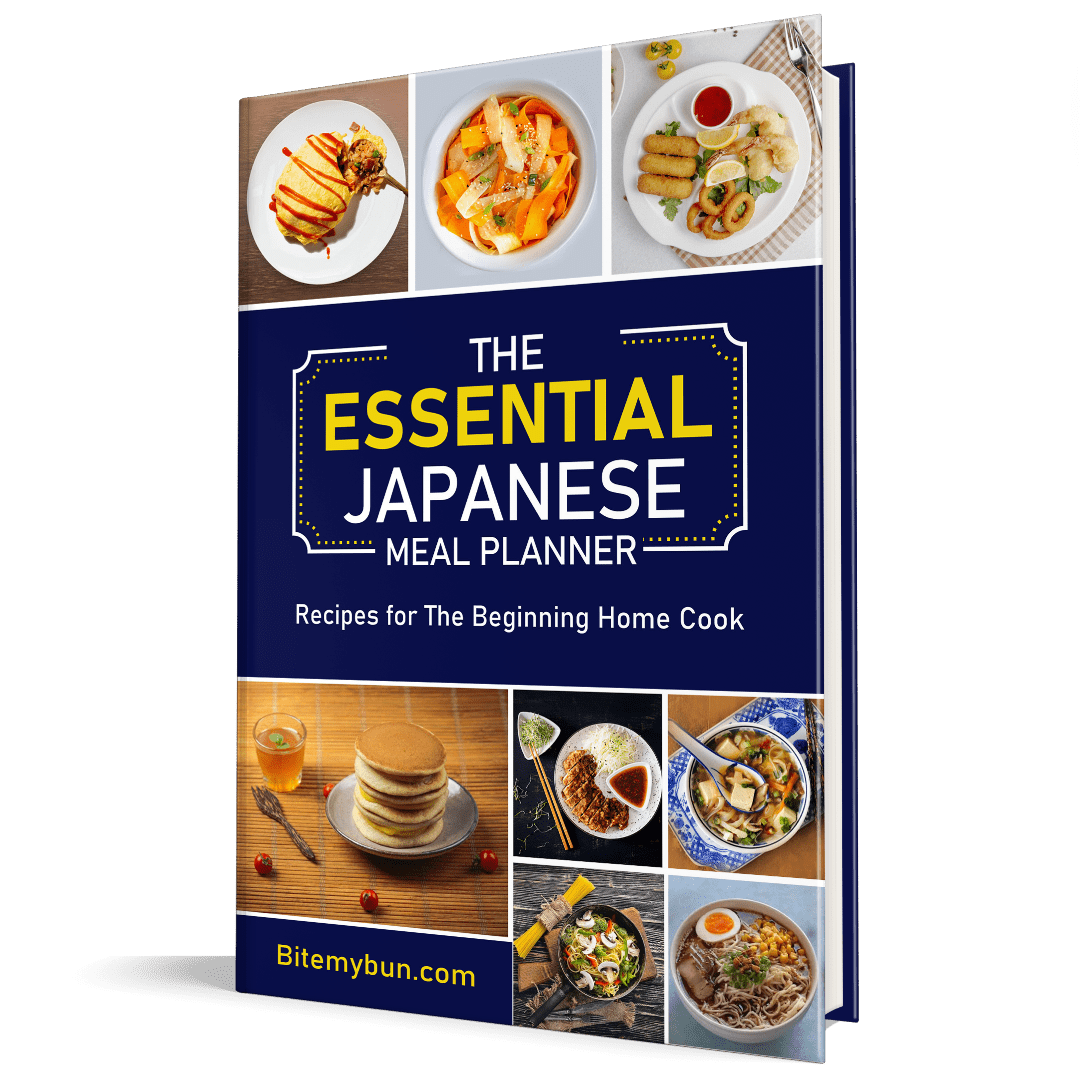 Check out our new cookbook
Bitemybun's family recipes with complete meal planner and recipe guide.
Try it out for free with Kindle Unlimited:
Read for free
What is a Japanese nakiri knife used for?
Although the nakiri knife looks like a type of cleaver, it's not designed for cutting meat. It is a specialty vegetable knife.
It has a square blade with a squared-off tip, unlike the usual Western chef's knife. The advantage of using a nakiri knife is that you can slice, dice, mince, and cut through any veggie or fruit without a hassle.
The thin, razor-sharp blade offers extreme precision. Then, the design of the blade, combined with the ergonomic handle, allows you to cut straight down through any veggie all the way to the cutting board surface.
You don't have to push or pull the knife back and forth or make a sawing motion as you cut. Basically, the nakiri knife is designed for cutting straight up and down.
It's no wonder Japanese chefs and home cooks love this knife. It reduces the cutting and food prep time. You can even use it for decorative cutting, so it's a really handy piece of cutlery to have in your kitchen.
Forget about having to pull the knife out horizontally and all the rough edges you get when chopping veggies with a large kitchen knife.
Watch this video for a full demo of everything a good nakiri knife has to offer:
Nakiri knife buyer's guide
Before we dive into the reviews of each knife on my top list, let's see what you need to look out for in a good Japanese nakiri knife.
Handle type: Japanese vs. Western
Most high-end Japanese nakiri knives have a wood handle, usually made of mahogany or walnut.
The thing about the wood handle is that it requires occasional maintenance like oiling. Also, you have to be careful when cleaning it.
Do not wash a nakiri knife in the dishwasher!
Western-style handles are made of materials like metal, plastic, or pakkawood. These handles are easy to clean and hold up quite well over time, but they are cheaper than expensive wood-handled knives.
But you'll notice that these days Japanese knives also have pakkawood handles because it's quite a comfy and strong material so don't worry if your knife has such a handle.
The traditional Japanese style handles are more lightweight than others and are manufactured in a "Wa style."
This means the balance point is further towards the tip of the knife. Thus, it is more precise but not necessarily more comfortable.
Blade
A traditional nakiri has a double bevel blade that is square-shaped. Usually, the blade is made of stainless steel, and it's very thin (165-180mm).
The steel can be high-carbon, which retains sharpness for longer, or low carbon, which gets dull quicker.
The blade's thin, straight edge makes it a bit more sensitive and not as heavy-duty as a chunky chef's knife. Thus, Nakiri is a delicate knife, unlike the average chunky kitchen knife.
Some models have a Granton edge, which means that there are ridges on each side of the blade to prevent food from sticking to your blade while cutting.
I personally prefer the deep ridges because then you don't have to use your fingers to remove sticky carrot peels, for example.
Although similar, a nakiri knife is not the same as an usuba knife
Blade length
The blade length of nakiri knives is somewhere between 5 inches and 7 inches. So, it's a mid-sized blade compared to other types of knives.
But, the size directly influences how well it cuts vegetables. You need a blade length of 5 inches minimum because it ensures safety while cutting.
Hardness
The hardness refers to how hard the stainless steel is on the Rockwell scale. The higher the number, the harder the steel is.
A good nakiri should have a minimum hardness of 60.
Angle
A lower angle means you get a sharper cut. Most nakiri knives have a low cutting edge angle for this purpose.
If you want a sharp knife that's also suitable for beginners, look for a 12-16 degree angle.
The top professional Japanese blades will have 8-degree angles, but that's extremely sharp, so be careful!
Best Japanese nakiri knives reviewed
Now that you know what to look for, it's time to review each knife and see if it's the right option for your kitchen.
Best overall nakiri Japanese vegetable knife: DALSTRONG 7″ Gladiator Series
blade length: 7 inches
blade material: German forged stainless steel
handle material: Pakkawood
When it comes to buying your first Nakiri knife, you need to be mindful of quality and price. A mid-priced knife like this Gladiator series by Dalstrong is one of the best performing nakiri knives out there.
Once you start cutting up vegetables with it, you'll be a Japanese knife convert for sure. This full-tang knife has a razor-sharp blade made of high-quality carbon steel that will keep its sharpness for a while.
Also, the material is rust and stain-resistant, so you can use this knife for many years to come.
The blade has a classic Japanese-style Granton edge with dimples so that your veggies don't stick to the blade, and thus you get a perfectly thin and clear cut.
Its handle is made of pakkawood, and it's triple-riveted, so you have a comfy grip, and the handle won't slide out of your hands.
7-inches is considered a long nakiri knife, but the tall blade helps give you some knuckle clearance, so your hand is comfortable while cutting.
I picked this one as the overall best because it's very sharp, the thin blade is made of carbon steel, so it's durable and strong, and the price is affordable for the everyday home cook and a chef.
While it's not the ultimate sharpest knife, it's still sharpened at 14-16 degrees per angle, and that's enough for cutting any vegetable or fruit.
Finally, I want to mention that this knife is well-balanced and easy to use.
Best versatile Nakiri & best first Japanese knife: MOSFiATA 7" Chef's Knife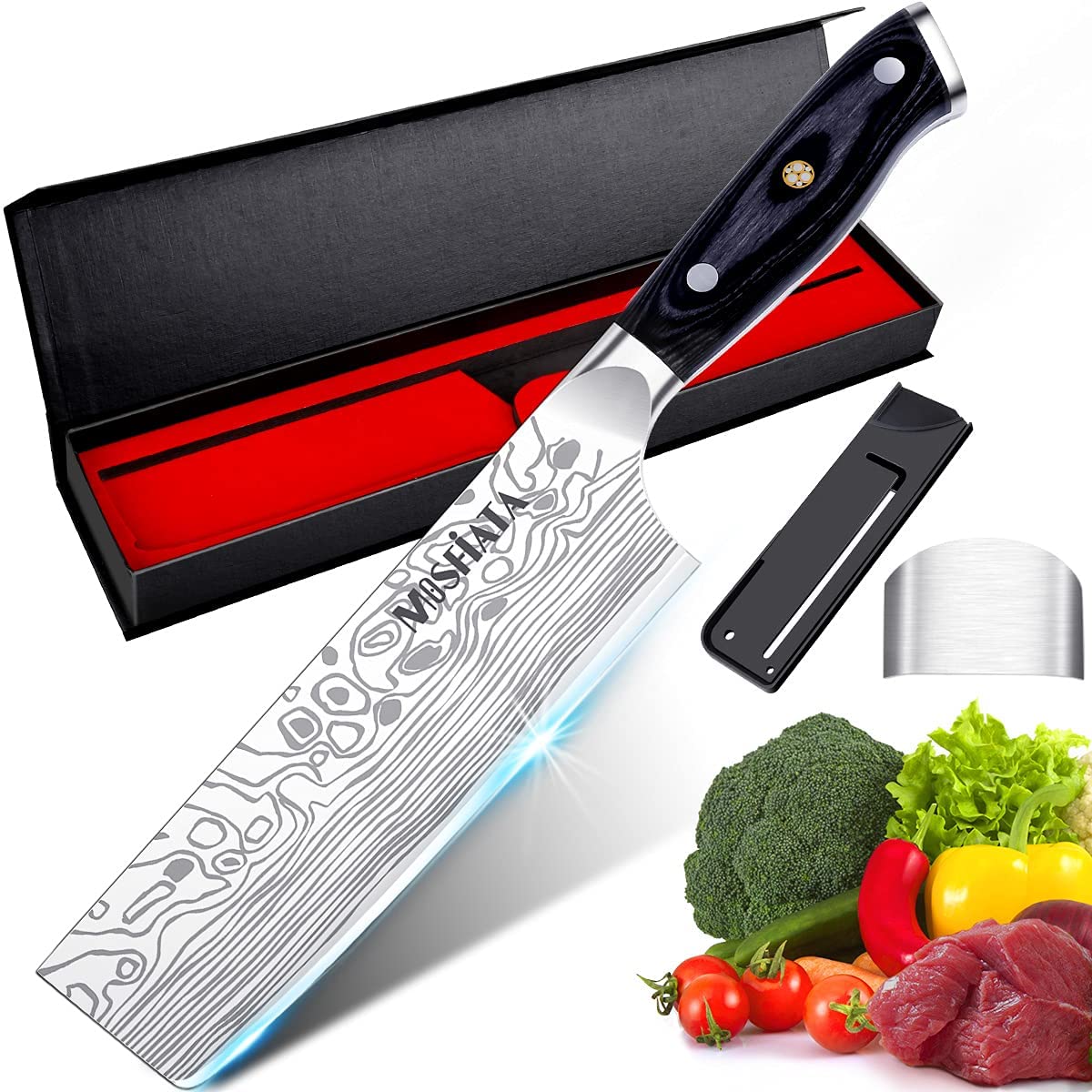 blade length: 7 inches
blade material: high carbon stainless steel
handle material: Micarta
The purpose of a nakiri knife is to cut vegetables. But, with MOSFiATA's 7-inch blade, you can get away with cutting fruit and greasy meat too.
Although I recommend using the nakiri for veggies only, this durable knife is suitable for other uses too, so it's really versatile.
This is also a nice knife for gifting if you want to introduce someone to the joys of a specialty Japanese utensil.
Watch this unboxing video to get an idea:
This blade is made of German high-carbon steel, which is rust and corrosion-proof.
The micata handle is pretty good, although not quite as nice as the pakkawood, but considering the affordable price, the knife is built very well overall.
If you're a novice Japanese knife user, this one will be quite impressive because you will see the difference in how easy cutting is.
You can also make clean, perfect, and precise cuts so the vegetables won't be damaged in any way. Therefore, it's time to say goodbye to rough-cut potatoes or uneven cabbage for okonomiyaki.
The knife is also strong enough to cut very thin slices of meat.
One of the challenges of using a nakiri knife is that it's not as comfy as a Western one, but this particular handle minimizes the wrist tension, so you don't feel like you're straining your hand when cutting for a longer time.
So, even if this will be your first time using the nakiri, it's going to be quite comfortable.
Dalstrong vs. Mosfiata
The most obvious difference between these two knives is the edges. The Dalstrong has the classic Granton edge, which helps prevent vegetables from sticking to the blade, while the cheaper Mosfiata doesn't.
Now, this isn't a huge problem, but it's just easier to chop and dice quickly with the Dalstrong because you don't have to remove the scraps between cuts.
In terms of comfort, both of these knives are great options because they have ergonomic handles. However, the Dalstrong has a pakkawood handle which is more long-lasting than the plastic of Mosfiata's knife.
But, the Mosfiata is easier to clean, and since it has a rust and stain-proof blade too, it takes seconds to clean it.
Finally, I want to compare the blades and sharpness. They both have a similar 14-degree angle, so their sharpness is nearly the same.
Dalstrong is made of quality carbon steel and stays sharp for a bit longer, so you need to sharpen it less often. The Mosfata has a light blade, so the knife is well balanced and pretty safe to use.
Both of these knives are very similar, and it comes down to how much you want to spend.
Best budget nakiri Japanese vegetable knife: Mercer Culinary M22907 Millennia
blade length: 7 inches
blade material: high carbon steel
handle material: Santoprene
Not sure if you really need a Nakiri knife? Then, you can try one out first. This very affordable Mercer knife is a well-made square blade knife with lots of 5-star ratings on Amazon.
It's made of a high-carbon steel blade and a plastic (Santoprene) handle, which is impressive considering it's a $15 Nakiri knife.
If you cook vegetables often, you can get tons of use out of this one without investing a lot of money, and the cutting results are comparable to a more expensive Japanese knife.
The ergonomic Santoprene handle has a textured surface to offer your fingers a really good grip while cutting.
For complete beginners, having a textured plastic handle is more helpful than a wooden handle because it creates a non-slip barrier, and there's less chance of cutting and injuring yourself.
Mercer makes pretty good quality budget knives. The Nakiri is made of one-piece high carbon steel, which makes this quite a durable and strong knife.
It is easy to clean and maintain, and you can probably do the sharpening at home with a whetstone.
Here's how that would work:
So, if you want to test before you commit, this kind of cheap Nakiri is just what you need to convince you to stop using a basic knife for chopping vegetables.
Best value for money nakiri Japanese vegetable knife: TUO Vegetable Cleaver
blade length: 6.5 inches
blade material: high carbon stainless steel
handle material: Pakkawood
As the second cheapest knife on the list, the TUO is truly a great Nakiri because it looks beautiful and resembles the traditional Japanese design.
With a brown pakkawood handle and high-carbon stainless steel blade, this 6.5-inch knife is exactly like an expensive Nakiri that might set you back thrice as much.
Overall, it performs very well, has a super sharp blade, and a comfortable handle, so you're getting a good value for your money.
The one feature it lacks is the Granton edge, but since it's a sharp and precise knife, you'll be making straight cuts fast so that you won't be missing the Granton ridges too much anyway.
But, the best feature is by far the comfortable handle. This type of pakkawood is high-density so that it is stronger and more resistant to the wear and tear of daily use.
Also, it is sanitary because it doesn't crack, and the bacteria can't get into the pores.
Finally, I want to talk about the high-quality blade. Customers who've bought this knife are very happy with how well this knife maintains its sharpness even after extended use.
This knife holds its edge well and doesn't feel as delicate as some other thin-blade ones.
Mercer vs. TUO
Both Mercer and TUO are in the budget-friendly Nakiri category, but they work surprisingly well. They're also quite well built out of one-piece carbon steel.
With similar features, either one is a great choice, especially for those who haven't used a Japanese vegetable knife before.
As you learn how to hold and how to make up and down cutting motions, you really don't need a fancy knife.
The most noticeable difference between these two products is the handle. The TUO Santoprene handle offers a better grip, and it's overall more comfortable to use.
However, the Mercer isn't too far behind, and since it has a textured handle, it's less likely to slip between your fingers. It's a safe knife, even for smaller hands.
As far as sharpness, I think the TUO has a bit of a sharper edge, and it seems to retain its sharpness for a bit longer, so you can use the knife for about 2 months before it needs sharpening.
The Mercer blade goes dull a bit quicker, but it's not a huge disadvantage considering the price.
Also read: Mukimono Chef's Knife | Best to buy & decorative carving video
Best nakiri vegetable knife with Western-style handle & easy to use: Yoshihiro VG-10 16
blade length: 6.5 inches
blade material: hammered Damascus stainless steel
handle material: mahogany wood
Alright, this knife is quite unique because it's made in Japan, but it has a Western-style handle. It's probably the easiest and most comfortable Nakiri knife to use, even if you're chopping and cutting for hours.
Meal prep will feel like a breeze when you use an ergonomic handle that doesn't strain or add pressure to your wrists.
The Yoshihiro is also one of the highest-quality traditional Nakiri knives and offers outstanding precision and sharpness.
If you like Japanese design details, you'll appreciate the VG-10 16-layer traditional Damascus stainless steel hammered blade surface. This is no doubt a beautiful knife, with all the stylistic details of Japanese craftsmanship.
Because it's such a finely forged knife, the cuts are very precise as the blade comes in full contact with the cutting board. So, you can slice onions very thin and even use the knife for decorative cutting for salads and toppings.
If you've ever struggled to cut through hard root vegetables like celeriac root, you'll appreciate that this blade is super sharp and cuts through the hard veggies instantly without having to make horizontal motions.
blade length: 5.5 inches
blade material: high carbon alloy steel
handle material: Pakkawood
For the ultimate Nakiri knife, look no further than Shun, one of Japan's top knife manufacturers. This smaller 5.5-inch knife has the most beautiful tsuchime hammered finish.
Since it's a bit smaller than the others on this list, it's ideal for women and people with smaller hands.
There's no skimping on quality with this one, though, as it's made of alloy steel, and it has a walnut pakkawood Japanese-style Wa handle.
While it's a bit pricer than other models, it's the closest you'll get to real traditional Nakiri knives. It's is probably the most high-quality vegetable knife you've had in your collection.
This knife stands out because the blade is very hard, which means it is sharper than other models and holds its edge for longer.
I like that you can sharpen this knife to a steep 16-degree angle if you really want to make it even sharper. That might be useful for chefs using this knife in a commercial kitchen.
Also, this Shun knife is more lightweight and doesn't tire out your hands even after you chop a week's worth of veggies.
Thus, I highly recommend this knife for those of you who are passionate about amazing cutlery and pro chefs who need a knife that won't let you down on the job.
Each knife is handmade in Seki City, Japan, so you know you're getting a premium product, not a mass-produced cheap product. You can tell the quality difference.
Yoshihiro vs Shun
Two premium knives at a similar price point: so what's the difference?
Well, first, I want to mention the size difference. The Shun has a smaller 5.5-inch blade, while Yoshihiro's is 6.5 inches.
This affects how you cut because if you have smaller hands, you'll find it lighter and more comfortable to use the smaller knife.
If, however, you need to cut through large root vegetables, the longer blade will help you slice through it faster. It comes down to comfort and usability.
Next, when you compare the blades, the Yoshihiro has an amazing 16-layer blade that's strong, durable, and not prone to breakage and damage.
The Shun blade is impressive too, but Yoshihiro is well-known for how stain-resistant and breakage-proof their blades are.
Yoshihiro has a hammered finish just like Shun, but the ridges are not as pronounced and deep. Thus, if you want to make the fastest cuts with virtually zero food sticking to the blades, then the Shun is the better choice.
Those deep hollow Granton edges form little air pockets, ensuring that vegetables don't stick to the blade.
If you're looking for a nice luxury knife, though, the Shun OR Yoshihiro won't let you down at all.
Read all about Chef Erik Ramirez of Llama Inn: Japanese Peruvian connection
Takeaway
As far as fancy vegetable cleavers go, the Nakiri is a must-try knife. It will help cut down on vegetable prep time and help you make the finest cuts.
The Dalstrong 7-inch is an excellent option for home cooks because it has a sharp blade, ergonomic handle, and an affordable price.
But, if you want to try the traditional Shun knives, the 5.5 inch is a nice starter knife with a beautiful finish and Granton edge that makes chopping and cutting effortless.
With a great nakiri knife, you can forget about poorly cut veggies, dull blades, and wrist pain. With the brands I mentioned in my review, you'll find high-quality blades that can cut through any vegetables instantly.
Read next about The Tools you need for Teppanyaki: THE 13 essential accessories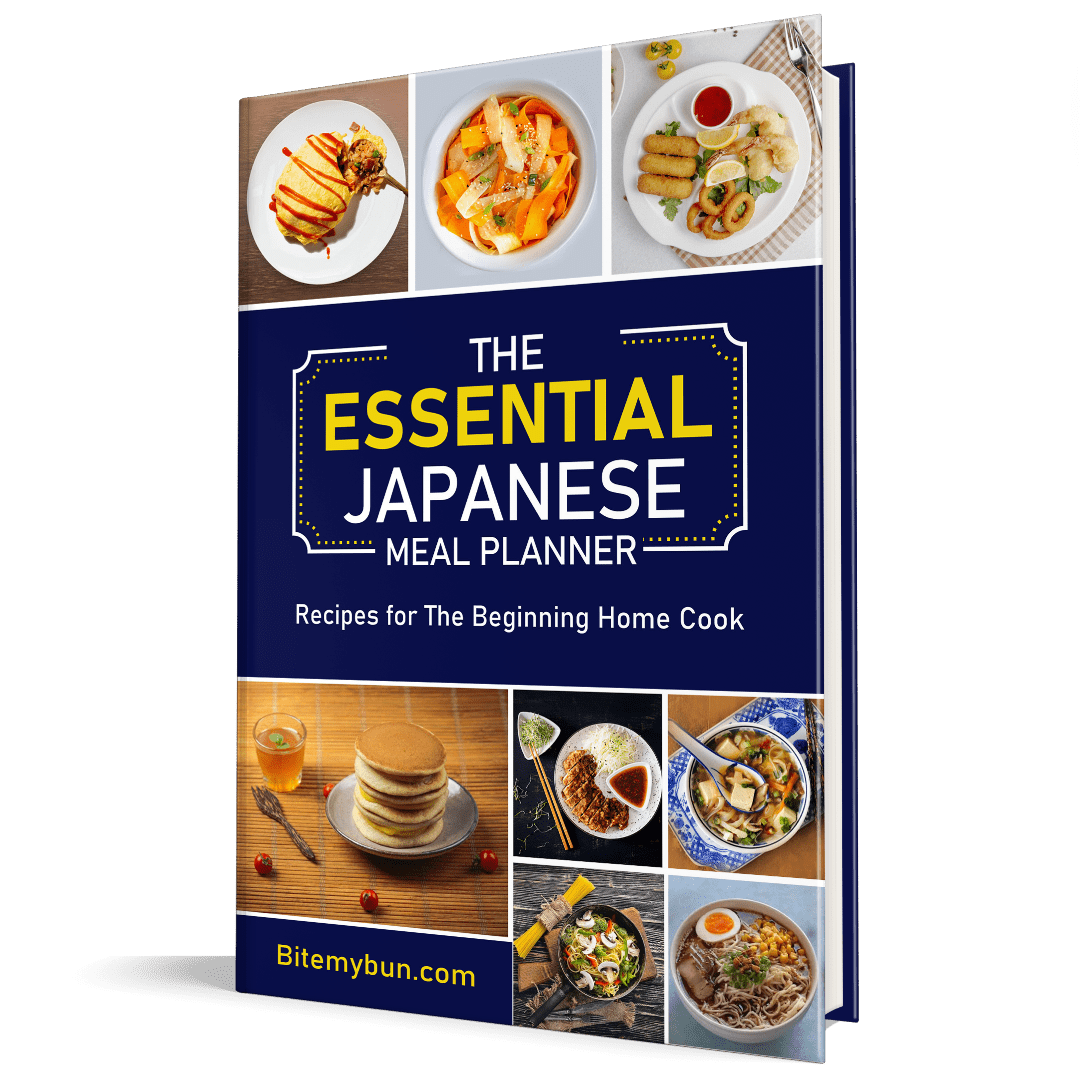 Check out our new cookbook
Bitemybun's family recipes with complete meal planner and recipe guide.
Try it out for free with Kindle Unlimited:
Read for free
Joost Nusselder, the founder of Bite My Bun is a content marketer, dad and loves trying out new food with Japanese food at the heart of his passion, and together with his team he's been creating in-depth blog articles since 2016 to help loyal readers with recipes and cooking tips.