I love creating free content full of tips for my readers, you. I don't accept paid sponsorships, my opinion is my own, but if you find my recommendations helpful and you end up buying something you like through one of my links, I could earn a commission at no extra cost to you.
Learn more
Great chefs need great tools to work with. The pots, pans, and utensils they use will help them produce delicious recipes that take their meals to the next level.
Sauteing is a popular way to cook food.
It involves using a little bit of oil or fat to cook foods in a shallow pan over low heat.
The method results in foods that are delicately fried or heated to provide a tender texture and mouthwatering flavor.
I'll skip right to the end of the list, because my personal favorite is a saute pan with non-stick coating, and you can't do better than this Le Creuset Les Forgees in that category. It's pretty durable for its price and delivers plenty of room to sauté most of your dishes.
But there are many more options of course, more premium ones and even some budget ones to choose from.
To sauté foods perfectly, you need to use a sauté pan that will provide the best possible outcome.
Read on to find out about the sauté pans that are best suited to your needs, but let's take a quick look at the top offers:
What Should I Look for in a Sauté Pan?
When you are shopping for a sauté pan, there are some key characteristics you will want to look for. These are as follows.
Size of the sauté pan
Sauté pans are made in a variety of sizes ranging from 1 quart to 7 quarts.
They are generally 8 – 12 inches in circumference.
In general, you will want to find a pan that fits a good amount of food without crowding. This will allow you to heat all the items in the pan perfectly.
Here is Amy talking about the differences between skillets and sauté pans:
Design of the sauté pan
Sauté pans typically have a flat bottom. This allows the cook to move the pan back and forth over the burner easily while the food is heating.
The sides of the pan are straight and low. The straight sides keep juices from escaping and they are low to allow access to the food.
The low sides also circulate air to keep food from getting soggy and keep the pan from getting too heavy.
You also want to make sure the bottom of the pan is thick. A thin pan will not heat food adequately and it may warp after a few uses.
Handle of the sauté pan
When sautéing food, you will be moving it around a lot.
Though you can use a utensil to move the food, a skilled chef will manipulate the pan's handle instead.
Therefore, it's important to have a handle with a good design.
Some handles are ergonomically designed to provide a comfortable grip. The handle should also be sturdy so you don't have to worry about it coming off while you're cooking.
A handle with heavy screws and rivets will provide the utmost in durability.
Handles should also be long. A long handle will give you better control and it will keep your hand far from the hot pan. It also has a luxurious feel while cooking.
Finally, some handles have heat proof properties. While this will help keep the handle cooler, don't expect it to be completely cool after you pull it out of the oven.
All the same, a heat resistant handle is a good feature to look for in a sauté pan.
With or without lid
Sauté pans often come with lids. These allows pans to retain heat while food is cooking.
A lid should fit tightly to provide the ultimate in heat retention.
A glass lid may also be preferable since it lets the chef monitor food as it is heating.
Material of the pan and handle
Sauté pans come in a variety of materials and a good chef will chose the material of the pan depending on the food they are cooking.
Here is a brief rundown of what's available.
Copper: Copper is the best material for heat conductivity. This means a copper pan will get food hot quickly and cook it evenly. However, copper pans are expensive and they are difficult to clean.
Anodized Aluminum: Anodized aluminum also conducts heat well. It is less expensive than copper and it's easier to clean.
Cast Iron: Cast iron is a durable material but it is not great at conducting heat. However, it does retain heat very well which somewhat makes up for its lack in conductivity.
Stainless Steel: Stainless steel is known for providing excellent heat retention and it's extremely durable.
Non -Stick sauté pan
Many cooking pans are nonstick and people love them because they are easy use and easy to clean.
However, their nonstick properties limit the number of things you can do with them. For instance, most nonstick pans can not go in the oven.
Technology is changing and now there are nonstick pans that are oven ready.
However, it is a good idea to make sure your nonstick pan is oven safe before you make a purchase.
Expense
Everyone likes to save money, but it's important to get a good value as well.
The thing is, if you try to cheap out on cookware, it's likely you will end up with a subpar product.
Therefore, you may want to invest a little more in a sauté pan.
Brand Name
Most people will look for a brand name in the products they buy.
This is not a bad idea. Brand names tend to have a good reputation and the companies usually provide good customer service and reasonable warranties.
However, the best way to tell if you are buying a product that is suited to you is to go into the store and pick it up.
See how it feels in your hands to determine if the sauté pan is one you should be buying.
Best Sauté Pans reviewed
Now that you know what to look for in sauté pans, here are a few pans that are worth checking out.
Best 12" Sauté Pan: Cooksmark Copper
This sauté pan is a favorite because its suitable for frying and sautéing.
Though it is referred to as a frying pan, it has deep, straight sides that make it perfect for sautéing.
It has an aluminum core that provides the ultimate in heat distribution. The nonstick properties make it convenient for cooking and cleaning.
It works on multiple heat sources and it is oven safe up to 450 degrees.
It has a stay-cool handle and there is a smaller handle on the opposite side that makes it easy to move the pan with both hands.
Pros:
Versatile to work on various heat sources
Stay cool handle
Non-stick
Second handle makes it easy to move
Works for frying and sautéing
Good heat distribution
Cons:
Copper surface flakes off easily
Handle is not comfortable as advertised
Best Cast Iron Sauté Pan: Cuisinart Chicken Fryer
This cast iron sauté pan provides excellent heat retention and heat distribution.
The porcelain enameled exterior provides durability and will not affect the taste of your food or absorb odors.
The pan is versatile and suitable to a variety of cooking methods. It is stove, oven, boiler and dishwasher safe.
It is very sturdy and it comes in a wide variety of attractive colors ensuring you will find one that's perfect for your kitchen.
It has a lid and a second handle making it easy to move with both hands.
Pros:
Durable
Provides superior heat retention and distribution
Versatile for a variety of cooking methods
Does not absorb flavors
Has a lid
Has a second handle for easy carrying
Comes in a variety of attractive colors
Cons:
A little bit more expensive but you get a solid cast iron pan that could last you a lifetime.
Check prices and availability here
Best 10" Sauté Pan: Tramontina Professional Aluminum
This pan is great for sautéing, frying, braising, simmering and heating up your favorite recipes.
Its aluminum base provides superior heat distribution and it has a nonstick exterior and interior that makes cooking and clean up easy.
It has a shatterproof lid that allows you to monitor your heating progress. It has an ergonomically designed handle that provides superior support.
The pan works with a variety of stoves and ovens and it is oven safe up to 350 degrees. It is dishwasher safe and it comes with a lifetime warranty.
Pros:
Good heat distribution
Shatterproof glass lid
Non-stick interior and exterior
Versatile
Sturdy, ergonomically designed handle
Dishwasher safe
Lifetime guarantee
Cons:
Pan is very thin and lightweight so it may not be durable enough for hardcore cooks
Best 5 Quart Sauté Pan for the oven: Calphalon Classic
The pan is made from a durable anodized aluminum that provides superior heat conduction.
It has a multiple layer nonstick interior and easy to pour spouts. It heats food quickly and provides an easy clean up.
It is suitable for all heat sources except induction and it's heat safe up to 450 degrees.
The glass lid allows you to monitor your food as it's cooking while keeping heat in.
It has a riveted stay cool stainless-steel handle.
Its low sides provide easy access to food while keeping splatters to a minimum. Its wide, flat surface is easy to cook on.
Pros:
Durable construction
Comfortable stay cool handle
Versatile
Non-stick
Easy pour spouts
Oven safe up to 450 degrees
Glass lid
Wide surface
Cons:
Expensive and many customers are disappointed with the quality
Does not heat food evenly
Check the latest prices here on Amazon
Best Combo Frying Pan: RadUSA Hard-Anodized Radical Pan
This pan serves as a skillet, a sauté pan and a frying pan all in one.
Its radical design features a wide lip that makes flipping foods easy and it has a triple layer, no-stick, durable design.
It is suitable for gas, electric and induction ovens. It has an aluminum exterior and an anodized aluminum core which makes for optimal heat distribution.
It has a stay cool stainless-steel handle that is durable and comfortable. It is oven and dishwasher safe.
It comes in 8, 10 and 12" sizes.
Pros:
Durable design
Versatile
Non-stick
Comfortable stay cool handle
Suited for a wide variety of ovens
Good heat distribution
Dishwasher safe
Cons:
This pan has no negative reviews we can find
Check out this innovative pan here
Best Outdoor Cook Set with Sauté Pan: Gold Armour Mess Kit
The main attractions of this multipiece set is the frying/sauté pan and the big pot.
The sauté pan is made of anodized aluminum that is lightweight, easy to clean, extremely durable and allows for optimal heat conduction. It has ergonomic, easy grip handles.
The other items in the set include BPA bowls, a cleaning sponge and a wooden rice spoon.
Pros:
Durable
Good heat conductor
Easy grip handles
Great for outdoor use
Comes with other useful items
Ergonomic handles
Lightweight
Cons:
Best Stainless-Steel Sauté Pan: Goodful Dishwasher Safe Jumbo Cooker
The pan is constructed with 304 grade stainless steel that offers the ultimate in durability and a great appearance.
It is also resistant to corrosion. It has riveted handles on either end that make it easy to lift. It provides fast and even heating.
It is dishwasher and oven safe up to 350 degrees. It's lid helps retain heat while food is cooking. It has a triple ply construction and its induction ready.
Pros:
High quality stainless steel
Durable construction
Two riveted handles for easy lifting
Oven safe
Comes with lid
Induction ready
Cons:
Only oven safe up to 350 degrees
Best 3 Quart Sauté Pan: Cook N Home with lid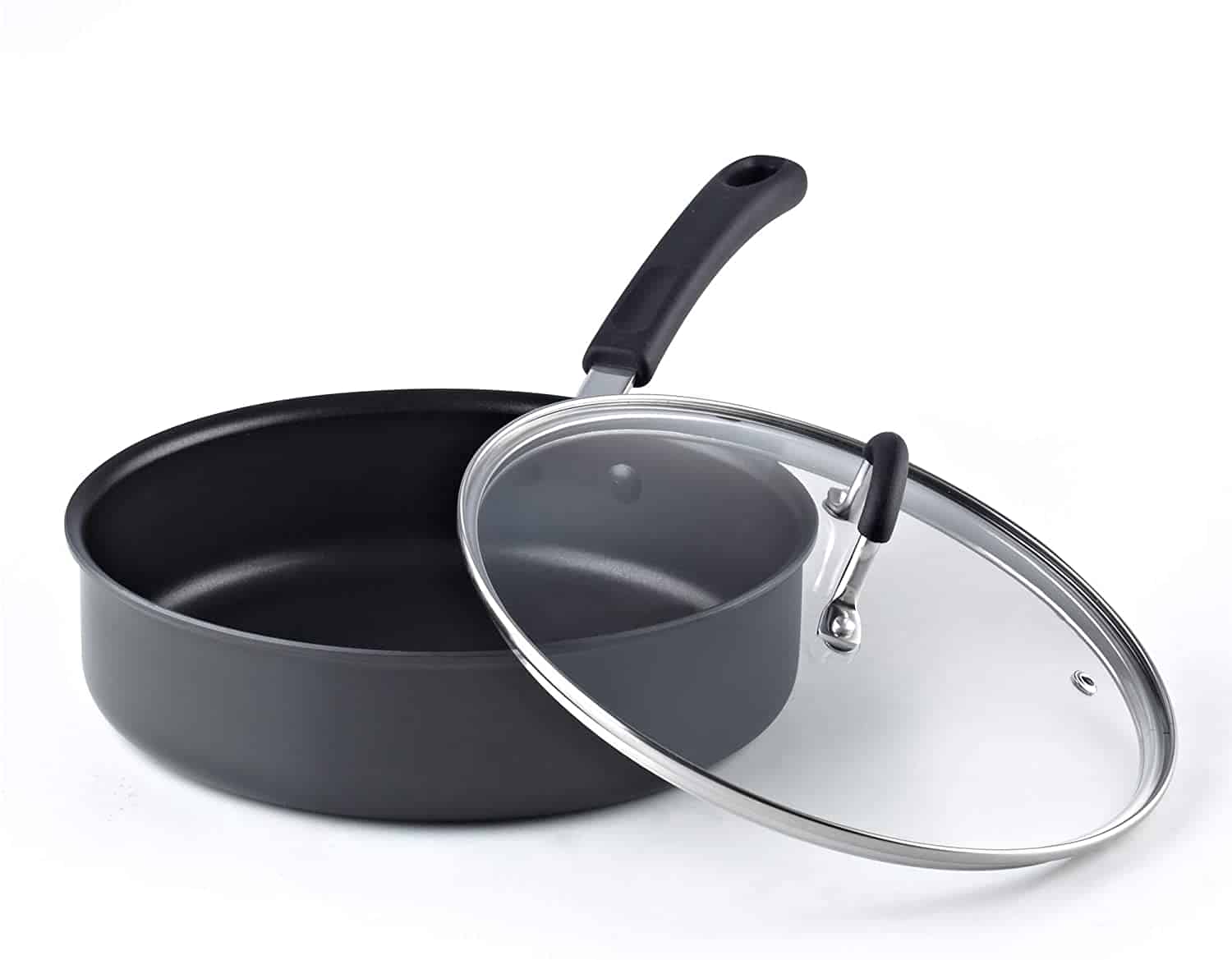 This 3-quart pan comes with a tempered glass lid that allows you to monitor food and it holds in heat as food is cooking.
It has a hard-anodized surface that's durable and it heats quickly and easily.
Its nonstick surface makes it easy to cook in and clean. It has a stay cool riveted handle.
In works in a wide variety of ovens and stoves but it is not induction compatible. It's oven safe up to 350 degrees.
Pros:
Glass lid
Durable
Good heat distribution
Comfortable stay cool handle
Nonstick
Versatile
Cons:
Does not work in induction ovens
Oven safe only up to 350 degrees
Best 4 Quart Sauté Pan: Viking 5-Ply
The pan is made of a durable 5 ply, non-reactive, surgical stainless steel. Its aluminum interior provides superior heat distribution.
The handles have a riveted design that makes the pan easy to lift and pour from. It is oven safe and dishwasher safe.
It comes with a lid that keeps heat in as you're cooking, and in 3- and 4-quart sizes.
Pros:
Nonreactive, sturdy surgical stainless-steel construction
Comfortable, riveted handles
Comes with lid
Oven safe
Dishwasher safe
Durable construction
Good heat distribution
Cons:
Best Ceramic Sauté Pan for gas stove: Blue Diamond
This sauté pan has a signature diamond infused nonstick coating that is advertised as being more durable, harder and providing better heat distribution than most other pans.
It has a warp control base. It is lightweight and toxin free. It has a tight glass fitting lid that is excellent for holding in heat.
It is also oven safe, dishwasher safe, metallic utensil safe and it can even work in the broiler. It has an easy pour rim.
Pros:
Durable construction
Nonstick coating
Lightweight
Toxin free
Superior heat distribution
Oven safe
Dishwasher safe
Easy pour rim
Cons:
Chips and coating wear off easily
Best Sauté Pan for induction hob: Cooklover Nonstick
The interior and exterior of this pan is coated with a nonstick coating that makes it easy to cook and clean. All materials are environmentally friendly.
It has a sturdy, die-cast aluminum body that ensures superior heat distribution. It has a glass lid with heat vent and a beautifully designed stay cool wooden handle.
The pan's handle is made of the same wood material. It is suitable for any type of oven including induction ovens. It is toxin free.
Pros:
Nonstick coating
Environmentally friendly
Superior heat distribution
Glass lid with handle
Stay cool handle on pan
Suitable for any type of oven
Cons:
Some report the pan arrived damaged
Best Stone Sauté Pan: Caannasweis
This attractive 8" pan imitates the look and feel of volcanic rock making for a toxin free, healthier cook.
It has a cadmium nonstick coating. It has an ergonomic, slip resistant, wood grained handle. The aluminum alloy base makes for rapid and even heat transfer.
It can be used in a wide variety of heating devices but can not be used in the oven. It is versatile to cook many different types of foods and dishes.
Pros:
Toxin free
Works in a variety of cooking sources
Ergonomic handle
Superior heat distribution
Attractive
Versatile to cook with
Cons:
Not nonstick as advertised
Not oven safe
Best Large Six Quart Sauté Pan: T-fal Square
Every month new cooking tips in your email?
Japanese recipes, cooking tips and more with the first email our FREE mini-recipe guide "Japanese with ease"
We'll only use your email address for our newsletter and respect your privacy
This jumbo sauté pan has a nonstick ceramic coating.
It is metal utensil safe and toxin free. The heavy gauge aluminum and ceramic make it stain and scratch resistant and extremely durable.
It has a glass lid. It's able to reach 700 degrees on a cooking surface and its oven safe up to 300 degrees.
It is dishwasher safe and approved for all cooking methods.
It has a glass lid and a handle.
Pros:
Jumbo size
Endures high temperatures
Oven safe
Glass lid
Durable construction
Nonstick
Dishwasher safe
Cons:
Coating wears away and pan loses nonstick properties
Best Sauté Pan for the Money: Cuisinart 733-30H Chef's Classic
This sauté pan's stainless interior gives it classic good looks. It has superior heat distribution and it heats food quickly.
The surface does not discolor or react with food or flavors and it is great for a variety of cooking techniques.
It has riveted stainless steel stay cool handles. The second handle provides extra support making the pan easy to carry and pour from.
The tight-fitting lid seals in moisture and flavor. The pan is dishwasher safe and extremely durable.
Considering all the pan offers, it's very reasonably priced.
Pros:
Dishwasher safe
Durable
Good looking
Does not react with food
Versatile
Tight fitting lid
Stay cool handles
Two handles make it easy to carry and pour from
Superior heat distribution
Tight fitting lid
Cons:
Poorly constructed and not high quality as advertised.
Best non-stick saute pan: Le Creuset Les Forgees
Do you love cooking and are you known for your unique cooking skills? Do you prefer to play safe and spend a little more money for an extremely good pan without any problems? Then this sauté pan from Le Creuset might be a new addition to your beautiful kitchen collection.
Very good price / quality ratio: Le Creuset Sauté pan is a luxury aluminum pan with a very strong non-stick coating that prevents the food from burning.
The pan is also easy to clean, and it is the perfect pan if you are going to prepare a dish for a group of people. Le Creuset is generally a slightly more expensive brand, but of very good quality.
Cooking is extremely convenient and fast with this chic pan, which is made of aluminum. The non-stick coating ensures that the food does not stick.
Safe and multifunctional sauté pan
You also do not have to worry about the release of chemicals, because this pan is only produced from non-harmful and good materials. Since the food does not stick, the pan is also easier to clean.
The pan also has an excellent diameter, which makes it extremely suitable for preparing large meals or food for a large group of people.
Features of this sauté pan
The pan is made of aluminum and the handles of stainless steel
The handles are ergonomically designed and also have a cold grip to prevent burning
The diameter of the pan is 30 cm
With an extremely strong non-stick coating
Without PFOA and PTFE (harmful substances)
Suitable for all heat sources (electric, gas, induction, ceramic, oven)
Durability of your kitchenware
The pans from Le Creuset Les Forgées are extremely durable and robust. The materials used to develop this pan are of the best quality.
With this pan you can be sure that it will not deform. With this sauté pan you have prepared a delicious meal in no time. The pans of this series are all dishwasher safe, however it is recommended to wash the pans by hand.
One because the non-stick coating does not allow food to stick and washing up shouldn't be a problem, and two to make the pan last as long as possible. The pan is ideal for stir-frying, frying and baking. Also nice is that the manufacturer gives a lifetime warranty with this pan.
Best price / quality ratio with this sauté pan
There have been a large number of reviews left by customers who have purchased this pan and are very satisfied. For example, it is claimed that the Le Creuset sauté pan is a fantastic pan that is beautiful in design and convenient to use.
Some customers say they find the pan a bit pricey, but at the same time they also admit that they have a lot of value for their money. There are people who have bought a matching lid with the pan so that they can go more ways with the sauté pan.
The price / quality ratio of this sauté pan is excellent and according to all customers this pan is highly recommended. Nothing but five stars for this amazing sauté pan from Le Creuset!
About the pans from Le Creuset
Le Creuset was founded in 1925 and has since become an expert in the development of cast iron casseroles and casseroles.
The brand puts a lot of time and energy into manufacturing these pans, because each pan has its unique mold that is always undone after pouring. After that, all pans are enamelled by hand. Finally, they check each pan for any defects.
Red enamelled cast iron makes this sauté pan very robust and a real eye-catcher: Beautiful red and robust sauté pan from Le Creuset made of enamelled cast iron.
Has a beautiful wooden handle, which stays cool during use. The pan is suitable for all heat sources and has a diameter of 28 cm.
Unique, good quality pans
Only in this way are the very best and most robust pans developed. Le Creuset clearly distinguishes itself from other pan manufacturers and aims to offer all cooking enthusiasts the best products for the kitchen, with which the highest cooking performance can be achieved.
Not only the goal is important, they also pay a lot of attention to the appearance of their products. The products of Le Creuset are therefore very strong, elegant and very easy to use.
Very extensive range
Furthermore, Le Creuset is truly at home in all markets within the cooking industry. Cooking utensils for simple and everyday meals with the family, or a chic dinner for two by burning candlelight.
Le Creuset has a solution for every situation. The brand has various ranges, in which different materials are used in its design: including stainless steel, textiel, silicone, pottery, and forged aluminum.
In addition, the pans from Le Creuset are also a perfect gift idea for the professional chef or the mother who has made cooking her great passion. This will be a gift that can really be enjoyed for many years to come.
Check the availability of this Le Creuset here
What exactly is sautéing?
"To saute" is a verb that you have probably seen several times on international cooking shows on TV. What you often hear is "sauteed" vegetables, which means sautéed vegetables. If you translate this into Dutch, it means stir-fried vegetables.
However, there is a difference between stir-frying and sautéing. A wok pan is often round in shape, while a sauté pan has a flat bottom. The sauté pan should not be missing in the pan collection of a true cooking fanatic.
Especially when it is customary for groups of people to dine with you at home and where you do not want to just put a simple meal on the table. You like to spend a lot of your free time in the kitchen experimenting with the tastiest recipes and for that you only need the best pans!
What is a sauté pan?
A sauté pan is therefore the same as a sauté pan, a pan specifically made for sautéing, frying.
What's the difference between a sauté pan and frying pan?
Many novice cooks asked me what the difference actually is between a sauté pan and a skillet so I decided to add this piece to my article. A sauté pan and skillet are the same. Sauteuse or sauté pan is simply a more expensive French word for our delicious Dutch frying pan.
Materials of the sauté pan
You can buy the sauté pan in various types of materials and this is an important point when purchasing the right pan.
Stainless steel or stainless steel
The sauté pan is often made of stainless steel, in combination with aluminum, which ensures optimal heat conduction.
Do you already have such a beautiful stainless steel pan at home, but is it discolored? Here you can read how you can easily solve this again and make your pan beautiful again.
Copper is beautiful too
You can also buy a sauté pan that combines stainless steel with copper. These types of pans look chic and are a must for the real cooking enthusiast. Only drawback is that the copper sauté pan requires more maintenance than an aluminum pan. Especially the first use of a copper pan deserves some attention.
On the other hand, if you do that maintenance properly and regularly, such a pan can last a very long time. Spending a little money on such a pan is certainly not a bad idea.
Cast iron for durability
In addition, there are also cast iron sauté pans (such as our number 3 in the list above). The advantages of copper and aluminum are that they are good heat conductors and heat up a pan quickly.
Stainless steel and cast iron take a little longer to heat up, but retain heat for a long time from the moment they are heated up. These two materials are suitable for induction hobs.
With or without non-stick coating
When you buy a sauté pan without a non-stick coating, the advantage is that you can cook at higher temperatures. This creates a crunchy effect for the food. In addition, pans made of these materials are often suitable for the oven.
However, if you opt for a sauté pan with non-stick coating (such as our number 1 and also 5 in the overview), you can easily fry the ingredients without them sticking to the pan. Cleaning the pan is also convenient and quick.
Lids and handles
Then there are sauté pans with or without lids. A matching lid is useful because then you know for sure that it fits well on the pan and closes it well. To simmer a dish, you want to be able to close the pan so that the heat stays inside and you use less energy.
Ultimately, sauté pans come with a stem as a handle or handles on both sides. What you go for here is simply a matter of what you find easier to use. Handles give a better grip on the pan. However, a handle, such as you also find with a saucepan, provides more maneuverability.
A delicious recipe suitable for the sauté pan
Curious about a delicious recipe that you can prepare with your sauté pan? We can imagine that you want to try out your brand new addition right away. And of course you do that immediately in a grand way!
How about delicious lamb nuts with baked dates? This recipe comes from the Moroccan kitchen and is easy to prepare. For four servings you need the following ingredients:
Dash of olive oil
2 nuts butter
2 onions
1 tbsp flour
200 grams of dates (or more, to taste)
1 tbsp turmeric powder
Spice mixture (thyme, parsley, bay leaf for example)
Pinch of pepper
2 tbsp sugar
Pinch of ginger powder
A little parsley
700 grams of lamb nuts
Orange blossom water
Lamb nuts with baked dates
First, preheat the oven to about 180 ° C. Then put one of the two nuts of butter in your brand new sauté pan. Put the lnuts in the butter and let it grill for about one minute on each side over high heat. Add some salt and pepper to taste, then remove from the pan.
Chop the onions into small pieces and throw them in the sauté pan together with a drizzle of olive oil. Keep a low heat and when the onions are fried, add the turmeric, ginger powder and sugar.
Stir the mass together and let it simmer for a while. Add some flour to the mixture, stir again and add some water. Add the herbs and let everything sit on low heat for about 15 minutes.
Now it is time to stone the dates. Then take a bowl and add the other nut butter (soft or melted), sugar and some orange blossom water. Now dip the dates in this liquid and then place them on an oven plate. Let them bake in the oven for about 10 minutes.
Roll the lamb nuts in the sauce you prepared earlier and let the meat fry for a few more minutes on both sides. If necessary, add some pepper, salt and parsley over the meat.
Finally, cut the lamb nuts into large or small slices according to preference and serve with the dates from the oven. You can serve the meat with, for example, a fresh couscous or a summer salad.
Conclusion
Now that you know what to look for in a sauté pan, which would you choose?
Every month new cooking tips in your email?
Japanese recipes, cooking tips and more with the first email our FREE mini-recipe guide "Japanese with ease"
Also read: Best copper frying pans reviewed for every budget
Joost Nusselder, the founder of Bite My Bun is a content marketer, dad and loves trying out new food with Japanese food at the heart of his passion, and together with his team he's been creating in-depth blog articles since 2016 to help loyal readers with recipes and cooking tips.