Yatai: Your ultimate guide to the Japanese street food stalls
I love creating free content full of tips for my readers, you. I don't accept paid sponsorships, my opinion is my own, but if you find my recommendations helpful and you end up buying something you like through one of my links, I could earn a commission at no extra cost to you.
Learn more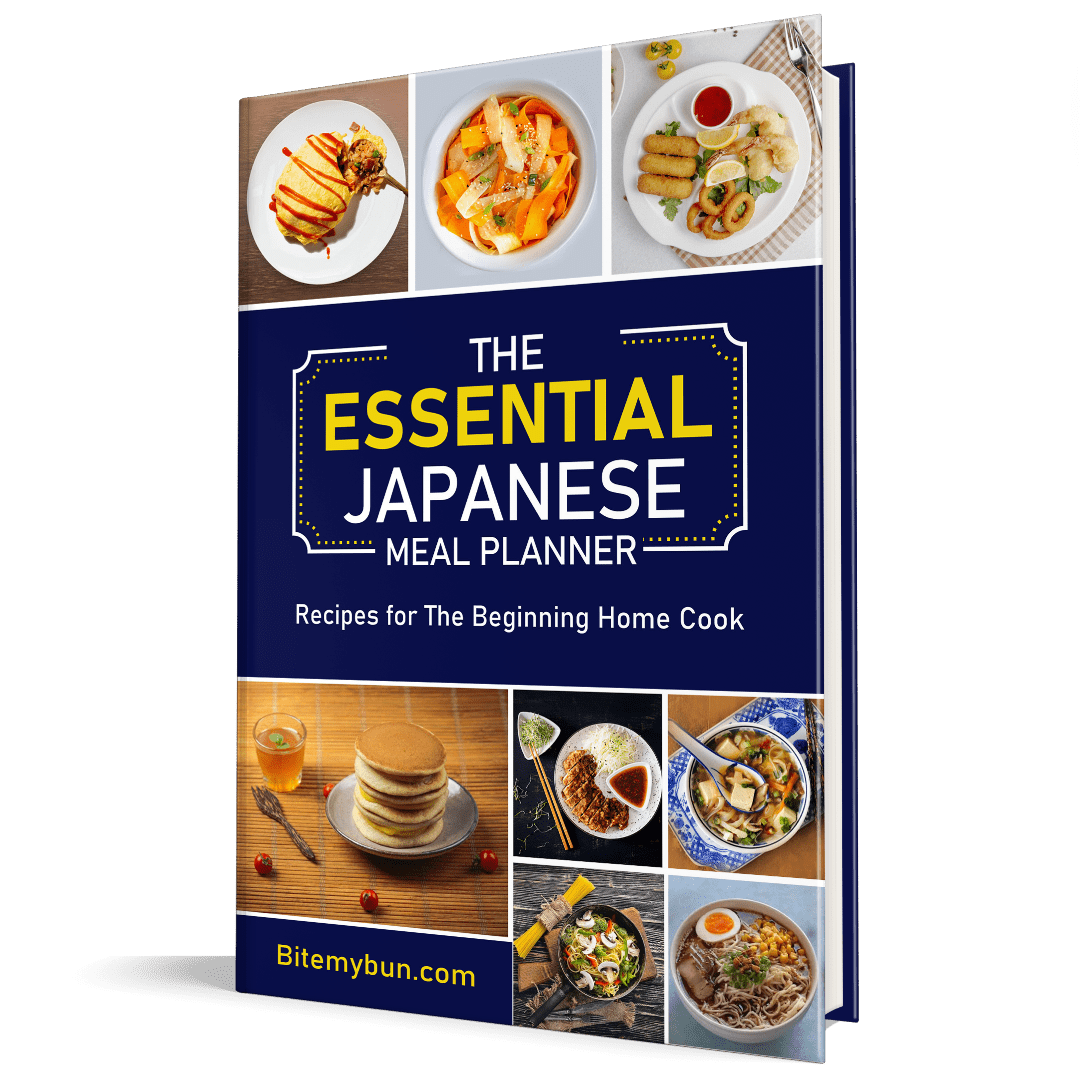 Check out our new cookbook
Bitemybun's family recipes with complete meal planner and recipe guide.
Try it out for free with Kindle Unlimited:
Read for free
Takoyaki, hot ramen noodle soup, yakitori are all delicious street foods you'll find while roaming around Japan.
The Japanese yatai stall is a mobile wooden food stall with a table and stools, pushed around by a vendor. It is the perfect place to grab a quick lunch or snack on the go for a low price and eat popular Japanese street food.
Fukuoka prefecture is the place you'll find the most yatai food stalls because the region is full of these small mobile family-owned street food stalls.
You probably won't find Yatai in most other places except during festivals because they have really gone down in popularity.
Sure, Japanese streets are full of street vendors but these aren't the traditional wooden yatai stalls.
At a yatai, you'll find all kinds of boiled, fried, and even fresh classic Japanese food to try!
Let's dive into this Japanese street food tradition, I'll explain what makes something yatai, where yatai comes from, and what you can eat there. It's the ultimate yatai guide!
10 Tips to Save a Bundle on Asian Ingredients!
Introducing our brand new FREE PDF guide: "Saving Secrets: Unveiling the Art of Saving Money on Asian Ingredients" It's your first newsletter email, so start saving today! 📚🧧
We'll only use your email address for our newsletter and respect your privacy
What is yatai in Japanese?
The Japanese word yatai (屋台) means "shop stand or stall" and it refers to a mobile food stall, usually made of wood.
Since it's moveable, the vendor usually pushes the stall around on the street but these days most yatai are located in a specific location because it's more practical.
The stall has a roof, a table, and a few stools where people can sit and eat. Most Japanese people go to the yatai to grab a quick meal such as ramen or chicken yakitori, among many other food types.
The vendor prepares the food and you can serve it at the table right on the spot or get it as takeout. During Japanese festivals, the yatai is extremely popular and serves up delicious local dishes.
Yatai is associated with Fukuoka city, a popular port town located on the shores of Kyushu Island. It is home to all of the Japanese food yatai. It's where the yatai originated from and this part of Japan has a rich culinary tradition.
Unfortunately, the popularity of the yatai has dwindled in the past few years mostly because people just aren't interested in this style of dining. Many people are concerned about the sanitary conditions of the food cooked and served this way.
But, don't worry you can still see many yatai stalls in Fukuoka city or at Matsuri (祭) which are Japanese festivals.
The food at the yatai is usually very affordable and easy to access so it's a great place to try new Japanese food.
Did you know that "festivity" is exactly what makes the difference between chirashi and donburi?
What does a Japanese yatai look like?
It's kind of hard to imagine what a Japanese yatai looks like as a Westerner. When you think of food stands, you're likely thinking of the famous hot dog stand in major American cities.
Well, the Japanese street food stall is nothing like that.
The yatai is a wooden pushcart. It has two wheels and it gets pushed around by the food vendor from location to location.
In the past, the carts were very mobile and got pushed around a lot but these days many vendors choose to stay on Fukuoka's popular streets to attract hungry customers.
The yatai stall has a barrier between the patrons and the vendor who prepares and served the food. The more sophisticated models have a small bar-like setup with a table and a few stools.
A yatai stand will have wheels, some kitchen appliances, cookware, and dining utensils.
The cool thing is that the seats and tables are folded into the cart while it's being moved. The carts are quite large because they measure about 2.5 to 3 meters.
Patrons can sit around the table and enjoy their food and drink there and that's why this type of street food stand is very popular – you can get a quick bite to eat at any time of day.
Want to know more about Japanese snacks? These are the 15 best types of Japanese snacks you want to know
What Japanese street food is sold at yatai?
Yatai is known for serving traditional Japanese street food (like these 7 classics) although some more modern dishes are also served.
Most foods are savory but there are some must-try sweet desserts like Kakigori or Dango too!
The food cart is centered around serving food but they have some of the most popular drinks too.
Popular Japanese street food sold at yatai
Let's take a look at the types of foods and snacks you can buy at a yatai food stand.
Yakitori
Probably the most common Yatai food is yakitori or chicken skewers cooked on a Japanese grill or griddle.
Yakitori is a very famous and traditional chicken dish served on bamboo skewers with a sweet and savory yakitori sauce.
Oden
If you like hotpot dishes like shabu-shabu and sukiyaki, you'll enjoy this tasty stew. It is basically a runny stew with cabbage, daikon radish, boiled eggs, tofu, and umami-flavored fishcakes.
Oden is the ultimate Japanese comfort food and that's why it's served by most food vendors.
The interesting thing about oden is that it cooks in a large pot all day and the vendor adds more ingredients after serving customers.
Ramen
I can't think of a more famous Japanese street food than a bowl of traditional ramen.
This is a famous noodle soup with long thin "pulled" noodles. The noodles are served in a hot savory broth.
The broth can be made from chicken, pork, beef, or seafood. This stock is the base for the broth and it is filled the chewy noodles, sliced meat, vegetables, and all kinds of tasty toppings.
Ramen soup has a delicious miso paste flavor and can also be served with small fishcakes.
Did you know Japanese fishcakes come in all sorts of shapes and flavours? Check out the top 10 most popular fishcakes
Hakata ramen
It's hard to beat hot ramen noodle soup but there's an interesting yatai variation called hakata ramen which is even more delicious!
It's made with thin ramen noodles in a broth made of pork bones.
Gyoza
Gyoza is a popular savory dumpling with a filling of minced pork, Nira (chive), cabbage, and ginger.
The dumplings are usually pan-fried and served with a tasty savory-sour sauce made of soy sauce and vinegar.
Gyoza can also be simmered, boiled, and baked, and filled with different meat and vegetables.
Learn more: Gyoza is a dumpling, but not all dumplings are gyoza!
Dango
Dango is a popular dessert made with rice. It has a texture similar to mochi but the sweet rice dumplings are placed on skewered before serving.
This dessert is available in many flavors, even savory, but sweet is the most common and may contain various seasonal ingredients.
Kabayaki
One of the most interesting types of seafood street food, kabayaki is grilled or broiled unagi (eel). Eel is sliced into thin pieces and then seasoned with soy sauce and mirin (cooking wine).
Some people eat kabayaki as a snack on its own but it's usually served with rice.
Takoyaki
The world-famous octopus balls are one of the top foods you'll buy at yatai. You can't really say you've tried Japanese street food without having some fried octopus balls.
Diced or minced octopus is deep-fried in an umami batter then served with a special takoyaki sauce.
Takoyaki is both a festival and street food and you should never skip it if they sell it at yatai stalls.
Okonomiyaki
Okonomiyaki is a popular runny pancake cooked on a teppanyaki grill.
The savory pancake is made of batter which is cooked on the griddle with cabbage and meat.
It is then served with a tasty okonomiyaki sauce, and toppings such as aonori, bonito flakes, beni shoga (pickled ginger), and Kewpie Japanese mayonnaise.
Also be sure to try some sweet & fluffy Japanese pancakes, the perfect dessert or treat
Yakisoba noodles
Another popular yatai dish, yakisoba noodles refers to fried noodle stir-fry.
Yakisoba noodles are made of wheat flour and served with all kinds of vegetables and meat like pork, beef, or chicken.
The sauce is what makes this dish stand out: the noodles are combined with a Worcestershire-based sauce and this makes them sweet and savory.
Want to try yakisoba at home? Check out this easy 30 min Yakisoba recipe you can make for your family 
Tempura
At yatai stalls, you can find these amazing deep-fried foods called tempura. It just refers to a thin batter made of flour, eggs, and water which is used to coat seafood and vegetables (these are great vegetables for tempura).
It's the perfect snack to enjoy when you're in a rush and you can find all kinds of tempura varieties. The fried tempura is then dipped in a sauce which also contains some daikon radish.
Drinks served at yatai
A delicious alcoholic beverage is a perfect pair for any of these savory (and often greasy) foods.
Beer is the most popular drink they serve at the food stall. You can find brands like Sapporo beer and other local draft beer.
Another popular alcoholic beverage is made from rice and it's called shōchū. It's a bit similar to vodka and quite strong!
Chuhai is a Western-style cocktail made with shōchū and all kinds of fruity-flavored syrups like lychee or apple.
Finally, I can't skip sake, which is Japan's favorite polished and fermented rice alcohol. Sake is a great drink to have alongside takoyaki and okonomiyaki or grilled meats.
I'm sure you can probably find tons of other foods at Yatai but the ones I mentioned are the most popular dishes.
Yatai: the Japanese street food stalls brief history
Nowadays the yatai stall is set up each morning after dawn on or near the sidewalk. Then, it's removed and closed each night, but sometimes they are open well into the night.
The history of the yatai dates back to the Meiji period in the 17th century. The initial design was made of wood. Each pushcart has two wheels for easy mobility.
People, especially the working class would go to the yatai for quick afternoon meals and dinners. It was like visiting a modern fast food joint today.
The food stalls were located close to temples and shrines where there was a large influx of people. The most common food they served was soba (buckwheat) noodles. The nighttime soba vendor was called "yutakasoba".
After the industrialization of the 1900s, the yatai became an important part of street food culinary culture. In the 1950s, street foods became even more popular and many people become vendors after the invention of ready-made yatai stalls.
Up until the 1960s, yatai were prevalent all over the place but after the 1964 Tokyo Olympics, they started to close at a rapid pace.
Health and food safety was the main concern and still is today. But, luckily you can still find yatai in Fukuoka.
In fact, yatai was always the most popular in Fukuoka, especially in the Nakasu and Tenjin districts.
There, vendors have a trade association that somewhat protected them from the problems of other Japanese street food vendors.
Where can I find yatai?
The only authentic yatai stalls of Japan are located in Fukuoka City or pop up during festivals.
If you are visiting Japan and want to visit these street food vendors, go to Omoide Yokochou, Ameyoko, and Nakamise Dori. There, you'll find yatai stalls that sell all the popular Japanese street food like octopus balls and other fried delights.
The stalls on the street called Omoide Yokochouku which is in Shinjuku are not mobile but they are set up there all the time so it's a sure bet you'll find something tasty there.
For yatai stalls that are open during the day and well into the night, visit Ameyoko street which also boasts many cool shops.
For a more historical and scenic route, visit the Nakamise Dori yatai which sells street food as well as some souvenirs. The location is close to Kaminarimon gate and so it's a traditional yatai located close to temples.
How do I start a food stall in Japan?
Starting your own food stall business in Japan is not as easy as you'd think since you have to follow all the rules and regulations.
There are three main parts of this type of business operation. Here's what you need:
business permit for a street stall
certificate of food hygiene supervisor
street stall layout and the equipment for a business permit
There are two types of business permits in Japan:
Temporary stall operation permit
Stall business permit
It depends on whether you want to serve Japanese street food all year round or only at festivals.
Foods you are allowed to serve
Japan is very strict about which foods you're allowed to serve. Hygiene is also very important and there are many controls each year.
Food regulations are notoriously severe and at stalls, you can only serve certain types of fried and cooked foods.
You cannot serve and sell unheated food at yatai stalls in Japan. Also, you can't sell foods like fresh cream, raw fruit, raw fish like sashimi, cold noodles, and sandwiches. For a more extensive list, read this article.
Basically, you can only serve and sell food that is hot and cooked in front of the customer.
The business permit certificate
The city has to give you a business permit certificate that proves your stall has been checked for health and hygiene standards.
This business permit is valid for 5 years and then you have to renew the process to keep your stall open.
There are two types of business permits:
for selling confectionery like crepes, pancakes, waffles, cookies, donuts, etc
for light meals and menus like yakitori
Certificate of food hygiene supervisor
Next, you or the person operating the food stall must have their certificate of food hygiene supervisor.
This is a special qualification for the person at the stall or someone working in the kitchen. It teaches you how to store and prepare food safely as well as all the hygiene rules and regulations in the country.
The supplies and equipment
You also have to have all your cooking supplies checked and have a proper fridge and freezer.
The food stall also needs proper garbage disposal systems and equipment, storage space, have running water supply or tank, and your stall must only have one opening where the customers pay and get the food.
Pay the fees
Finally, you need to register your business, choose a business name, and pay all the fees and taxes. You need to check these on the official Japanese government and municipal websites.
It's going to take some work but once your yatai is set up you can start earning a nice income if your food is delicious, of course.
Keep in mind that Japanese street food is amazing and the competition is tough!
Takeaway
Have I convinced you that you need to try Japanese street food at a yatai yet?
With all these yummy options like ramen and takoyaki, there's no going wrong with a quick hearty meal or snack at these traditional street vendor stalls.
Sure, it's not the fine dining experience of a restaurant but it's a cheap way to try great foods from all over Japan. Besides, if you're in Fukuoka, you'll see yatai on many street corners.
Next, learn about the Japanese craft of knife making (this is why they are so special and expensive)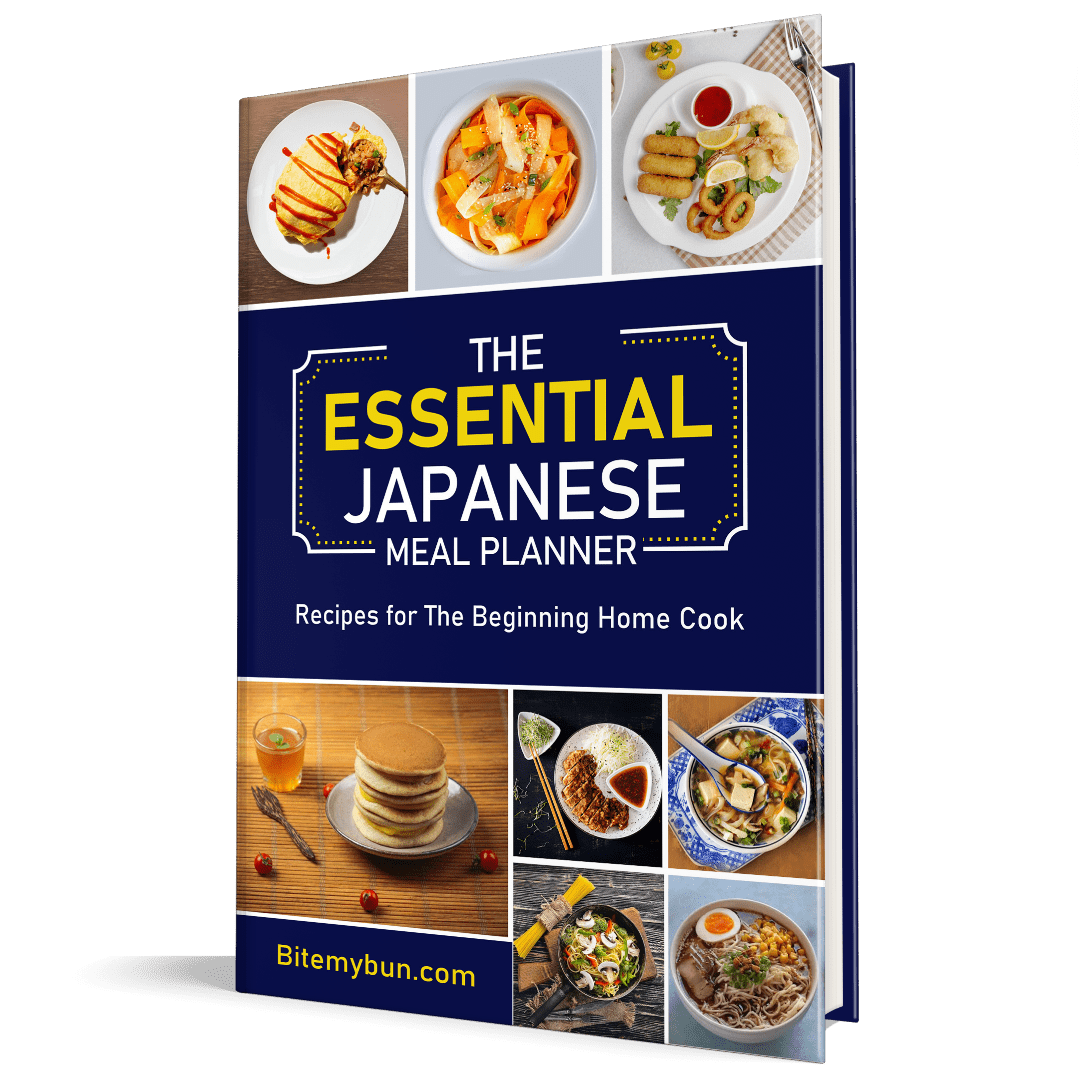 Check out our new cookbook
Bitemybun's family recipes with complete meal planner and recipe guide.
Try it out for free with Kindle Unlimited:
Read for free
Joost Nusselder, the founder of Bite My Bun is a content marketer, dad and loves trying out new food with Japanese food at the heart of his passion, and together with his team he's been creating in-depth blog articles since 2016 to help loyal readers with recipes and cooking tips.