7 Best Hibachi Chef Tools Reviewed
I love creating free content full of tips for my readers, you. I don't accept paid sponsorships, my opinion is my own, but if you find my recommendations helpful and you end up buying something you like through one of my links, I could earn a commission at no extra cost to you.
Learn more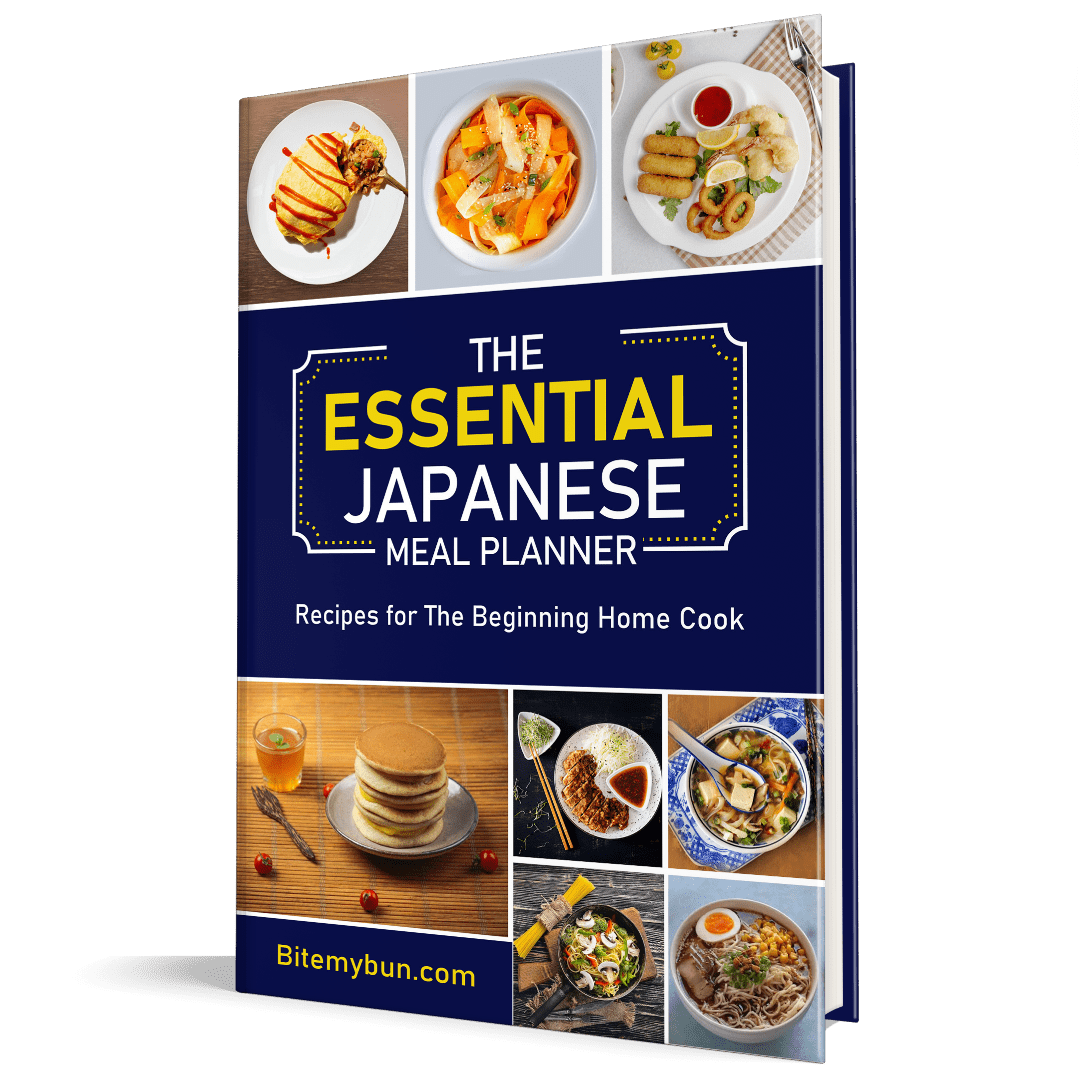 Check out our new cookbook
Bitemybun's family recipes with complete meal planner and recipe guide.
Try it out for free with Kindle Unlimited:
Read for free
They say that any professional is only as good as the tools he or she uses and that is very true with the Japanese hibachi chefs.
In order to bring about the best hibachi recipes, hibachi chefs require the sharpest, most well-balanced, most ergonomic, and most efficient cooking/kitchen tools to work with.
So remember each time you eat at a hibachi restaurant or a hibachi recipe prepared in a styrofoam container, it was meticulously made with over a dozen ingredients for your amusement and appetite.
But, every chef knows that having the right tools makes a whole lot of difference and makes cooking so much easier. 
Let's look at an overview of the best hibachi tools and then I'll review them in detail below. 
10 Tips to Save a Bundle on Asian Ingredients!
Introducing our brand new FREE PDF guide: "Saving Secrets: Unveiling the Art of Saving Money on Asian Ingredients" It's your first newsletter email, so start saving today! 📚🧧
We'll only use your email address for our newsletter and respect your privacy
The chef's favorite Hibachi tools
There are dozens of tools needed to make hibachi-style recipes; however, the ones that hibachi chefs often use on the grill include the following eight:
hibachi knife
fork
spatulas
scraper
tongs
heat-resistant gloves
grill brush
sauce squeeze bottle
I'm going to discuss why each tool is important and review the best one of each, plus offer some alternatives. 
Cutting and chopping meat, vegetables, and other ingredients are the first things that chefs do in preparing sumptuous hibachi meals. This is where the hibachi knife is most useful.
Mixing the ingredients on the hibachi iron griddle is another type of work that chefs do throughout the preparation and cooking time. Again the hibachi spatulas are what the chef works with when he does this.
Find out what other tools the hibachi chef uses below.
1. Hibachi knife
The gyuto knife is what Japanese hibachi chefs commonly use in hibachi restaurants because its versatility is unmatched.
Because of its incredible versatility, this knife is a popular tool for Japanese Hibachi chefs because it cuts through beef, pork, chicken, and vegetables.
The knife's characteristics are very similar to the Western all-purpose chef's knife. But, I would argue that it's a bit more of a specialty knife and works best when you cut thin slices of beef. 
It can be compared to a hybrid of the traditional nakiri and a Western Chef's knife. However, it is better than both of those options, especially for cutting meat into thin slices for hibachi. 
A true gyuto has a double-bevel sharp blade, great edge retention, and is made of durable stainless steel with a wooden handle. 
Gyutos are mainly used for pushing and chopping but others have a more pointed blade profile that can be used to cut in any style. 
It has been designed to have a long and thin blade that makes it nimble in the kitchen.
Best Gyuto knife for hibachi: 

Yoshihiro VG-10 Gyuto Knife
price: $179-200
length: 8.25 inches
blade material: high carbon stainless steel
handle: ambrosia wood
As a chef, you need a high-quality knife that won't let you down during the food prep. A great knife should be sharp, lightweight, and have an ergonomic handle you can easily maneuver as you need to cut and dice quickly. 
The Yoshihiro VG-10 Gyuto knife is a premium option that delivers all the features a chef needs while working the hibachi grill at a restaurant (or at home). 
The 8.25-inch double-bevel edge makes this knife suitable for use by both righties and lefties. It is made of 46 layers of hammered steel and this gives the blade non-stick properties.
So, as you cut meat and veggies very fast, the bits don't stick to the knife's edge and you can cut in record time. 
Another notable feature is that it has a lightweight octagonal wooden handle. This is the traditional Japanese Wa handle style and it makes you feel as if your palm and fingers mold to the handle. Not only does this make it easy to hold, but it's comfortable, even after prolonged use. 
Finally, I just want to say that this beautiful knife stands out in its design and is sure to impress people when you take it out. It also comes with a wooden sheath and sheath pin for easy portability from the kitchen to the restaurant. 
Other recommended brands:
Budget-friendly option: DALSTRONG Chef Knife 8″ Gladiator Series
Chef knife: Imarku Pro Kitchen 8 Inch Chef's Knife
Or check my full review of the best knives for hibachi (including knife holsters)
2. Hibachi fork
Since grilling is involved in just about every hibachi recipe, one cannot work without the hibachi fork in a hibachi grill. It's similar to an American barbeque fork with a handle and two "fingers". 
Almost all the recipes require you to turn and flip the meat and then cut pieces, so you need a barbecue fork to get the job done.
This kitchen tool, which looks a lot like Poseidon's trident is very interesting. It can be used as a double fork, with just two sharp protrusions. However, it can also pick up large meat pieces and place them back on the grill. 
Most chefs also use a knife and fork in tandem when the meat must be cut into the required shape. With the fork, you hold the meat in place, and then with the knife, you can cut safely. 
The hibachi fork can also be used for entrée courses during dinner service, especially when one of the recipes on the menu is a grilled or roasted meat.
So, what makes a good hibachi fork?
Well, it must be made of strong steel material and have a heat-resistant handle you can hold. 
Best hibachi fork: 

Kilajojo Chef Pro 12 Inch
price: $17
size: 12 inches
handle: ABS plastic
When you're grabbing the meat either to serve it on the plate or you want to cut it while it's still grilling, you need a heat-resistant Japanese BBQ fork. The Kilajojo Chef Pro Stainless Steel Carving Fork is the best for that purpose.
It's an overall excellent budget-friendly fork that has a long blade, forged from one piece of quality stainless steel. 
This fork is suitable for home and commercial use because it doesn't warp or bend from high-heat exposure. Therefore, you can use it to place the meat on the grill or even hold it down while you carve off smaller pieces to serve. 
What makes this a better fork than many other budget ones is the handle. It has micro-arc handles which are very ergonomic and they are easy and comfy to hold, and also don't slip.
Some wooden handled forks get scorched when you use them but this one doesn't. This plastic fork also has a nice smooth finish so it looks stylish and it's also hygienic and easy to clean. 
Other recommended brands:
Best for carving: Touch X 10.5″ Carving Fork
Very cheap option with wood handle: New Star Foodservice BBQ Fork
3. Hibachi spatula
A spatula is a broad, flat, flexible blade used to mix, spread, lift food from the grill or turn it over.
The hibachi spatula, on the other hand, is exclusively designed for use on Japanese grills like hibachi, konro, teppan.
When cooking on the grill, chefs use spatulas to prepare their recipes. The chef may mix the ingredients several times on the barbecue before you are ready to eat. They are also used by chefs to improve their Hibachi cooking skills.
The chef uses the spatulas when he'll start cooking the recipes on the cooktop and then either turn the food over, or mix veggies and egg, like in the case of okonomiyaki. You may see the chef mix the ingredients on the grill surface several dozen times before setting them aside for serving.
The chef also uses spatulas for performing his hibachi cooking tricks for the customers' amusement just like how teppanyaki chefs please theirs.
The hibachi spatula can be a pair of solid stainless steel construction, or one having a solid surface while the other has a perforated surface.
A plastic blade is absolutely not recommended because it can melt when in contact with the hot grill surface. However, the handle can be made of ABS plastic as that's very strong and durable. 
I recommend choosing a set of 2, so you have a perforated one and a solid blade spatula. 
Best hibachi spatula set: 

Leonyo Griddle Metal Spatula Set
price: $11
number of pieces: 4
material: stainless steel
handle: abs plastic
You don't need to spend a lot of money on spatulas, but you do need at least two. This set has a solid blade and a perforated blade spatula.
You need both because the solid one helps you flip and mix, but the porous design allows oil and grease to flow down when you lift the food. Nobody wants very greasy yakiniku in Japan. 
These spatulas are well-built and easy to clean because they're dishwasher-safe. 
Another bonus is that you get two hanging hooks too so you can hang them up near the grill to have them handy when needed. Simply hang them on the hook with the special hanging hole on the spatula handle.
The blades have a 1.5 mm thickness which is the perfect size for turning meat and Japanese pancakes. But it also works well as a mixing and separating tool because it's thin enough to be used as a type of small cutter. The beveled edge also makes stirring foods quickly easier than using a smaller spatula. 
Overall, these spatulas are comfortable to hold and a breeze to maneuver. They have a non-slip handle that has a 45-degree angle between the handle and the blade thus it makes flipping foods easier because the handle stays in your hand firmly. 
Other recommended brands:
Full set: ROMANTICIST Professional BBQ Griddle Accessories Kit
Similar set with more accessories: Blackstone Signature Griddle Accessories
Also read: easy hibachi chicken and vegetables recipe
4. Hibachi scraper
The grill scraper is used to scrape out oil, grease and in some cases when the chef is cleaning the grill; it is used to scrape out burnt food debris too!
In some cases, ingredients like eggs get stuck on the hot plate or hibachi and start to give off a burnt smell. That's why you need to use a hibachi scraper quickly before things really stick on.
Another use for scrapers is to mix ingredients or cut ingredients into smaller pieces or slices. But usually, the role of it is for cleaning purposes. 
You can also use the grill scraper to clean other grills such as iron grills and commercial stoves. The blades are usually beveled for easy use. 
The scraper is typically made from stainless steel and has riveted wooden or plastic handles. These handles are designed to withstand heat so that it can be used for many years before needing replacement.
Some, like the Grillers Choice, have rubber handles that are non-slip, so they're even better. 
The interesting thing about Japanese grill scrapers is that they have a very wide blade but they are small in size and not tall at all, with a thin handle. 
Best hibachi scraper: Grillers Choice 

Stainless Steel Scraper
price: $9
blade material: high carbon stainless steel
handle: rubber plastic
Usually, scrapers come as part of a grill accessory set, but this one from Grillers Choice is a nice single bevel blade hibachi tool. 
It is a commercial-grade scraper with a rubberized comfortable non-slip handle. This feature makes it easy to use and hold as you need a good handle to be able to press firmly to remove even the nasty stuck on food scraps.
What makes this scraper such a good choice is the fact that it's affordable but highly practical. The beveled edges make this one really sharp so you can even use it to cut up the food and slice it when you don't get a chance to go grab the knife.
Therefore it's a versatile little scraper with more than one use. It also removes residue and caked-on greasy bits very well without much effort on your part. 
There's an inch marking scale too on the front and a centimeter marking on the back if you need to use it for non-cooking purposes. Overall, it's a useful and durable tool that will last you for a long time. 
Other recommended brands 
Griddle scraper with longer handle: FANSITY Griddle Scraper
Grill brush and scraper combo: Grizzly Grilling Grill Brush and Scraper
5. Tongs
Tongs are a type of tool created to serve as hand "extensions" in order to pick up, grip, and lift objects so as to avoid getting the hand in contact with the otherwise delicate or harmful objects being worked on.
There are many forms of tongs adapted to their specific use. To roast meats and sausages, some people use tongs.
There are many types and shapes of tongs that can be used for specific purposes.
For delicate objects, tongs are designed with a long arm and a flat circular or rectangular shape or any other similar shape that is pivoted at a joint near your hand. These tongs are the ones you will see in ads for charcoal chips.
Hibachi tongs and BBQ tongs can also be included. They can also be used to make spaghetti or salad.
The basic hibachi tong is made from commercial-grade stainless steel that's durable and rust-resistant. Then you can either have a plastic coating or some rubber components at the top where you hold the tongs. 
I recommend long tongs so you don't have to hold your hand near the hot grill or open fire. 
Best hibachi tongs: Patelai 

BBQ Tongs with Oak Wood Handle
price: $13-15
size: 16 inches
material: stainless steel
handle: oak wood
The Patelai BBQ tongs are probably the most stylish ones I've seen and if you're a chef and want to impress clients, you want a pair of nice-looking tongs that don't look cheap even though they are affordable. 
The tongs are sold as a set of two and they are made of smooth stainless steel which has corrosion and rust-resistant properties so they hold up well after washing. 
But, what makes this pair unique is the oak wood handle. Unlike cheaper plastic handles that emanate toxic substances when exposed to heat or melt, these stay cool and are completely safe for use. 
A cool design feature is the ring lock system. There's a ring at the top of the tongs and you pull it to activate the safety lock. Therefore, the tongs don't randomly open when you store them. 
The bottom part which actually holds the food has a plum blossom chuck design and this means that it can grip the food firmly. The ridges ensure that the food stays put in the clasp and doesn't fall when you lift the tongs. 
Other recommended brands
Shorter 9″ tongs: AmazonCommercial Stainless Steel Kitchen Tongs
Scissor handles: Shark BBQ Long Grilling Tongs
Tong and turner combo: GrillPro 40240 16-Inch Stainless Steel Tong Turner Combination
6. Heat-Resistant Gloves
You will need to use BBQ or heat-resistant gloves if you're operating a gas, charcoal, or wood pellets grill (electric grills no longer require such a level of protection).
However, I recommend using them even if you are cooking on an electric hibachi because it gives you peace of mind and an extra layer of protection. 
Most BBQ gloves are just sewn with thick layers of clothing and insulating material, but for the high-quality heat-resistant gloves, they are made with 2-3 layers of different materials that offer more protection.
Ideal barbecue gloves must be comfortable and non-slip. It should also be simple to clean and maintain, and most importantly, it should be affordable.
If the gloves are water-resistant, that's even better because you can do more tasks with them. 
Best barbeque gloves: 

Rayocon BBQ Grill Gloves
price: $20
material: Neoprene, Cotton, Silicone
The Rayocon barbecue grill gloves are extremely heat resistant and protect from up to 900 degrees F.  These unique gloves have built-in protective layers and a comfortable inner cotton lining to prevent your hands from sweating.
Not only are they good insulators but they also protect the gloves from slipping, cutting, acid, and alkali. The gloves are also waterproof so feel free to wash your hands after touching foods. 
This glove is ideal for cooking and baking but it's designed specifically for handling a grill. Thus, you can use it while making yakiniku on all Japanese grills. 
These gloves are long (14 inches) and cover up much of your wrists which makes them a lot safer than regular grill gloves and so they help prevent burns. 
The neoprene on the palms gives them a non-slip and non-stick surface so you don't have to worry about ingredients or tools slipping from your hands. 
Ideal barbecue gloves must be comfortable and non-slip. It should also be simple to clean and maintain, and most importantly, it should be affordable. These Rayocon gloves offer all of these features yet they are very affordable and minimalist. 
They have some handy holes at the top so you can hang them alongside your other Hibachi accessories and tools. 
Other recommended brands:
Very similar pair but slightly more expensive: Heatsistance Heat Resistant BBQ Gloves
Budget gloves: TUNGTAR Heat resistant gloves
7. Grill Brush
A brush is a common tool with bristles, wire, or other filaments. The grill brush is a type of brush that's designed to clean the hibachi grill. Unlike the scraper, this one is designed for a deeper clean. 
For example, if you need to switch from grilling beef to eggplant, then you need to wipe away and brush away all the grease and fatty bits. You need a really clean grill for the veggies or else customers will taste a weird aftertaste and that's no good. 
Although the barbecue brush isn't used for cooking, chefs at Hibachi restaurants may use it after cooking is complete. They usually use the brush at the conclusion of the day because the hibachi grill must be cleaned and disinfected before any chef can prepare any recipe the following day. 
Most of the modern barbecue brushes are made from many synthetic materials, chain bristles, and sometimes wire bristles. Since they have a rough surface, you can quickly and easily remove stubborn stains.
But don't worry, they don't really destroy the grill coating and surface. In fact, deep cleaning brushes actually protect the barbecue surface because a well-cleaned grill will help it last longer. 
A barbecue brush is safe to use in gas barbecues, charcoal smokers, porcelain, charcoal barbecues, infrared barbecues, Weber barbecues, foreman barbecues, and infrared barbecues.
Look for brushes with easy-to-hold handles and good sturdy materials for the bristles. 
I also prefer brushes that don't have bristles because these don't scratch the grill at all. They are made of finely rolled metal coils and act as gentles cleaners. 
Best hibachi grill brush: 

Cook Time Safe Grill Brush
price: $10-15
handle: stainless steel
type: no bristles
The hibachi grill is more sensitive and fragile than a big outdoor charcoal grill. Therefore, you can safely use a bristle-free brush like the Cook Time Safe Grill Brush because it doesn't scratch the grill's surface at all. 
It's a kind of 2-in-1 tool with a cleaning brush and a scraper attached but I use it for its scrubbing properties because it's a highly efficient cleaning tool for any hibachi or konro grill. 
The brush is gentle because it doesn't have any sharp edges which means that you can remove gunk, grease, and stubborn stuck-on foods without damaging your cooker.
I am impressed by the way that this brush performs because the wire coils attract the debris and keep it there so you don't spread the mess all over the grill.
An added benefit is that you have no stubborn bristles so there's no wire fallout as with other similar brushes. 
When using the brush, you can dip it in water and scrub the hot grill right away and not have to worry about fire and heat damage thus it's a really handy tool to have in your kitchen.
Other recommended brands:
With bristles: Grill Spark BBQ Grill Brush and Scraper
Grill cleaning sponge: SCRUBIT Grill Cleaning Brush
8. Sauce squeeze bottles
You shouldn't forget about squeeze bottles. These are must-haves while grilling on a hibachi or teppanyaki grill. 
They're handy because you put condiments, liquids, and oils in them. Thus, as you cook and need to oil up the grill, you can dispense it straight from the squeeze bottle.
You can add all kinds of condiments in the bottles, including soy sauce, mirin, sake, garlic butter, mayo, ketchup, vinegar, sesame oil, cooking oil, water, etc. 
This type of bottle is usually clear so you can see what's in it easily. But the main advantage is that you can pour in a precise and controlled way by slightly squeezing the bottle. Therefore, you waste less oil, vinegar, or other condiments. 
In hibachi-style cooking, you'll see the chef use a squeeze bottle that's filled with sake to create those large and amazing fireballs that wow diners.
Best squeeze bottles for hibachi: 

6-pack Plastic Squeeze Condiment Bottles
price: $15 for a 6-pack
material: plastic
color: clear
The Plastic Squeeze Condiment Bottles from Amazon is a set of affordable plastic squeeze bottles for liquid seasonings, condiments, oil, cooking alcohol, etc.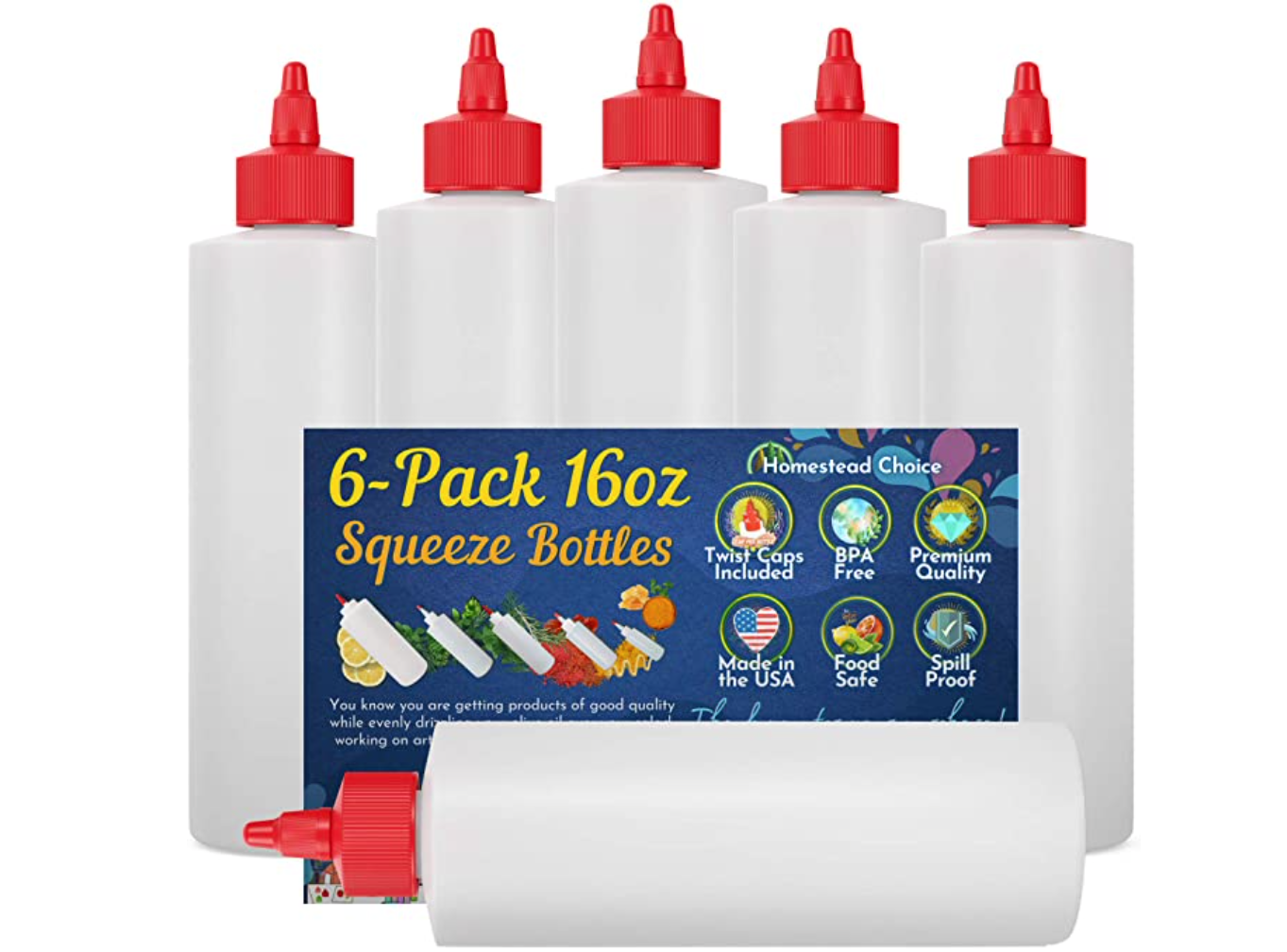 Since you have 6 bottles, you can easily add your most-used condiments and oils to have at your hand. So, when you need to oil up the grill, you can pour from the squeeze bottle without getting your hands dirty and oily. 
Also, for things like sake and mirin, you can make controlled pours so you don't over-flavor the foods.
When you don't use this type of bottle, you end up wasting some product but with these precise tops, you don't have the problem of too much liquid pouring out at once. 
Yes, these are plastic bottles but they last a long time and since they're cheap, you can replace them as needed at the restaurant. 
Unlike some similar bottles, the lids on these are not leaky and the liquid stays sealed inside until you squeeze! 
Takeaway
When you want to go pro and become a true hibachi chef, you need to select the best tools for the job and with these 8 picks, you're off to a good start.
As you become a specialist you might find even more handy Japanese hibachi tools and accessories that simplify the cooking process. But, for now, having all of these tools in your chef kit allows you to make hibachi meals for diners.
Also read: how is Teppanyaki different from Hibachi?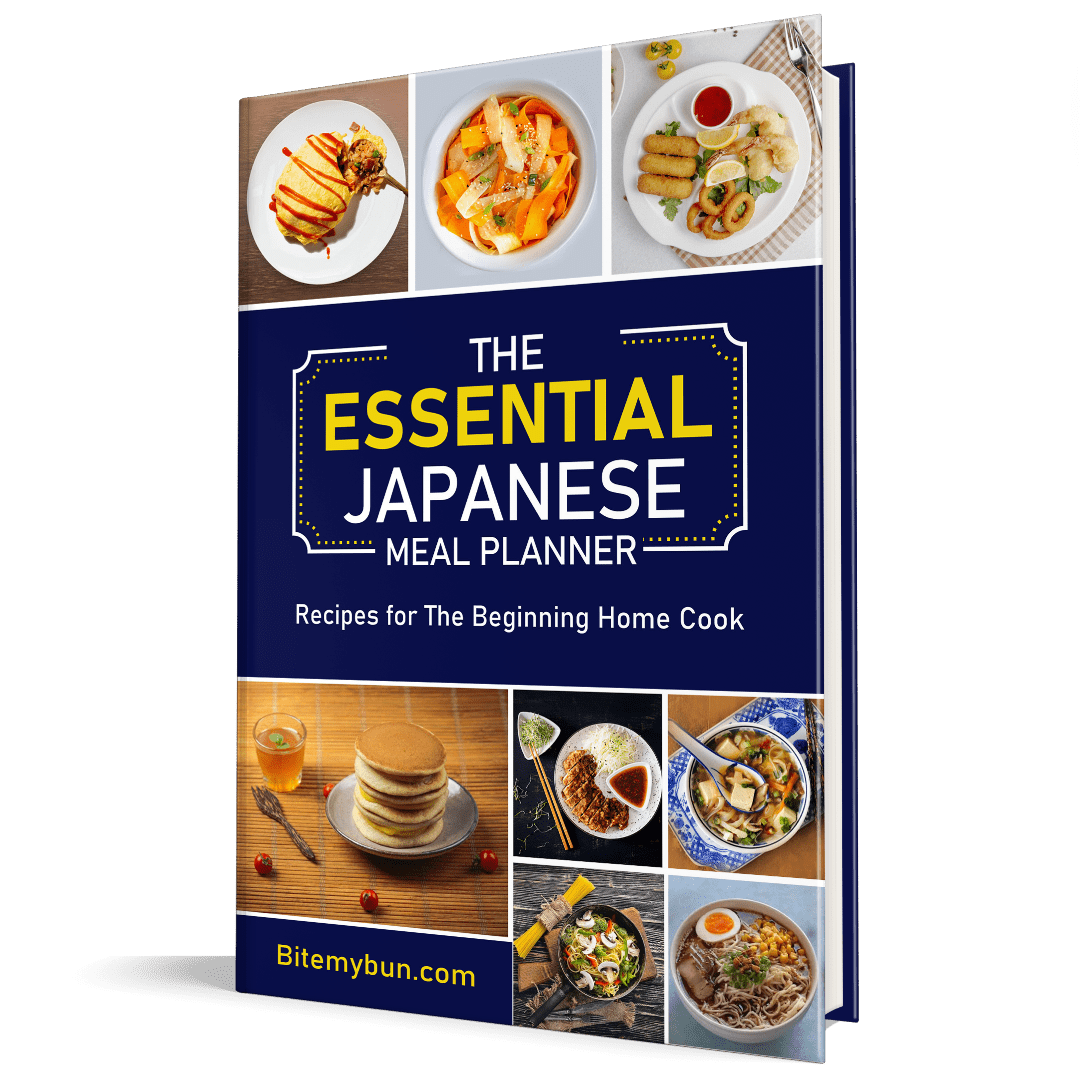 Check out our new cookbook
Bitemybun's family recipes with complete meal planner and recipe guide.
Try it out for free with Kindle Unlimited:
Read for free
Joost Nusselder, the founder of Bite My Bun is a content marketer, dad and loves trying out new food with Japanese food at the heart of his passion, and together with his team he's been creating in-depth blog articles since 2016 to help loyal readers with recipes and cooking tips.