Best yakitori grill accessories | What to use when you make yakitori
I love creating free content full of tips for my readers, you. I don't accept paid sponsorships, my opinion is my own, but if you find my recommendations helpful and you end up buying something you like through one of my links, I could earn a commission at no extra cost to you.
Learn more
If you ask me, yakitori is still one of the best foods to eat and experience the "real Japan."
But there's no need to fly and get a taste of your favorite yakitori dish when you can just grill some chicken cuts in your backyard using the best yakitori grill tools and accessories.
However, with so many yakitori grill accessories sold online and multiple blog sources claiming the best yakitori accessories, it's easy to get lost.
But stop right there! I'm about to introduce you to some yakitori tools that have been serving me really well when grilling yakitori.
My favorite yakitori tool has to be the Hiash Heavy Duty food tongs that allow me to safely grab the yakitori skewers and flip them or take them off the grill without burning my hands or get them dirty. A good yakitori grill can get quite hot and you want to grill your kushi safely!
Are you excited to meet them? Continue reading to find out those gems!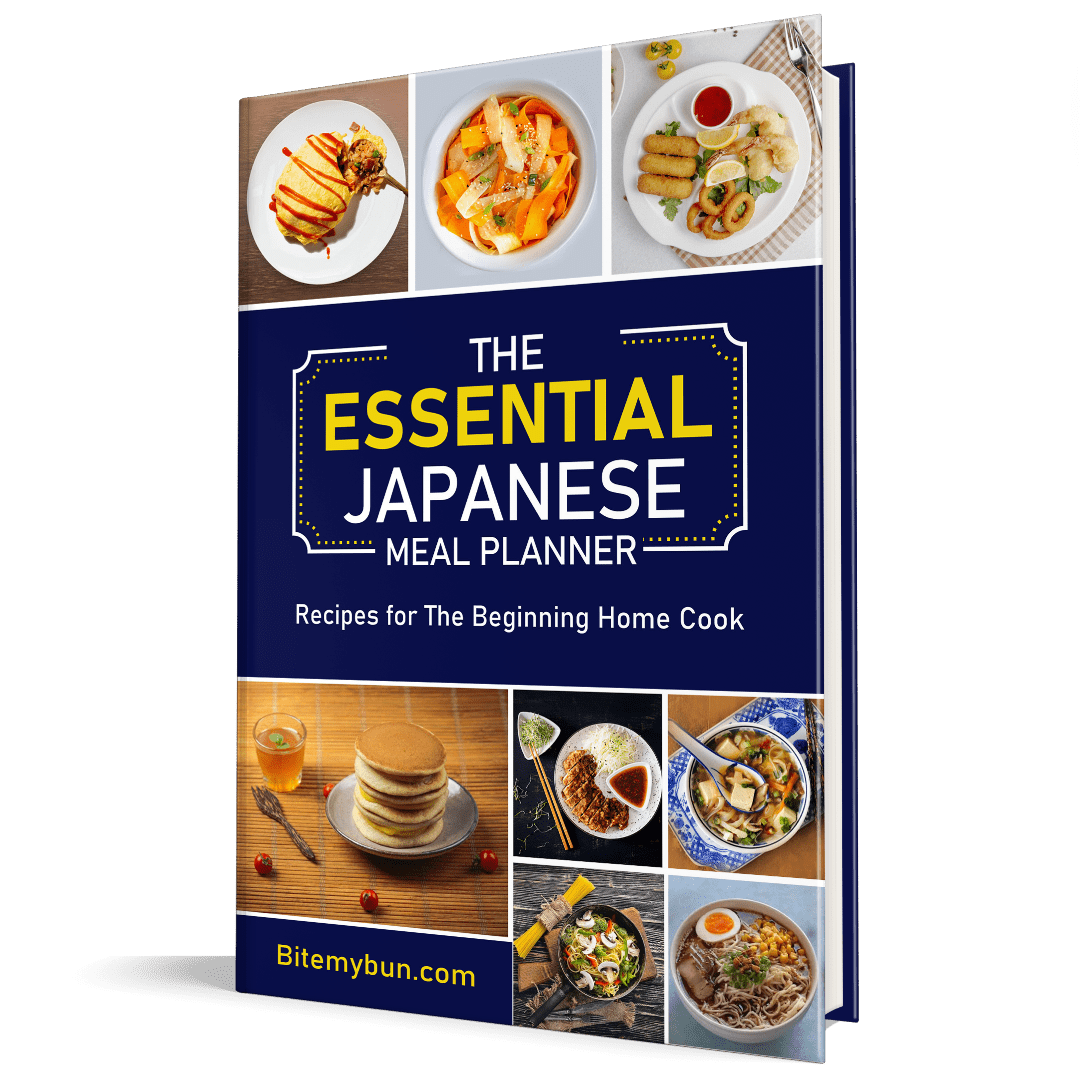 Check out our new cookbook
Bitemybun's family recipes with complete meal planner and recipe guide.
Try it out for free with Kindle Unlimited:
Read for free
Top 12 must-have Japanese yakitori konro accessories
When you have a good yakitori grill, you want to use it properly. This also means having the right tools to grill your yakitori skewers.
Let's look at some of the best accessories that you need for making yakitori at home.
Best yakitori tongs: Hiash Heavy Duty Stainless Steel Food Tongs
Get a good set of tongs, not too big. I personally chose the Hiash Heavy Duty Stainless Steel Kitchen Tongs that are 9 inches long.
They're a bit pricier but they're not going to rust after a few uses like those cheap aluminum ones you find at the supermarket. 
You need tongs when manipulating food on the yakitori grill because the claw offers a good grip and makes turning food around simple and safe while cooking. 
The advantage of longer tongs is that you don't have to put your hands close to the heat source and they're safer to use. 
They're just long enough to have a good grip on the meat without getting too close to the heat.
The tongs are made of heavy-duty stainless steel and won't get scorched or damaged when exposed to the hot grill top. 
Best yakitori hand fan: OFXDD Heat Resistant Plastic Barbecue Hand Fan
Japanese chefs use a traditional hand fan for blowing the binchotan charcoal. It's really the simplest way to get the fire going to heat the yakitori grill!
I've found a great heat-resistant plastic fan that costs less than $10 dollars. This OFXDD Heat Resistant Flame Fan is quite thick so you can create airflow really quickly.
Also, even though it's plastic, it's heat-proof and safe for use near the grill. 
With charcoal briquettes, you want to have good ventilation to start them up. So a good hand fan is the cheapest alternative to those more pricey battery-powered fans.
Honestly, you don't need those for a small yakitori grill. 
Best yakitori charcoal: IPPINKA Binchotan BBQ Charcoal from Kishu
A real Japanese barbecue involves binchotan charcoal. It's a premium type of charcoal produced only in Japan.
The best comes from the Kinshu region and it's quite pricey, but the difference is very notable when compared to regular charcoal. 
IPPINKA Binchotan is Japan's famous binchotan producer. It's known as white charcoal and burns much cleaner than regular charcoal.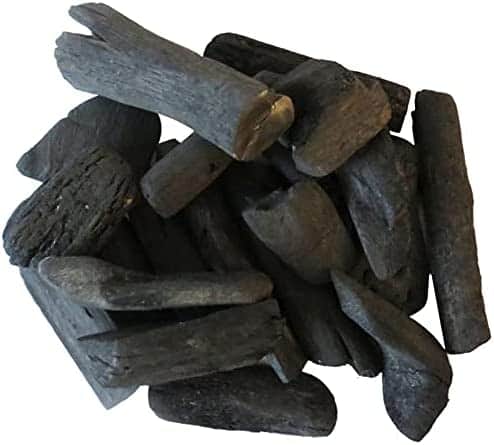 This charcoal is made from burning Ubame Kashi or Ubame Oak at 1,000 degrees. Each piece has a thin log shape as opposed to briquettes.
But the real defining feature that makes it worth the price is the flavor it imparts. Since it's such pure charcoal, it burns odorless and you get a true smoky wood taste on your meat.
It's pretty hard to explain, but once you taste it, you'll realize there's no bitter aftertaste or weird aroma. 
The good news is that this charcoal is also reusable if you take care of it. So it's pretty good value for money and if you love real tasty yakiniku, this is the charcoal to choose!
Also read: This is how you light Japanese charcoal | 3 easy steps and some tips
Best yakitori Saibashi chopsticks: Donxote Wooden Kitchen Chopsticks Extra Long
At Japanese restaurants, the chef uses special long wooden chopsticks called saibashi to turn the delicate ingredients on the grill.
Very delicate fish, seafood, or veggies like tomatoes can disintegrate when handled with tongs. So to avoid this issue, use long chopsticks instead!
The Donxote Wooden Saibashi Chopsticks are 16.5 inches long so they're like tongs and you won't burn yourself. 
These are made of natural wood and polishes, which make them moisture and heat-resistant. 
Best seasoning shakers for yakitori: Winware Stainless Steel Dredges 10-Ounce with Handle
If you want to add the seasoning evenly to your chicken, then you need a good seasoning shaker.
You can put salt, pepper, or the famous togarashi spice in it and coat the meat to give it amazing flavor.
You don't need expensive seasoning shakers and the Winware Stainless Steel Dredges is perfect because it has a handle so it's easy to hold and refill.
Plus, it's made of stainless steel so it won't rust in your pantry and spice rack.
Don't forget about liquid seasonings like soy sauce and tare when making yakitori. But for solids, this durable shaker is a nice bargain buy.
Also, check out our best spatulas for Hibachi and Teppanyaki grills. 
Best yakitori cookbook: The Japanese Grill
For all things Japanese barbeque, Tadashi Ono has the knowledge and recipes you need to know about.
He's a renowned Japanese chef and his cookbook "The Japanese Grill" teaches you all about how to make the best BBQ dishes!
While the book isn't completely about yakitori, it does have many yakitori recipes and that's the main topic of the book. 
You'll find a nice mix of traditional Japanese recipes and many modern contemporary ingredients, methods, and flavors, all with step-by-step instructions. 
Grilling has been a huge part of Japanese cuisine for many centuries and this book shows you how to use hibachi, yakitori, and konro grills to make succulent meats, seafood, and veggies. Basically, it's got something for everyone!
"The Japanese Grill" is packed with easy recipes, versatile marinades, and many colorful images.
By following the recipes, you'll be able to grill amazing steaks, salmon, chicken, whole chickens, and traditional favorites such as yakitori, onigiri, or whole salt-packed fish. 
Then, you can also learn how to make American BBQ favorites like crispy chicken wings with a Japanese food twist.
There are options for sophisticated entertaining, as well as quick-grilling options for healthy weekday meals.
There are also a variety of delicious sides to complement your meals.
Of course, you can also cook many of these recipes on your konro grill or binchotan grill!
Best bamboo skewers for yakitori: JapanBargain 1598
These bamboo skewers for yakitori are perfect for the yakitori grill, shish kabob, cocktail picks, appetizers, and many more.
These Yakitori grill skewers are made with durable and lightweight bamboo, making them super handy and easy to use for delicate chicken grill cuts.
You can even use it for veggies and fruits that go along with the main grilling ingredient.
Because their edges are strong and sharp, thinly sliced pieces of beef, pork, and chicken are easy to skewer for sautees and kebabs for barbecues.
Best metal skewers for yakitori: FLAFSTER Stainless Steel Skewer Sticks
Made with premium-quality stainless steel, this metal skewer is surely made to last.
Their flat blade and angled tip make them perfect for grilling meat, chicken, shrimp, and vegetables.
I like using these Long Flat BBQ Skewers with Push Bar because they are easy to use and turn around without the veggies and meat falling off the sticks.
Apart from that, they only take up a small space compared to your other kitchen utensils.
These metal skewers are also dishwasher-friendly and reusable, making them a must-have for your yakitori.
Best oil brush for yakitori: Happy Sales HSTB-TYBRSH
A good yakitori sauce isn't just the secret to making yakitori look delicious and dispersing flavor; it could also be that you're using the best oil brush.
Save yourself from the hassles of brushing oil and sauces for your yakitori while grilling by using an oil brush.
You can even use it to oil the grill before putting up the chicken cuts.
What I like about this yakitori oil brush is that the length of cotton brush is adjustable and be able to control oil easily.
Best basting pot for yakitori: OXO Good Grips Pot and Brush Set
If you want to get your sauces and marinades organized and protected, having a basting pot around is definitely a must-have.
I like using a stainless steel pot that holds up to 18 ounces of marinade or barbecue sauce as it's just perfect for when cooking just enough for my yakitori serving.
When buying a basting pot, make sure it's got non-slip grips for a secure hold.
Best grill gloves for yakitori: KUWANI Heat Resistant Gloves Fireproof Mitts
Grilling with my bare hands is a no-no for me. To prevent burns, it's important to wear protective grill gloves.
I prefer using a pair of high-heat resistant socks made of silicone, polyester, and a little cotton as they are just comfortable to wear.
It's lightweight and made perfect, especially for long periods of grilling.
I know cooking can be messy, and the good thing about most of these grill gloves for yakitori is that they're easy to clean and store.
Best chimney starter for yakitori charcoal: Weber Rapidfire Compact
Having a chimney starter for yakitori charcoal is another must-have when grilling.
Save yourself from the hassles of heating the grill as it lights coal in under 15 minutes.
It's made with a compact design that makes it ideal for smaller grills or shorter grilling sessions. Plus, they're super handy.
So, whenever you want to picnic, feel free to bring this chimney starter for yakitori charcoal.
FAQs
Did you enjoy my best finds for your yakitori cooking? Great! Now, let's dig deeper into some of your questions, which need yakitori-flavored answers.
What is special about the yakitori grill?
Yakitori grills allow you to enjoy street food-style seared meats in the convenience and comfort of your own backyard.
Yakitori enthusiasts can bring the Japanese food experience wherever they are.
Your favorite grilled skewers will be small in size and lightweight, which makes them quick and simple to prepare.
What is a Konro grill?
A konro barbecue is a unique type of Japanese grill that is often long and narrow enough to allow the yakitori skewers to rest on the walls of the box rather than fall into the coals below.
Can you use regular charcoal for yakitori?
When it comes to grilling yakitori, binchotan is the best type of charcoal that has already proven its quality of burning and smoke.
These coals have a long burn time (approximately 4-5 hours) and a high heat level (up to 1600°F) because they are made of hardwood, like oak.
They're sometimes called the "purest charcoal on earth," or "white smoked charcoal," and because of their high-carbon content, premium-quality binchotan charcoal is odorless.
However, if you don't have binchotan available, then you can still use your regular grilling charcoal but the result might not be the one you expected.
What does yakitori mean in Japanese?
Yakitori means "grilled chicken." It's actually two words where yaki (grilled) and tori (chicken) are combined.
Can you reuse binchotan charcoal?
Binchotan can be used repeatedly if the hot coals are placed in cold water, dried, and then re-used.
How do I clean my yakitori grill?
When you're done using the grill, either place the burning coals into a fireproof container and put them out with sand, or wait for the coals to totally burn out before dumping them.
Never use the Konro grill with water. And to clean the inside of the grill, use a wet rag or paper towel when it has cooled.
How hot should a yakitori grill be?
The grill should be ready for grilling at a high heat of about 450°F. On each skewer, alternately thread 4–5 pieces of chicken and green onion.
The chicken should be cooked thoroughly (internal temperature of 165°F) and moderately browned after about 10 minutes of grilling, rotating the skewers often.
Get a bite of your homemade yakitori now
Yakitori grilling is a Japanese method of cooking chicken skewers over an open flame.
The best yakitori grill will provide an authentic street food experience that can be enjoyed in the comfort of your own backyard.
When choosing a yakitori grill, consider factors such as portability, ease of setup, and features that introduce a Japanese aspect to your grilling experience.
Now you don't have to stress yourself out when looking for those yakitori grilling accessories, as you can just grab some or all of the best finds here in this article.
Now you have all the necessary tools, let's learn how to make authentic yakitori at home yourself (full recipe)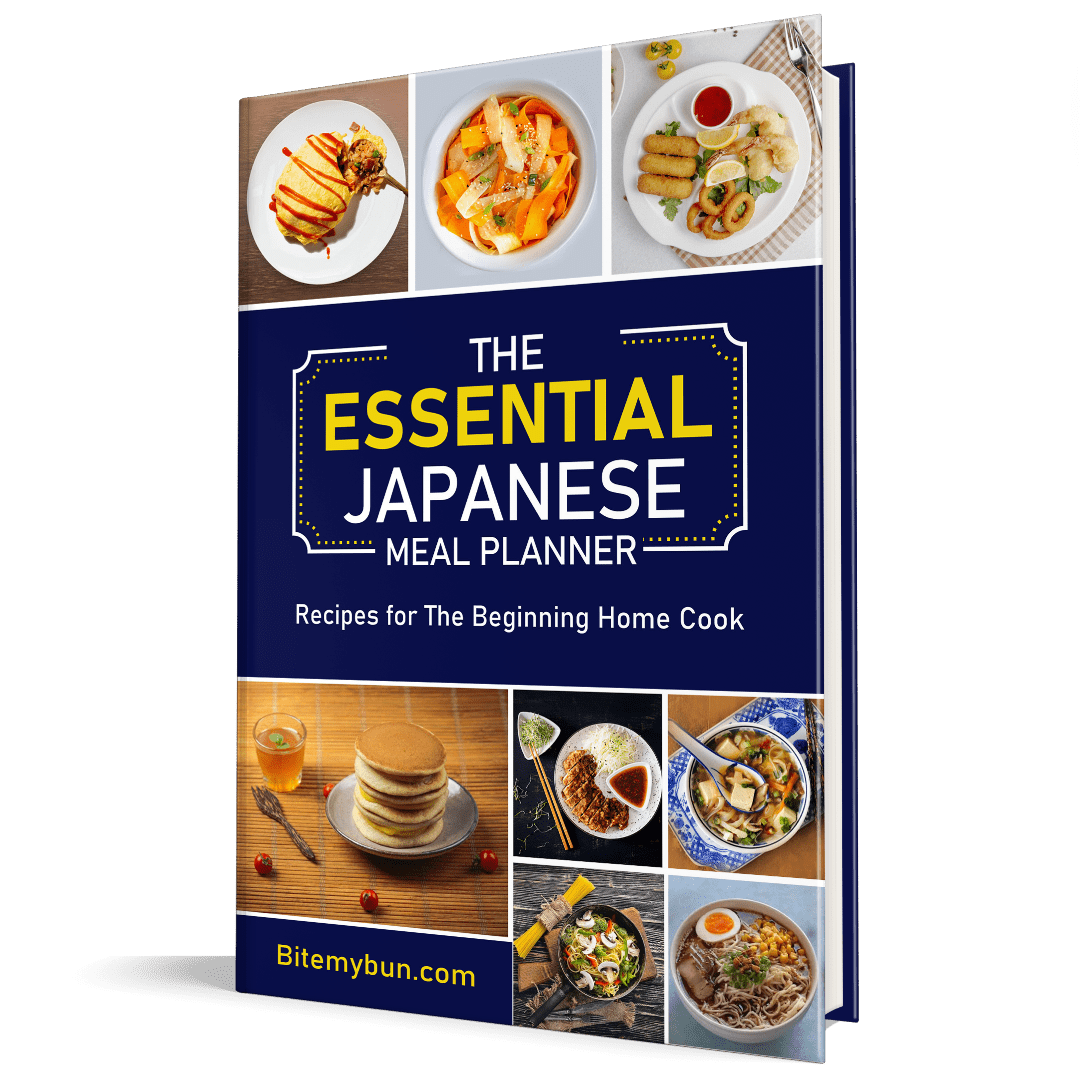 Check out our new cookbook
Bitemybun's family recipes with complete meal planner and recipe guide.
Try it out for free with Kindle Unlimited:
Read for free
Joost Nusselder, the founder of Bite My Bun is a content marketer, dad and loves trying out new food with Japanese food at the heart of his passion, and together with his team he's been creating in-depth blog articles since 2016 to help loyal readers with recipes and cooking tips.