I love creating free content full of tips for my readers, you. I don't accept paid sponsorships, my opinion is my own, but if you find my recommendations helpful and you end up buying something you like through one of my links, I could earn a commission at no extra cost to you.
Learn more
Anyone who is familiar with the Japanese style of cooking has probably heard of Teppanyaki.
You can't help but notice the sounds of food on iron plate grills when checking out the Japanese cooking.
It is one of the many popular cooking styles in Japan and it involves grilling on an iron skillet.
With the correct tools and equipment, it is possible to practice Teppanyaki in the comfort of your home.
Ingredients in Teppanyaki style cooking
Teppanyaki style of cooking is characterized by light seasoning and fresh, flavored ingredients.
They include:
Meats such as steak, seafood, and chicken
Rice, fried noodles (

yakisoba

), and other dough-based foods

Okonomiyaki

and monjayaki (savory pancakes with a number of different flavors and ingredients).
Onions, mushrooms, bean sprouts , and carrots.
Pepper, vinegar, soy sauce, wine, salt, and garlic among other seasonings.
The ingredients used in cooking Western teppanyaki are a little different from the Japanese. Beef is the most common ingredient in Western cooking.
Others include chicken, scallops, vegetables, shrimp , and lobsters, with soybean oil used for cooking them.
Here we've summarized it in a video for you:
Teppanyaki recipe: beef Yakiniku
Delicious Teppanyaki dish using Yakiniku sauce with beef, mushrooms and zucchini.
Ingredients
1

lb

beef for Yakiniku

sliced

2

large

white onions

sliced

1

zucchini

sliced

1

bell pepper

sliced

16

mushrooms

1/4

kabocha pumpkin (Japanese pumpkin)

or a winter squash will do as well

2

tbsp

vegetable oil
Yakiniku sauce
1/4

cup

soy sauce

2

chili peppers

dried

2

tbsp

sugar

2

tbsp

mirin

1

tbsp

garlic

grated

1

tbsp

ginger

grated

1/2

tbsp

grounded sesame seeds

1

tsp

sesame oil

1

handful

cilantro

chopped

2

eggs

boiled
Instructions
Start by making the Yakiniku sauce. Add sliced chili pepper and all the other ingredients, except sesame oil, into a pot then cook and stir until it starts to boil. Add the sesame oil and stir for another 2 minutes.

Slice onions into 1/2'' thick and pepper into ½'' width. Slice Kabocha pumpkin and zucchini into ½'' thick. Cut off the stems from mushrooms and slice them in three thin slices each.

Boil the eggs for about 5 minutes and cool them off under cold water. Peel them and set aside.

Heat the vegetable oil on the teppan (or skillet) at high heat. Start by grilling the vegetables because they will take longer than the meat, then cook the sliced meat alongside the vegetables on the teppan (or use a separate skillet for the meat) and add the Yakiniku sauce to the meat.

The vegetables should be done after about 12 minutes and the meat in about 8. Use the grill scrapers to move around the vegetables and meat a few times during this time to make sure every side gets evenly grilled.

Serve the meat and vegetables in a bowl with some noodles or steamed rice underneath and add the cooked egg, you can halve them per bowl, and add freshly chopped cilantro.
Most of the things on the ingredients list you probably already have, but let's take a closer look at these two:
[lasso ref="sushi-chef-traditional-mirin" id="4759″ link_id="64013″]
[lasso ref="kadoya-pure-roasted-sesame-oil-link" id="4763″ link_id="64014″]
<h2><stron< span="">g>How teppanyaki cooking is performedstrong></stron<>
The ingredients used in preparing the Japanese teppanyaki are yakisoba, sliced meat or seafood, and cabbage. Vegetable oil, animal fat, or a mixture of both is used in the cooking.
Kobe beef is the most common in restaurants but is a bit expensive though it's of much higher quality. Less expensive meat from the USA and New Zealand are also available.
The beef cuts are either choice sirloin or tenderloin.
The dishes come with a variety of side dishes such as zucchini, y/mung_bean">mung</span> bean sprouts, crispy garlic chips, and fried rice. In Japan, only soy sauce is available but other Western restaurants provide dipping sauces as well.
rn:enhancement-c24a7470″ class="textannotation disambiguated wl-thing" itemid="http://data.wordlift.io/wl02114/entity/teppanyaki">Teppanyaki food may be outstanding in taste, but wait until you see how it is prepared. A teppan grill is placed on the table where you will be seated before the chef begins the outstanding performance.
The knife, fork, and spatula are flipped, tossed, clanged, and drummed together creating a rhythm that will definitely capture your attention.
The feast will then begin with the chef's skillful chopping and dicing of the food which is then placed on a grill that is already aflame.
The result is not only appealing to the eye but the taste will leave you longing for more.<span class="textannotation">
If you are lucky to get a truly creative chef, you may witness some of the following tricks:
Catching an egg with the hat
Flipping of a shrimp tail into the shirt pocket
Splitting an egg mid-air with a spatula
Flipping pieces of shrimp into your mouth
These are just but a few of the many tricks you may come across. You will also have the privilege of choosing your own chef and how you want the food prepared.
<h2>Teppanyaki cookbooks to get you started
If you want to get started in Teppanyaki cooking at home, you can get a lot out of the right information and there are not that many good cookbooks out there.
If you like a little more backstory and history about the author and how he came to be a great teppanyaki chef, then Teppanyaki: Modern and Traditional Japanese Cuisine by Hideo Dekura is a great read:
[lasso ref="teppanyaki-modern-and-traditional-japanese-cuisine" id="9990″ link_id="64011″]
It has 60 recipes ranging from beef to lamb and seafood and with a lot of explanation about each of these types of teppanyaki.
If you like a more detailed guide on the best recipes, and a little less of a story, then the Barbecue in Style A Teppanyaki Adventure is the one you should opt for:
[lasso ref="barbecue-in-style-a-teppanyaki-adventure" id="9991″ link_id="64012″]
Teppanyaki Chef Supplies, these are 5 things you don't want to forget
Every professional Teppanyaki chef has four words that describe him or her—mastery, expertise, precision, and showmanship. In addition to having the skills of an experienced chef, Teppanyaki chefs must also add the art of performance while cooking.
Many Teppanyaki chefs usually entertain diners not only with the taste of their meals but also with an interesting collection of amazing skills and tricks that they use to prepare these meals.
It requires endless commitment, practice, and time to master the art of Teppanyaki chefs.
In addition to this, you will also need some important tools and supplies to make your Teppanyaki chef dream come true.
Other than a professional Teppanyaki griddle, you will also need the following supplies:
Professional Stainless Steel Griddle Cooking Kit
The Professional Stainless Steel Griddle Cooking Kit will give you everything you need when it comes to Teppanyaki Grilling.
This griddle set comes with 10 pieces of quality products, which will make your Teppanyaki cooking easier.
The set has two spatulas, two bottles, two flippers, one scraper, two egg rings, and a carrying case. This carrying case is designed to make carrying the tools easier while on the move.
Getting this Professional Stainless Steel Griddle Cooking Kit will be a great addition to your grilling accessories. The quality of the metal used to make these tools can withstand any heat during grilling.
Notable features:
Strong and durable stainless steel (chef-approved) – this is one of the best Teppanyaki

Grill

set that you will find in the market. This kit is approved by professional chefs and has been made with high-quality metal, which is ideal for all your grilling needs. The griddle set is suitable for camping, outdoor use,

Teppanyaki

use,

hibachi

grilling, as well as restaurant use. Since this griddle set is made out of professional grade metal, all the accessories will work perfectly on your

grill

.
Durability – most people have complained about getting grilling tool sets that don't last long. However, that's not the case with the Professional Stainless Steel Griddle Cooking Kit. This griddle set has been designed with top quality materials, which is meant to last for long. The manufacturer wants the customers to be satisfied as they cook. Most professional chefs love this griddle set because of its quality material, as well as durability.
This will make a great gift for your friends – the Professional Stainless Steel Griddle Cooking Kit is an amazing gift that can assist you in

Teppanyaki

grilling, whether indoors or outdoors. You can go tailgating or camping with this set and you won't need any other tool. The high-quality material used to design this set is meant to last, and tools will make every grilling experience memorable. Therefore, you can gift this Professional Stainless Steel Griddle Cooking Kit to your friends if they love

Teppanyaki

grilling.
Are you doing a lot of fish on your Teppanyaki plate? Check out these top fish pliers for removing your fishbones
HHXRISE Large Organic Bamboo Cutting Board for Kitchen
As a Teppanyaki chef, you will need a cutting board to help in the preparation of your materials.
The HHXRISE Large Organic Bamboo Cutting Board For Kitchen is a quality tool that will assist you in your cooking process. This large cutting board is made out of quality wood, which ensures its durability.
Notable features:
The board is made out of organic bamboo, which is BPA free – if you are looking for a cutting board which is made out of strong wood, then you have found it. The HHXRISE Large Organic Bamboo Cutting Board For Kitchen is made out of 100% natural bamboo, and it is antibacterial, antimicrobial, and BPA free. The board has been polished to achieve smooth surfaces.
Extra thick and large to accommodate all your cooking materials – this cutting board has a measurement of 0.72 x 12 x 17 inches, and it is sturdy, thick, and big. You can use this cutting board as chopping, cutting, carving board, serving tray, or even cheese board.
A unique design with juice grooves and built-in compartments – this cutting board has a very distinct design, with 3 built-in and separated sections on its sides, where you can temporarily put your ingredients before you start cooking. In addition to this, the board has a juice groove, which prevents the juice from spilling over to the counter. With this HHXRISE Large Organic Bamboo Cutting Board For Kitchen, you won't mess your kitchen again with spilled juices.
Versatility – this isn't just a mere cutting board. Its unique design also converts it to be a tray holder, which you can use to serve your grilled food.
Knife friendly – the material used to make this

grill

will not dull your knife. However, you should never use a dishwasher to clean the cutting board.
Ginsu Gourmet Chikara Series Forged 19-Piece Japanese Steel Knife Set
The designers of this magnificent knife set have been in business for over 40 years.
They created the famous quote, "but wait, there's more," and also invented the first knife that never required any sharpening. Ginsu is a company that has always pushed the innovation of knives to the limit.
What you might not realize is that this knife is that its design, engineering, and assembling is done in the US. The factory has a dedicated team of engineers, who work around the clock to deliver quality products.
When you look at the Ginsu Gourmet Chikara Series Forged 19-Piece Japanese Steel Knife Set, you will see the style, color, as well as count that will perfectly blend in your kitchen.
Therefore, whatever you need, Ginsu has the right answer for you.
This knife set included everything that you need to prepare and serve your complex and delicious meal. The knives are organized in a stylish Bamboo Fish Block. They include:
8-Inch Chef's Knife
• 8-Inch Bread Knife
• 8-Inch Slicer
• 7-Inch Santoku Knife
• 6-Inch Boning Knife
• 6-Inch Cleaver
• 5-Inch Utility Knife
• 3.5-Inch Paring Knife
• Kitchen Shears
• Honing Rod
• Eight 4.5-Inch Steak Knives—note that the steak knives are not forged, but they are stamped
That's why many Teppanyaki chefs love this knife set since it has all the knives required in Teppanyaki Cooking.
So, why do many chefs love this knife set?
It's maintenance free – this knife set will arrive razor sharp, and you will not have to sharpen it—thanks to its unique scalloped sharpness. These are high-quality knives that you can depend on whenever you are preparing any meal.
Remarkable performance – unlike other serrated knives, the Ginsu Chikara knives are usually sharp on both sides, which allows you to enjoy the performance of a fine edged knife.
Strong and durable construction – one notable thing about the knives in this set is their full tang blade, which has a triple-rivet blade with ergonomic design. The handle will give you a secure and comfortable cutting experience.
Designed to last – the Ginsu Chikara knives are designed from a single piece of top-quality Japanese stainless steel from their tip to tang. This means you can approach any recipe with the confidence that this knife will not fail you.
Versatility – one notable thing about the Ginsu Chikara knives is that they are well balanced, and this allows you to enjoy the perfect blend of control and power that you need to use even in the trickiest part of the recipe.
Manufacturer's warranty – another interesting thing about the Ginsu Chikara knives is that they come with a Lifetime Limited Warranty. The Consumer Report has named these knives "Best Buy" for 5 times.
TOPTIE Unisex Short Sleeve Chef Coat Jacket
The TOPTIE Unisex Short Sleeve Chef Coat Jacket has been designed to suit all your needs as a Teppanyaki chef.
Getting one of these jackets will give you a professional chef look, at a very great value, and you will discover that they are perfectly suited for your work.
The jackets come in different colors, which means you can choose the color that suits you the best.
One notable thing about the TOPTIE Unisex Short Sleeve Chef Coat Jackets is that they are designed with 35/65 cotton/poly fabric.
In addition to this, they have a double- breast, short-sleeve design, with matching buttons.
Notable features:
The fabric is breathable and will allow you to enjoy good mobility
A super soft and standup mandarin collar style
Thermometer pocket that allows you to keep things like thermometers and pens close
The sizes do differ
Sharp Pebble Premium Whetstone Knife Sharpening Kit
A sharpening stone is an essential tool for any Teppanyaki chef since you cannot afford to work with a dull knife.
The Sharp Pebble Premium Whetstone Knife Sharpening Kit comes with a double-sided premium quality whetstone (#1000/#6000), a bamboo base for holding your stone, a knife-sharpening angle-guide, as well as an instruction manual.
Notable features:
Versatility – this is a durable and long-lasting sharpening stone. In addition, it can sharpen any blade, regardless of the brand.
Easy to use – the sharpening stone is easy to assemble and use. In addition to this, the stone requires water, and you won't need to use expensive honing or sharpening oils.
Safety – safety is paramount when it comes to handling a sharpening tool. That's the reason why this stone comes with a silicone base, which holds the stone inside the non-slip bamboo base. The setup ensures that your stone remains in one place as you sharpen it.
Premium quality – this is a simple, but an unmatched tool that you can use even at home. Also, you can use it to gift your friends.
These are the most basic supplies every Teppanyaki chef needs, although you might see some Teppanyaki chefs with other tools other than the ones we have mentioned above.
These tools will make your work as a Teppanyaki chef easier, and you will not need any other tool, other than these.
Planning to cut raw fish or octopus? Check out these Takohiki chefs knives to get the job done professionally.
What Teppanyaki is all about
Teppan is Japanese for iron pan while yaki means grilled. Teppanyaki is mainly characterized by fresh ingredients and light seasoning.
This style of cooking enhances the original flavor of the ingredients rather than cover-up them up.
The common seasonings involved in teppanyaki cooking are wine, soy sauce, salt, pepper, and vinegar. Garlic is also used in plenty especially when preparing meat, chicken , and bean sprouts.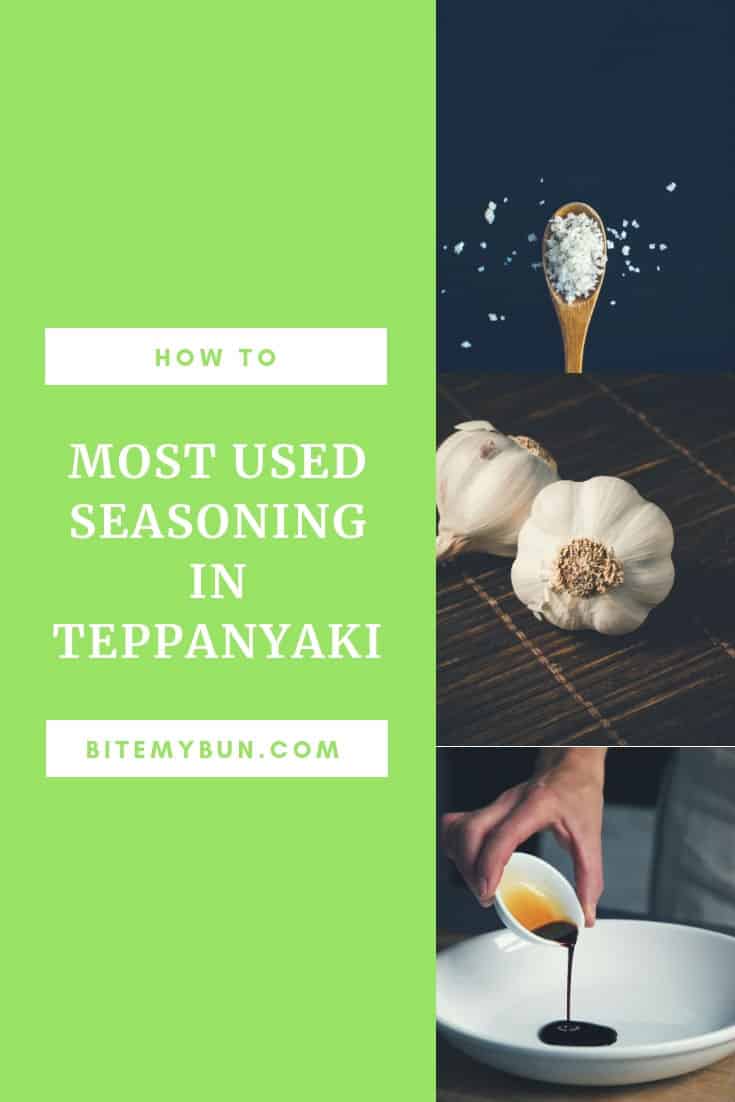 All kinds of beef from different geographical regions feature in teppanyaki dishes. You will have to dig deeper into your pocket for Japanese beef from regions like Kobe, Akita, and Matsusaka.
The highest quality of Japanese beef is believed to be produced from cows that receive special treatment such as music and massage.
These 3 things make typical Japanese Teppanyaki Food
Teppanyaki is a Japanese-style cuisine that utilizes an iron cooking device with a flat surface to cook food.
Teppanyaki comes from the Japanese term teppan, meaning iron plate, and yaki, meaning pan-fried, grilled, or broiled.
Therefore, the term teppanyaki literally translates to pan-frying, grilling, or broiling on an iron plate.
In addition, teppanyaki is inspired by Western side dishes and Eastern flavors.
One of the perks of ordering a teppanyaki cuisine is its versatility. You can definitely choose your desired ingredients and even the amount and type of oil and seasoning.
Typical Teppanyaki food consists of well-seasoned meat, fish, or vegetables in most often at least soy sauce, vinegar, garlic, and pepper and is grilled in vegetable oil. It is served as a main course with multiple side-dishes to accompany the main dish:
it's grilled on a flat surface
it's served as several side-dishes with the main course
it uses fish, vegetables, or meat with vegetable oil and spices
I have a lot of fun making it at home and you can too with these great teppanyaki knives.
Equipment and Ingredients Used in Teppanyaki Cuisines
Wide and flat iron grill, known as a teppan grill, is the primary equipment used in preparing teppanyaki cuisines.
Usually, the teppan grill is situated tableside with the chef preparing food in front of the customers.
In addition to the teppan grill, other equipment includes metal spatulas, grill fork, and huge, razor-sharp knife. These are all needed to manipulate the ingredients.
Also read our article on the essential teppanyaki tools
What can you typically find in a Teppanyaki restaurant?
Many teppanyaki restaurants utilize costly, high-quality ingredients, thereby making this cuisine a fancy meal for special events or occasions.
Teppanyaki can be primarily made:
steak
chicken
dough-based ingredients such as fried noodles or

yakisoba

and rice also comprise this cuisine
Other ingredients include seasonings (wine, soy sauce, vinegar, pepper, salt, and garlic) and minced or cut veggies (bean sprouts, carrots, mushrooms, and onions).
Teppanyaki cuisine is not only common in Japan, but it is also a popular cuisine in the Western world.
When it comes to Japanese-style teppanyaki, the ingredients that are usually utilized are seafood or chopped meat, cabbage, and yakisoba.
Vegetable oil, animal fat, or both are used to cook the ingredients. Beef is also an ingredient used by many restaurants in Japan.
They particularly feature high-quality beef brands such as Kobe, Matsusaka, and Akita.
However, some restaurants also offer less costly beef coming from the USA and New Zealand. The beef cuts in teppanyaki are either choice sirloin or tenderloin.
On the other hand, the common ingredients utilized in preparing Western teppanyaki include lobster, shrimp, chicken, beef, scallops, and veggies. All these are cooked using soybean oil.
Teppanyaki cuisines are served with a side dish. Ingredients used in preparing side dishes comprise zucchini, mung bean sprouts, crispy garlic chips, and fried rice.
Some restaurants offer dipping sauces; however, soy sauce is only provided in Japan.
Teppanyaki Courses
Each restaurant offers various menus when it comes to teppanyaki; the most common of these is a Western-style course menu with a twist of Japanese course.
Normally, course menus begin with an appetizer like salad or soup, then a seafood course, the main course (a meat dish), a rice course, and a dessert including tea or coffee. The following are some of the teppanyaki courses:
Since teppanyaki is a counterpart of the American steak in Japan, it is not surprising that the meat is the primary course of the meal.
Japanese teppanyaki dining allows you to savor the rich sweetness of top-quality black-haired wagyu beef.
Fried rice and egg or risotto are also served during a teppanyaki dinner. The rice is directly cooked on a teppan cooktop.
Highly skilled chefs usually toss the egg into the air through a spatula prior to frying it.
In a seafood course, prawns and scallops are commonly grilled. When it comes to seafood course, Hokkaido black abalone and Ise spiny lobster are popular in Japan.
Teppanyaki vegan recipe includes fried vegetables with rice. Carrots, white cabbage, and julienned zucchini are some examples of these veggies.
Using a tangy sauce, these vegetables are sautéed. This can be served with or without starch.
Dessert: Top off your teppanyaki meal with pastries, cake, or sorbet along with tea or coffee.
Teppanyaki as an Art
Although teppanyaki is a cooking style, it is also considered as a form of art. As a matter of fact, it is a blend of old-fashioned Japanese cooking methods and contemporary performance art.
As mentioned earlier, teppanyaki cuisines are prepared in front of diners.
In the long run, this concept has turned into a food entertainment or show.
Because of this, many Japanese movies and TV series usually highlight socially elite individuals enjoying their teppanyaki meal.
One main focus of teppanyaki dining is the chef's ability to demonstrate various cooking techniques.
This enables guests to have a dining experience the same as the dinner theater.
The exhibitions that chefs do include cooked prawn flipping, precisely slicing or cutting meat or seafood, and flame setting to chopped onions.
Your teppanyaki experience won't be complete without witnessing the art of teppanyaki cooking.
Brief History of Teppanyaki
Teppanyaki started in Japan about 200 years ago. It was in 1945 that the first teppanyaki restaurant, Misono, was opened in Kobe.
As claimed by Misono, they were the first restaurant that popularized the concept of cooking food on a grill in front of customers.
What's interesting is that this style of cooking became more famous in foreign countries than in Japan.
A lot of foreigners love to witness the highly skilled chefs maneuvering the ingredients.
When Misono became more popular with tourists, they decided to improve the performance portion of the food preparation.
Chefs now perform food stunts (e.g., stacking onions to form a flaming onion volcano).
This is a text overlay image of the original work Kono Hibachi, Myrtle Beach by Ginny on Flickr under cc. What an amazing shot of Teppanyaki in action!
After World War II, teppanyaki was introduced in Western society. Until in 1964, the first US teppanyaki restaurant, Benihana, was opened in New York.
As the years go by, teppanyaki has evolved. It is not about cooking anymore, but it became a form of art.
The Japanese are known for their creativity and they have a reputation of turning basically anything into a form of art, and cooking is no exception.
Teppanyaki cooking began in Tokyo as locals began using a hot plate grill and one can't help but notice that not every aspect of this cooking style is Japanese.
It came as a surprise to the locals when a restaurant in downtown Tokyo known as Misono began using a table-side grill to do its cooking in 1945.
A combination of entertainment and Teppanyaki dishes such as 'flaming onion volcanoes' propelled Misono to global fame.
Plus points of Teppanyaki dishes
Teppanyaki dishes are very low on fat and are considerably light since very little oil is involved in the cooking.
When ordering teppanyaki dishes in a restaurant, you are given the option of deciding exactly how you want it prepared.
You can decide the kind of seasoning and the amount of oil that suits your taste. The food comes in small portions but adequate. It is the kind of food that would definitely be recommended for health-conscious folks.
It is also safe to say that the ingredients used in teppanyaki cooking are recommendable as far as health is concerned.
The popularity of Japanese steak houses has made Teppanyaki a household name in America. The teppanyaki style of cooking is also used in preparing yakisoba (noodles) with seafood or sliced meat using vegetable oil or animal fat.
It has evolved over the years into an interesting style that is no longer considered as just cooking but as a form of art.
</h
Joost Nusselder, the founder of Bite My Bun is a content marketer, dad and loves trying out new food with Japanese food at the heart of his passion, and together with his team he's been creating in-depth blog articles since 2016 to help loyal readers with recipes and cooking tips.