How to store Japanese knives: Top 7 knife stands & storage solutions
I love creating free content full of tips for my readers, you. I don't accept paid sponsorships, my opinion is my own, but if you find my recommendations helpful and you end up buying something you like through one of my links, I could earn a commission at no extra cost to you.
Learn more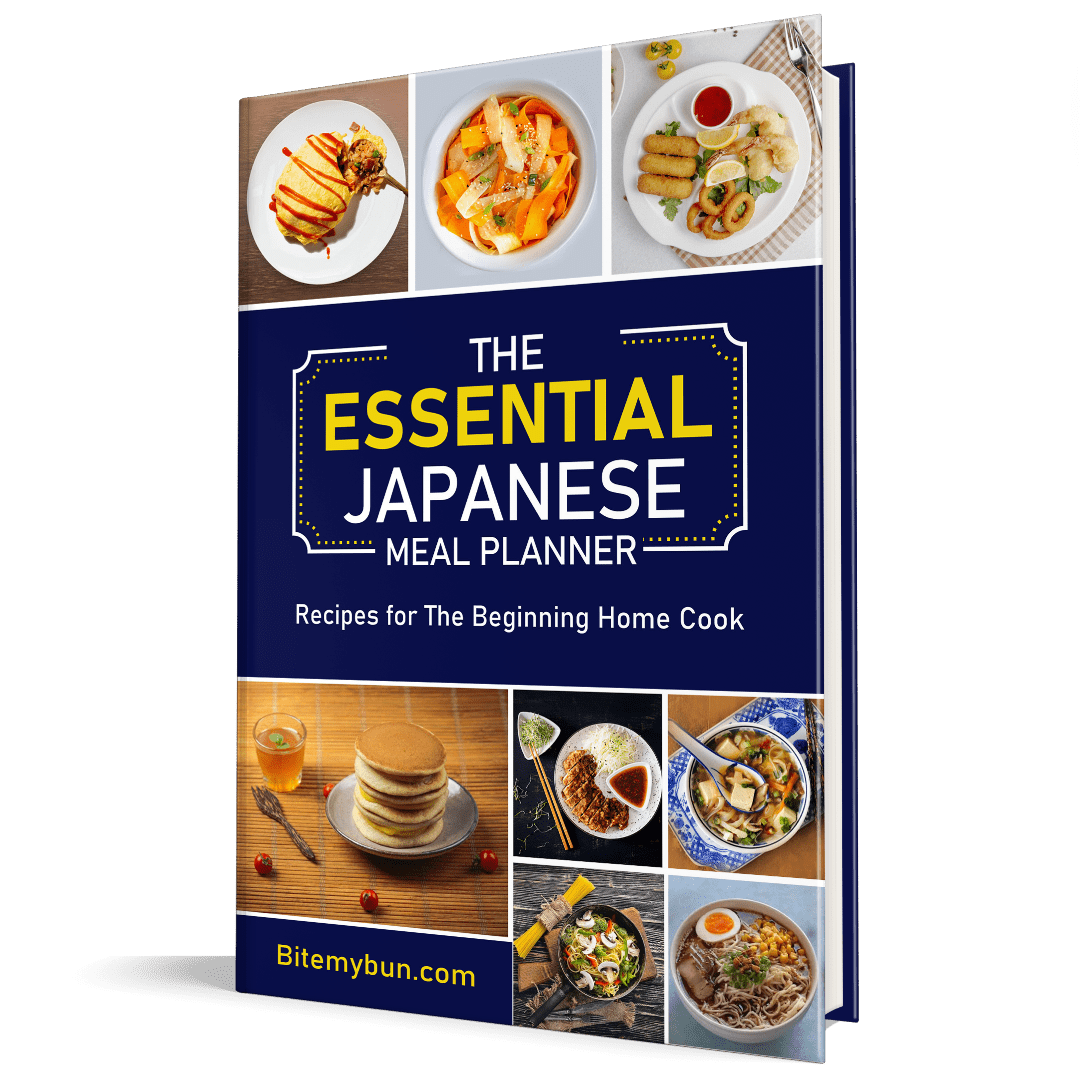 Check out our new cookbook
Bitemybun's family recipes with complete meal planner and recipe guide.
Try it out for free with Kindle Unlimited:
Read for free
If you're the type of person who just kind of puts all the knives in the drawer one on top of the other, you're not alone.
Many people do this, but did you know that it ruins the knife's blade and makes it dull?
If you want to keep the knife sharp you need to stop this bad habit. Chucking knives into drawers together with other kitchen equipment is always a terrible idea.
Mixing all your cutlery in a drawer is downright dangerous. While you reach for a spoon for your hot ramen soup, you can end up cutting your finger on a sharp knife.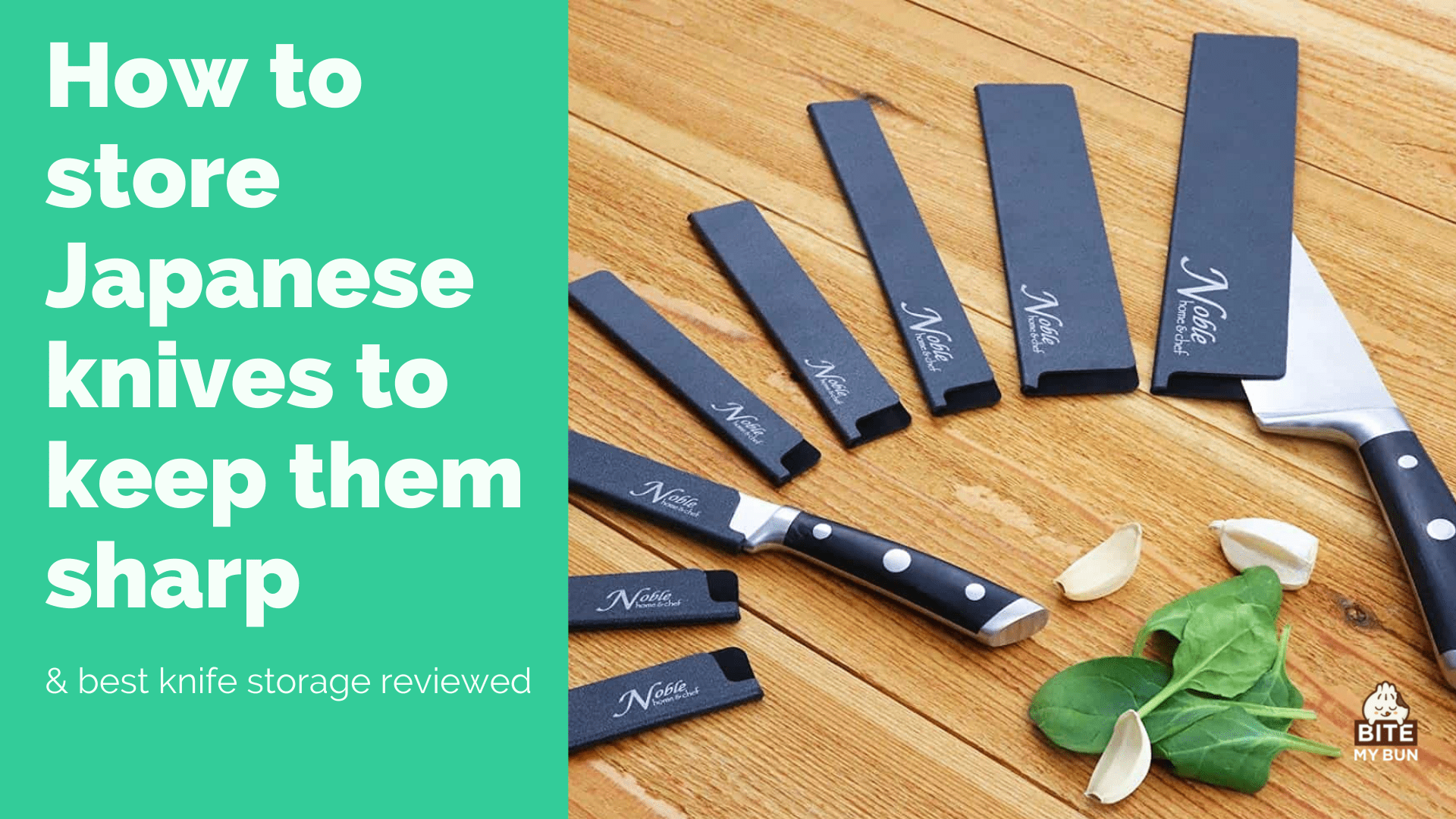 Not only are you in danger, but improper knife storage is bad for your Japanese knife collection. Sliding against metal can damage a knife, which means it becomes duller quicker.
The damage can be so bad even professional knife sharpeners might not be able to help you out.
The best way to store Japanese knives to keep them sharp is to use a magnetic knife block strip that's installed on your wall. The Woodsom Customized Powerful Magnetic Knife Strip keeps the knives firmly stuck to the magnetic strip and at a distance, so the blades don't touch. This way your knives stay sharper longer.
Keep reading to find more suitable storage solutions for your Japanese knives and I've got something for every budget.
Let's look at your options first then I'll share full reviews below:
10 Tips to Save a Bundle on Asian Ingredients!
Introducing our brand new FREE PDF guide: "Saving Secrets: Unveiling the Art of Saving Money on Asian Ingredients" It's your first newsletter email, so start saving today! 📚🧧
We'll only use your email address for our newsletter and respect your privacy
Buying guide
Japanese chefs prefer to take their own knives with them to restaurants and then back home.
When traveling, they use a Japanese knife roll to store and keep their knives safe.
But a knife roll isn't the most practical solution for the home – it's more for traveling.
Knife block vs magnetic knife strip
There are two popular knife storage options these days for the home: you can use a knife block or a magnetic wall-mounted knife strip which keeps knives even safer.
Let's compare the options within these two designs.
Universal (non-magnetic) knife block
Keeping the knives inside the block is an important step if you want your pricy Japanese knives to last a lifetime.
A knife block can be a good solution because then the blade is not exposed to other knives or the elements around it and is safely tucked inside the knife block.
Some Japanese knives (think cleavers like chukabocho) don't fit into kitchen drawers because of their shape.
Therefore, when you go to place them into your drawer, they just don't fit into the prefabricated slots.
The advantage of using a knife block as storage is that you can securely store away a variety of knives in a small area without taking up lots of your counter space.
Universal knife blocks are capable of storing a variety of knife combinations in small areas.
The majority of knife blocks are designed to suspend the blade by its handle to protect the sharp edge.
For individuals who do not want to drill into the walls of their home or business kitchen, they are an excellent alternative to knife racks.
It's also worth considering universal blocks, which can accommodate a variety of knife sizes and even extras like a honing rod.
One thing to keep in mind is that when they're used incorrectly, they're notoriously harsh on cutting edges and can easily destroy your knife's edge.
It's important to insert the knife into the block properly. Press the blunt side of the blade against the knife block – this protects the cutting edge from damage.
Also, keep in mind when you take out the knife you need to avoid dragging motions and prevent the sharp blade from grinding against the block.
But even a knife block might not be a good solution that's because the slots are the wrong size for Japanese knives. Most knife blocks are designed for western-style knives and thus your cleavers like the nakiri won't fit.
Don't worry there is a second and possibly better solution.
Wall-mounted magnetic knife strips
For the ultimate clutter-free storage solution, the magnetic knife strip is the best. This is a piece of magnetic material that you can mount right onto your wall and magnetically attach your knives to it.
The advantage is that you save counter space and your drawers will be free of clutter and sharp blades.
Japanese knives are quite sensitive and if you store them on the magnetic knife strip the blades don't touch so they stay sharper for longer.
When setting up your knife rack, make sure there is enough space above and below for your blades to sit comfortably without being clipped.
They're especially useful if you have little kids and wish to keep sharp objects out of their reach.
Make sure you get a knife rack made of high-quality wood and powerful magnets.
Cheap magnetic racks abound, but they're usually built with weaker magnets and low-cost materials that mimic wood grain patterns.
Generally, the more expensive the rack is, the better the magnets and the cut of wood are.
Also, the magnetic strips come in different lengths so you can store a range of knives on one single strip. This is an excellent storage solution for knives with odd blade shapes.
A knife strip can be a stylish addition to your kitchen if you prefer wood, you can get a knife strip with a wooden exterior and the magnetic part hidden inside.
Overall, this storage solution is the most practical as it's hygienic and secure. You can rest assured that your Japanese knife is safe, sharp, and ready for use.
Japanese knife tower
Another traditional way to store knives in Japan is with a knife tower. This is a tall wooden holder with about 4-10 different slots for your knives.
It's really just a wooden rack but the spacing between the rows is designed to fit even larger and wider-blade Japanese knives like the Deba bocho or vegetable cleaver.
In the USA, this type of wooden knife rack is hard to find but you can find universal versions – just beware that your larger knives might not fit onto the rack!
Material
The most popular racks are stainless steel. These racks are a popular choice for stainless steel knives, but they should be avoided with Japanese knives since they can leave scratches on the side profile or knife edge.
Avoiding steel knife strips is especially important if you're using a Damascus steel Japanese knife. It can ruin your blade making it dull and inefficient.
Wooden surfaces are far more ideal for retaining the knife edge and, in keeping with a traditional Japanese design, are probably far more attractive. Besides, most wooden knife strips are of better quality.
Be careful of cheap knife strips because they might not be as magnetic as you expect, and the knife can fall off injuring someone, and even crack or chip.
The blade can get damaged for good so you should invest in the best knife storage solutions.
Size
Think about how many knives you need to store. A double-sided knife block can probably store at least 10 knives and potentially up to 18.
A knife strip can be smaller or larger, depending on how much space you have. If you choose the Woodsom customizable knife strip, you can choose how many inches long you want it to be.
They can make a large one of 22 inches, or you can buy the small 8-inch if you live in a small apartment.
Learn how artisan Japanese knives are made (why they are so expensive!)
Best Japanese knife stand & storage options reviewed
Now let's look at some of my favorite knife storage solutions.
Best magnetic knife strip: Woodsom Wooden Knife Bar
Material: wood & magnetic band
Length: custom or available in 8-12 inches
Some of the cheaper knife holders contain several smaller magnets along the strip and that can cause the knives to fall off unexpectedly because the magnet isn't strong enough.
The Woodsom strip solves this issue while giving you more storage space.
A magnetic Japanese knife holder is probably the best solution for knife storage in terms of the space and safety of the blades.
It has long magnetic bars from end to end so you can be sure the magnetic force is strong enough to hold even heavier knives.
A magnetic knife strip with no dead zones is the best option to choose. It's the best way to fit more knives onto the strip and save space in your kitchen.
The Woodsom strip solves this issue while giving you more storage space.
When it comes to design, the Woodsom Magnetic knife strip is one of the best products because it's made of wooden material and looks stylish too.
I know that some folks are concerned that the strips that expose the magnetic rails will dent a knife's blade as it's being attached to the holder.
With most knife strips though, this shouldn't be an issue.
Rails like Woodsom are because the magnet is buried inside thus providing a more blade-safe surface. The delicate blade doesn't end up touching anything else but the wood.
You can choose a custom length for this product or opt for one of the sizes available 8 to 12 inches.
You can even choose the wood type as they have walnut, cherry, oak, maple, and probably other options too.
So, you can be sure to find the color that best matches your kitchen design.
The product is easy to mount because it has solid mounting holes at the front. This allows you to secure it to the wall or even the side of a cabinet.
What makes this knife strip remarkable from others like Novaware or Bamboo wood strips is that it can hold very heavy knives that weigh more than 7 pounds!
So, if you're looking for the strongest hold this is the product to go for. It is nothing like those flimsy knife strips that just don't offer a secure hold.
Best classic wooden knife block: Wusthof 25 Slot Storage Block
Material: wood
Size: holds up to 25 knives of various sizes
If you have a collection of Japanese knives, you know that a basic knife block just won't do. The knives have various blade sizes, shapes, and thicknesses.
Therefore, the large 25 slot knife block from Wusthof is a great option.
Most customers who have a large Shun knife collection recommend this knife block because it's spacious and durable.
I think 25 knives kind of covers all the knives the average household needs so it's quite a large knife block. It even has a slot for a carving knife which is a must-have for meat lovers.
The problem is that it's a big bulky and heavy knife block and it takes up a lot of counter space.
If you don't have enough room, you can opt for a smaller version from Wusthof but the 25 slot one is ideal for people who take their knives seriously and want a good storage solution.
Customers like this knife block because the knives go in and come out very easily without snagging and the blade stays intact and safe from damage. The design places the knives at an angle so they're easy to remove and insert.
The bottom of the woodblock has no-skid feet to ensure the block is stable when you maneuver it.
Another great feature is that this knife block is made of bacteria-resistant beechwood that doesn't get moldy and dirty easily. It is a hygienic way to store the knives between uses.
Be careful and don't buy the cheaper knock-offs of this product because those wooden blocks tend to chip, break, and fill up with mold after a short while.
The original Wusthof is the better choice for securing your Japanese knives.
Best knife stand with bristles: Aomiesen U

niversal Acacia Wood Knife Holder
Material: Acacia wood & bristles inside
Size: about 4-5 knives
If you have a smaller Japanese knife collection, you probably don't need a big bulky knife stand.
This one is compact but very sturdy so it won't topple over in the kitchen. It's even suitable for busy restaurant use because it's quite sturdy.
The Aomiesen stand is made of polished natural acacia wood and treated with vegetable oil for that smooth, clean appearance. Although this is a budget-friendly product, it looks like a premium knife stand.
Unlike other knife stands, this one has a wooden exterior and the inside is made of small bristles that are very close together and dense.
These are supposed to keep the knife blades safe and apart from each other. So, you take your dry, clean knife and simply place it inside and it stays firm within the bristles.
What I like most about this design though is that you can remove the bristles to clean them.
One of the reasons people used to avoid this bristle knife storage system in the past was that the bristles would break, get dirty, and scratch the surface of the expensive Japanese knife blade.
However, this cleanable product is much better than those older models. You can clean any debris, dust, stains, you name it.
Mantello is a similar brand with a similar product but their wooden knife stand isn't made of acacia and thus doesn't look as stylish in your kitchen.
You have to be aware that the size of this stand is limited so you can't really store more than 4 to 5 knives safely. If you squeeze in more, the blades may end up touching and scratching each other.
But, if you have a small Japanese knife collection, then you can safely store it inside this block.
The only downside is that there is a bit of a gap in the top corner of the sticks and you shouldn't put a knife there. Instead, you can just place food scissors or Japanese shears there instead.
Overall, this knife stand is a good, affordable bristle solution.
It's not as secure as a magnetic strip, but it's a good option when you can't fit the magnetic strip anywhere or if you want to avoid kids from being exposed to knives in that way.
Wusthof knife block vs Bristle wood knife block
Deciding whether you want a wooden knife block with wooden slots for each knife or a wooden block with bristles depends on how picky you are about storing Japanese knives.
When it comes to storing your knives, there is no better option than a knife block with bristles. This type of block not only protects your knives from being damaged, but it also helps to keep them clean and sharp.
Knife blocks with bristles are made out of high-quality materials, which means that they are very durable and will last for a long time.
Another great thing about knife blocks with bristles is that they are very easy to use. All you have to do is place your knives in the block and then use the bristles to clean them off.
This type of block is also very affordable, which makes it perfect.
However, some people claim that the bristles can scratch, chip, and damage the expensive handcrafted blades of the Japanese knife, especially after extended use.
That's a major reason why many people prefer the wooden slots of the Wusthof.
You still have to be careful as you put in and take out the knife from the Wusthof knife block to avoid chipping the blade near the edges.
Also, be careful not to jam the knife too deep into the wood knife stand or you will destroy the tip.
It is not bad to put your knife in a wooden knife block. In fact, many people prefer to do this because it helps to protect the blade of the knife and keep it from dulling.
Additionally, it can also help to keep the knife from rusting.
However, you will want to make sure that you clean the block regularly to prevent any build-up of bacteria or other contaminants.
Best magnetic knife block: Schmidt Brothers Acacia Downtown
Material: acacia wood
Size: 16-18 knives
If you can't drill holes into the wall of your rental home, you can benefit from the advantages of a magnetic knife holder with this Schmidt Brothers knife block.
Although this is a pricy product, it is truly one of the best magnetic knife blocks on the market because it's made of high-quality acacia wood, strong magnets, and an acrylic shield.
This acrylic break-proof acrylic shield is the reason people rave about this product. It can protect the blades from natural wear, steam, dirt, oil, and other accidents that can happen in the kitchen.
Also, it protects you from unintended cuts so it's a great way to store the knives away from the small hands of kids.
Schmidt Brothers is a well-known brand in the cutlery world and their products are far superior to the budget brands you can find because the knives are well protected, and the knife block stands the test of time.
This knife block is one of the best space-saving solutions because it can hold up to 18 knives! I think that covers most people's Japanese knife collections. You can put knives on both sides of the block.
There's only one downside to this knife block – it can gather dust in between the wood and acrylic cover and to remove it properly, you might have to remove the plastic with an Allen wrench.
I admit it's a bit of a nuisance to clean.
But overall, this is a great magnetic knife block and a good alternative to drawer storage and magnetic strips. The product is also not too big, so it won't take up all your counter space.
Best Japanese knife tower: Misc Knife Display Stand
Material: wood
Size: 4 knives
If you're wanting to store your knives on a knife tower or knife rack, Misc knife display is a good option since it's made of natural wood.
Unlike acrylic knife towers which can break and crack easily, the wooden knife tower is more durable and sturdy in the long term.
It is also a stable stand with a ladder design so it's designed to stand up without toppling over. I recommend adding an extra bolt or two for extra security but if the knives aren't too heavy, it should be fine.
While this type of knife holder doesn't take up a lot of room horizontally, it is quite tall so you need a decent amount of space between the counter and cabinet.
This type of knife storage is advantageous because you can actually see all the knives in one place and if they are expensive knives like Sakai, you can show them off to your guests!
The main disadvantage of this wooden knife tower is that it's not spacious enough – you can only display 4 knives on it.
If you own a lot of Japanese knives, this isn't the best solution because you'll need several towers.
However, if you have 3 or 4 favorite knives that you use most frequently, you can definitely show them off with this display.
This budget stand isn't anything fancy though – there is no smooth or polished finish and it's not an example of exquisite craftsmanship.
However, if you're looking for a simple, easy knife storage tower, it does a good job!
Authentic Japanese knife towers from brands like Sakai cost upwards of $180, and this one is only a fraction of that price, so it's a good way to test out if you like storing your knives this way.
If you have small kids around, always be careful and make sure they can't reach the knife tower.
Best budget individual blade protectors: Noble Knife & Home 8-Piece Universal Knife Edge Guards
Material: ABS plastic & felt lining
Various sizes
Maybe you already have a knife block or knife strip and only have a few Japanese knives. In that case, you can use individual knife edge guards like these ones from Noble Home & Chef.
These are a cheap storage option when you don't have a large Japanese knife collection.
The one thing to note is that these protectors aren't specifically designed for Japanese knives but instead for Western-style knives so you might have a hard time finding a suitable cover for some of those odd-shaped blades.
These basic blade protectors are made of a non-toxic ABS plastic material and have a felt inner lining to protect the blade against scratches as it potentially moves around.
This safeguards your knives' integrity while sliding in and out of the sheath. Thus, you don't need to worry about marring their finish or dulling their blades.
Here are the dimensions of the sheaths in the set:
(2) 4.75″ x 1″
(2) 6" X 1"
(1) 6.25" X 1.25"
(1) 8.5" X 1.25"
(1) 8.5" X 2"
(1) 10.5" x 2.25"
While these covers may not suit all Japanese knife dimensions, you still get a decent selection for a bargain price. The sheaths fit tight but not too tight, so you don't struggle with taking the knives in and out.
Out of the dozens of similar products on Amazon, the Noble set seems to hold up best over time.
Kessaku is a similar and good option too but some people say that the knife sticks out too much for many sizes.
Best Japanese wooden sheath knife protector: Yoshihiro Saya
Material: magnolia wood
Available in all sizes for all kinds of Japanese knives
If you own expensive Japanese blades, I strongly advise spending some extra cash on an authentic Japanese saya from Yoshihiro.
These protective sheaths are made of magnolia hardwood and there are many sizes available for the different types of Japanese blades.
I've chosen to link to the Nakiri to show you that it can fit perfectly on cleavers too!
A wooden sheath provides optimal protection, even in a knife drawer. It's similar to having a separate knife block for each knife.
The problem with individual wooden sheaths is that they usually fit only one knife brand perfectly. In this case, these saya are best for Yoshihiro Japanese knives.
But luckily, they are compatible with some others too, you just need to check the measurements. Shun is usually incompatible so keep an eye out!
With the saya on, you may store a knife safely in a drawer and then toss it into a day bag for a picnic without having to carry a full knife roll.
Sayas are available for both traditional Japanese knives, such as the nakiri shown above, and Western-style Japanese blades and even your long sushi knives.
Some people are bothered by the plastic bolt because it makes the sheaths too tight in some cases.
Others are saying plastic is preferable because it doesn't swell from humidity. It comes down to personal preference.
Overall, these sayas are excellent because they are not lacquered on the inside and don't affect the surface of the blade and the blades won't chip with this storage method.
Takeaway
Knife storage doesn't cost a fortune and if you invest in a good-quality product, whether it be a knife strip, block, or individual sheaths, these will last for many years.
If you've bought Japanese knives, you know how expensive they can be and so it's equally important to store them properly to keep them sharp for longer.
For a small to a medium-sized knife collection, the Woodsom magnetic knife strip is a secure way to keep the knives separate on the wall.
This method takes up less space than a large woodblock and you can even stick it on cabinet sides.
Just make sure to sharpen the knives properly after a few uses and don't forget that you should never put a wet knife back into the knife block or else it will rust!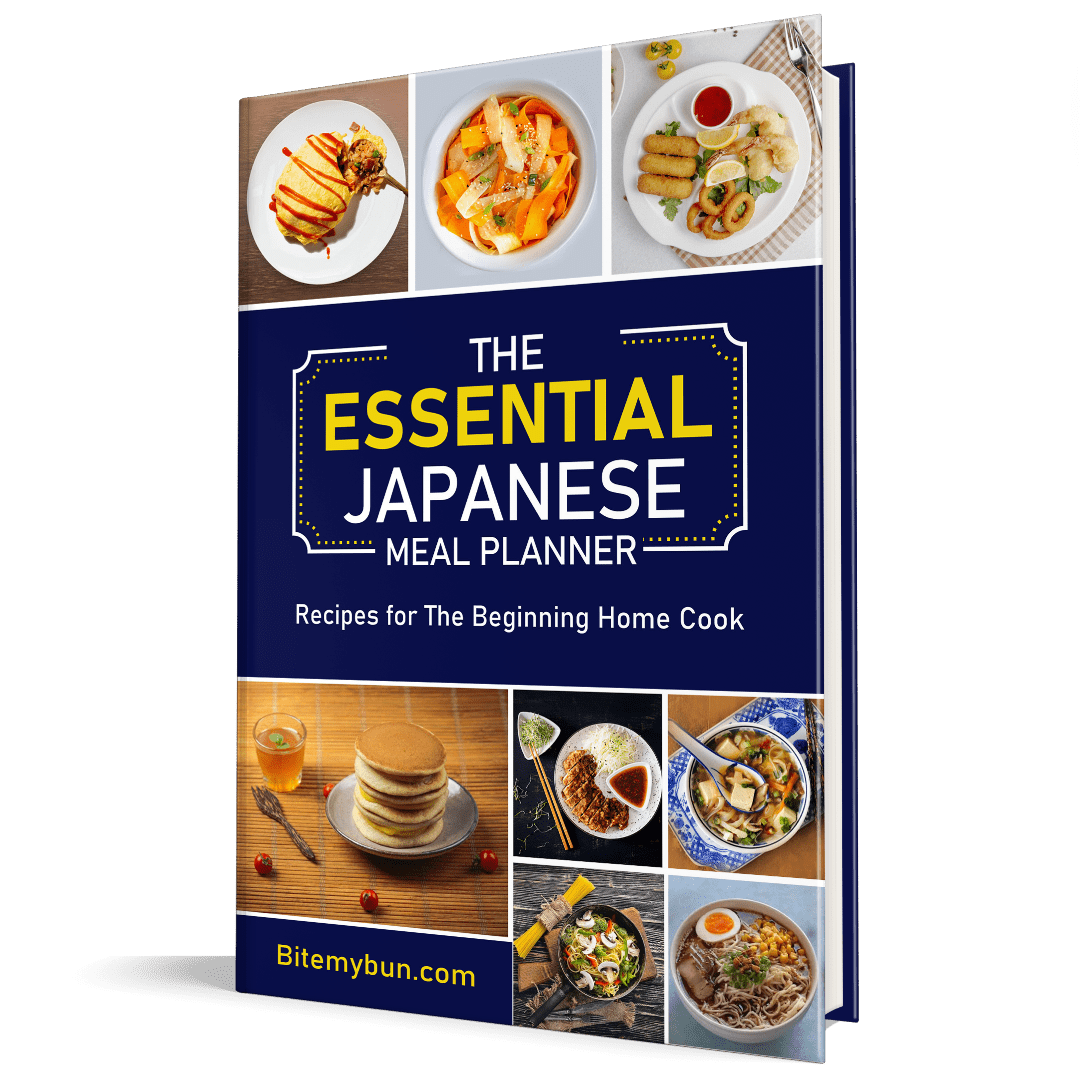 Check out our new cookbook
Bitemybun's family recipes with complete meal planner and recipe guide.
Try it out for free with Kindle Unlimited:
Read for free
Joost Nusselder, the founder of Bite My Bun is a content marketer, dad and loves trying out new food with Japanese food at the heart of his passion, and together with his team he's been creating in-depth blog articles since 2016 to help loyal readers with recipes and cooking tips.