Are you fond of Japanese food or outdoor cooking and experimenting on exotic Asian cuisines?
Then how about owning a teppanyaki grill table where you can cook and serve food to your guests as you all enjoy lots of meals and amazing conversations on it together?
It's quite different than owning one of these tabletop Teppanyaki grillplates, let me assure you. And although they are great, the full experience of Teppanyaki is best served on one of these full tables.
If that sounds appealing to you, then continue reading because we're going to talk about teppanyaki grill tables throughout this article.
Whether it's a simple weekend gathering of friends, co-workers or family members, or you're throwing a party for a special ocassion the teppanyaki grill table is perfect for preparing excuisite Japanese food for your guests!
What is a Teppanyaki Grill Table?
A teppanyaki grill table is a custom-built table that incorporates a teppanyaki grill and cooktop (e.g. gas burners stove, electric, charcoal or other fuel types) used mostly for outdoor cooking and picnicking that has a table built into the entire design.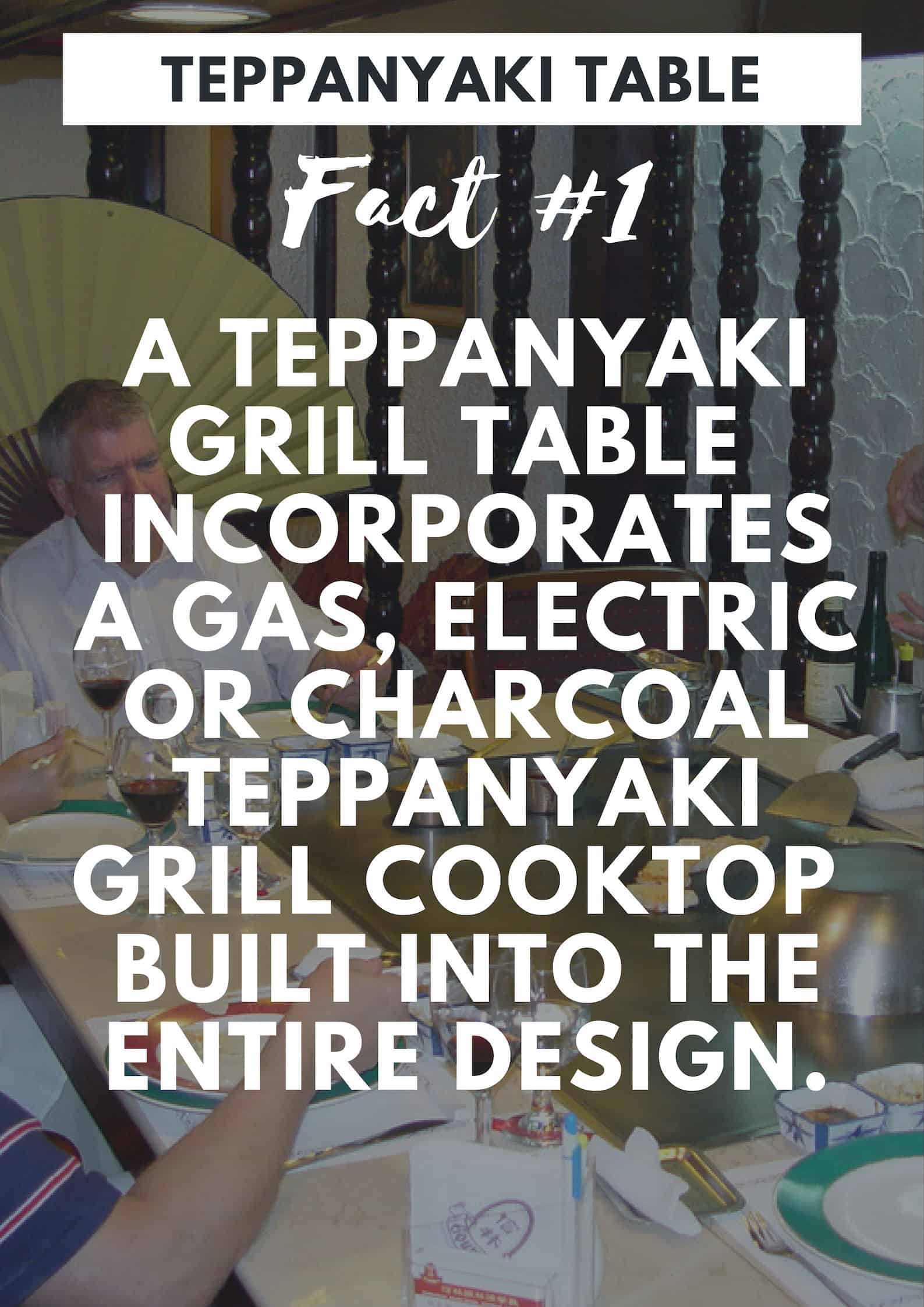 Depending on the size of the table it can seat between 3 and up to 12 people at one time, which can accommodate lots of guests if you have a bigger backyard in your property or terrace space in your condominium apartment.
In some cases, the teppanyaki table is also fitted with not just a teppanyaki griddle, but a hibachi grill as well.
So with the griddle you can enjoy cooking pancakes, bacon, eggs, hash browns, veggies, and more, while the hibachi grill is ideal for grilling kabobs, burgers, steaks, chicken, pork, fish, and other related dishes.
Where to Buy
There are endless places where you can buy the teppanyaki-hibachi grill table, but you may not find a lot of it in Japan as other people from other countries tend to more enthusiastic in designing and enhancing the traditional teppanyaki grill than the Japanese do.
There are hundreds of unique designs of teppanyaki-hibachi grill tables too and the price range from a few hundred to several thousand dollars plus shipping fees depending on the quality of the materials used, name brand and where you want the item shipped to.
However, the price of the teppanyaki grill table does not determine its quality; that being said most higher priced tables are often built with high quality, so just choose the table that suits both your budget and needs in perfect balance.
If you were to buy one online, Amazon is a very good place to start and the table to go with is this My Hibachi BBQ HBC1B table.
Below are more reviews of other tables we considered before choosing our very best in the HBC1B.
If you're looking for outdoor Teppanyaki, you can also check out my stand-alone Teppanyaki grills for outdoor cooking where I've reviewed some more. It will give you a few more options to choose from.
Is it Easy to Install the Teppanyaki Grill Table?
It won't be incredibly easy to install the teppanyaki grill table once you've received it from the shipping company, but it won't also be as arduous as assembling an IKEA set or making a LEGO Lamborghini or something to that degree.
I think it will look something similar to this barbecue table assemble video demonstration and you should be able to put it together by yourself no need for extra help.
If you're very good at understanding and following the directions and instructions in the user's manual, then you should be able to complete the installation of the table faster than what's normally expected. If all goes well, then you may even be able to prepare sumptuous teppanyaki-style meals in less than 2 hours!
And now let us look at some of the advantages and disadvantages of the teppanyaki grill table below.
Pros
It offers the convenience of cooking and serving meals to your guests instantaneously.
It allows for outdoor cooking which not only makes for great family, friends or co-workers food gathering, but also enjoy a healthy conversation over it.
People will know what are the ingredients in the food that they eat, so they'll be more interested to eat your food.
It allows you to cook multiple meals at a short time.
The teppanyaki allows up to 12 people to seat in it, but you can add more tables and chairs if you have more than a dozen guests.
It's a great way to impress your family and friends.
Easy to clean and maintain.
Aesthetic charms.
Cons
It can be quite expensive, so you will need to treat it as an investment rather than just getting another "stuff" for your house.
Some people may find it difficult to install or assemble the table and there might be a back and forth communication between them and the customer service departments of their respective teppanyaki grill manufacturers in some ocassions.
Your guests might suffer minor burns if they accidentally touch the edges of the metal grill and it might be due to the fact that they can't distinguish between the grill and the wooden table, because of the seamless finish.
Buying the ingredients for your food might also be expensive, especially since it is expected of you to throw a buffet dinner or something.
Also read: the best Teppanyaki grill plates for your induction hob
What Occasions to Celebrate with the Teppanyaki Grill Table and when to Invite Your Guests Over?
Basically, you can invite your family and friends over for any ocassion that you want to celebrate and you can even invite them for a simple dinner just to enjoy and impress them with the teppanyaki grill table.
Still, birthdays, job promotions, celebrating the engagements of couples, graduating from college, getting admitted to a prestigious college or university are always great reasons to gather around the teppanyaki grill table, eat your favorite meals and talk about your bright futures.
Cooking a beef teppanyaki with vegetables, rice and a cold glass of beer under the bright starry summer skies in your backyard is just heaven!
Or you could also chomp on the stir-fry shrimp teppanyaki with mushrooms, sushi, side dishes with soy-based sauces and wasabi plus a glass of red or white wine, or even sake to make your dinner more Japanese-themed will make you take a bite with every word you'll utter from your mouth.
You would have an endless option of preparing the teppanyaki-style recipes for your guests and setting the right mood for the ocassion.
Fuel for Your Teppanyaki Grill Table
The teppanyaki grill table usually comes with a propane gas tank and a double or quadruple burner stove; however, there are also electric-powered ones as well as charcoal fueled table modifications.
Most manufacturers allow you to choose which fuel type you would want installed in your teppanyaki grill table. You can even opt to have an induction hob to power your teppanyaki grill table for a faster turn-around-time when cooking your favorite teppanyaki-style recipes.
Other Top Teppanyaki Grill Tables we considered and Reviews
Having given a thorough introduction about the teppanyaki grill table, it is now time to review the different kinds of teppanyaki grill table available in the market today. Fortunately, there are a lot of brands competing for this particular market niche which makes their prices competitive.
I recommend that you compare the different kinds of teppanyaki grill table and see what you can get for your money's worth.
And now let's look at some of the best teppanyaki grill tables below:
Cookeriyaki 12 Seat Teppanyaki Equipment (Arched Grill Table)
The first entry for our review is the Cookeriyaki Teppanyaki Arched Grill Table which is powered by either electromagnetic induction (380V/8KW), liquified natural gas (LNG 1.2m³/h) or liquified petroleum gas (LPG 0.68Kg/h).
Cookeriyaki is a high-end cooker and oven manufacturer that also has a product range specifically developed for the teppanyaki grill table market with their latest models showcased on ther website.
This 12-seater teppanyaki equipment is a simple and easy to operate, no smoke, environmentally friendly and energy-saving product.
The company claims they mostly market their products to restaurants, resorts and hotels, but they have a lot of interesting and affordable products that if you're willing to invest, would be a great addition to your home appliances.
Benefits:
Innovative and environmentally friendly design concept that's customizable to your needs.
Energy efficient and eco-friendly green teppanyaki grill that can instantly heat the grill plates within 3 minutes thanks to electromagnetic induction (gas fuel can heat the grill within 3 – 5 minutes).
All Cookeriyaki teppanyaki grill tables are built with special considerations on the steel plates or the grill plates, which are subjected to fire treatment, anti-rust treatment, grinding and polishing and other specialized technologies in the assembly line.
The steel plate was also designed to boost the negative ions in the plate with the help of electromagnetic induction. The heat therefore expels less of the protiens and other nutrients which makes every meal you cook in it healthier.
A lot of attention to detail has been placed in every Cookeriyaki teppanyaki grill table to give both the cook/chef and the guests/customers a more fashionable experience while dining.
Protection:
Smart control panel that allows for simpler and time-saving operation. Prepare your teppanyaki-style recipes with ease and convenience while you and your guests enjoy the safety built into the device unnoticed.
Super strong soot adsorption ensures zero emission in the restaurant or in your house.
Easy to disassemble for cleaning and maintenance which will make the product last longer.
It also features a silent air circulation system that diverts smoke from the direction of the guests. They can therefore enjoy their meals without having to smell the unwanted odors of oil and other nauisance.
Greenark Hibachi Grill Electromagnetic Heating U – Shaped Teppanyaki Grill Table
This China-made teppanyaki grill table that's more of a pentagonal than U-shaped cooking equipment/table has a 1970s retro vibe to it! It features multi-colored lines and top that you would feel more like a DJ on a turntable rather than a chef preparing teppanyaki-style cuisines.
The table has backlights so it will give you an out-of-this-world experience once they're turned on at night, which makes your teppanyaki dinner experience all the better.
The grill body made of German 304 stainless steel alloy with approximately 20mm thickness, while the surrounding table built into it is made from high grade polyethylene materials topped with red hued plexiglass with flourescent backlighting.
The table can accommodate between 7 -- 10 seats and shimmers with mesmerizing lights from the bottom as the chef serve you your meals.
The Greenark Teppanyaki-Hibachi Grill is powered by LPG or electromagnetic induction hob, is made of stainless steel and polyethylene and is designed to cook beef, mutton, chicken, fish, shellfish, vegetable, rice, noodle, etc.
Advantages of Electromagnetic Induction Teppanyaki Grill
Self assembled electromagnetic plate and motor that's specially designed and developed for teppanyaki equipment.
Comes with the German Infinon power module and NEC rectifier.
Built with cutting-edge technology certified by UL and ROHS (Restriction of Hazardous Substances).
Significant reduction of electromagnetic radiation from the induction hob at only 18KHz – 35,000KHz which lower than the 100KHz European standard.
Advantages of Built-in Electrostatic Fume Purifier
Able to absorb fume particles from 0.1 micrometer and upwards with processing efficiency between 93 – 97 percent.
Has easy cleaning technology that incorporates high/low voltage dust collecting plate separation system.
Advanced point discharging technology.
Auto power shutdown if there is fluctuations in the power output.
Cookeriyaki Smokeless Japanese Electric Rectangle Teppanyaki Grill Table
Here's another lavishly decorated teppanyaki grill table that exceeds both in terms of aesthetics and technical features! While the focus of most teppanyaki grill tables is in their food-grade stainless steel this particular teppanyaki grill table is heavily decorated with marble tiles all over the countertop as well as the box apron.
One look and you'll instantly fall in love with it! In fact, luxury is too poor of a word to use to describe it. It is elegant, gorgeous and very appealing. It's like discovering a buried pirate treasure worth billions of dollars!
But with all the superlatives set aside this teppanyaki grill table is quite capable. It is designed to accommodate up to 8 people and the grill is responsive enough to cook all sorts of teppanyaki-style recipes.
The grill table is powered by either a cartridge heater, electromagnetic plate or gas burners (you may choose which type of heating system you will want for your teppanyaki grill table.)
Energy consumption is as follows:
Get your quick start in enjoying Japanese cuisine here with our top recommended tools
Electricity -- 380v/8kw
(Liquefied natural gas) LNG -- 1.2 m3/h
(Liquefied petroleum gas) LPG -- 0.68KG/h
The table is easy to install and is also easy to disassemble and clean. It is sold for $1,899.00 -- $3,199.00 per set from Alibaba.com.
Greenark Indoor Commercial Griddle Plate Built In Hibachi Grill Oval Shape
Here's another great product from Greenark! This oval-shaped teppanyaki-hibachi grill table is a combination of great woodwork, food-grade stainless steel grill plate, and exquisite marble top finish. The bottom part of the table even has light fixtures in it that give the impression of a soft glow, which accentuates the woodwork surrounding it.
This table will comfortably seat up to 10 people and the natural gloss of the marble finish on it is exemplary of 5-star hotels, restaurants, and resorts.
Powered by electromagnetic induction heating you won't have to wait for 10 minutes for your meals to be served.
It also has a built-in air blower as well as an electrostatic fumes purifier which lets you smell the aroma of the food, but never the unpleasant odors of burnt oils and fumes.
It has a fairly large cooking space of 600 x 400 square millimeters and that entire steel plate heats up with the induction hob rings scattered all over it, which allows for the chef to cook multiple recipes at the same time.
Overall this grill table combines the essential elements of the functionality provided by the advanced technology built into it as well as the aesthetics featured in high-class restaurants and hotels.
The Takeaway
There are a lot of teppanyaki-hibachi grills sold in the US market as well as in the European, Asian and other markets in the world. There are also hundreds of different designs and features to choose from with varying price ranges as well.
However, the teppanyaki-hibachi grill table stands out as it allows for guests to enjoy the chef preparing their favorite teppanyaki-style dishes right in front of their eyes.
This is actually how the Japanese did it back in post-WWII Japan when foreign tourists were pouring in and are expecting to be entertained by such cooking prowess.
Apparently the teppanyaki-hibachi grill table is more often than not marketed to restaurants, hotels, and resorts as it is just practical to sell them in droves with such business establishments than individuals who will probably only purchase the cheapest and smallest tables the sellers have.
Still, for those who can afford to buy one of these would feel very fortunate, because it is both practical and also a great way to impress your guests.
In case you're planning to buy one for personal use or you own a restaurant and you also want to offer teppanyaki-style food to your guests, then you may check on this website and choose a variety of teppanyaki-hibachi grill tables from their product line.
Get your quick start in enjoying Japanese cuisine here with our top recommended tools
Of course, there are a lot of other sites where you can find teppanyaki-hibachi grill tables from also (we've already mentioned them at the beginning, but you can do a Google search to expand your search).
If you like outdoor cooking and Japanese food, you should also read my post on the best Yakitori Charcoal grills which are excellent for grilling meats and vegetables outside.
Joost Nusselder, the founder of Bite My Bun is a content marketer, dad and loves trying out new food with Japanese food at the heart of his passion, and together with his team he's been creating in-depth blog articles since 2016 to help loyal readers with recipes and cooking tips.