Want an outdoor teppanyaki grill? The top 5 you should buy!
I love creating free content full of tips for my readers, you. I don't accept paid sponsorships, my opinion is my own, but if you find my recommendations helpful and you end up buying something you like through one of my links, I could earn a commission at no extra cost to you.
Learn more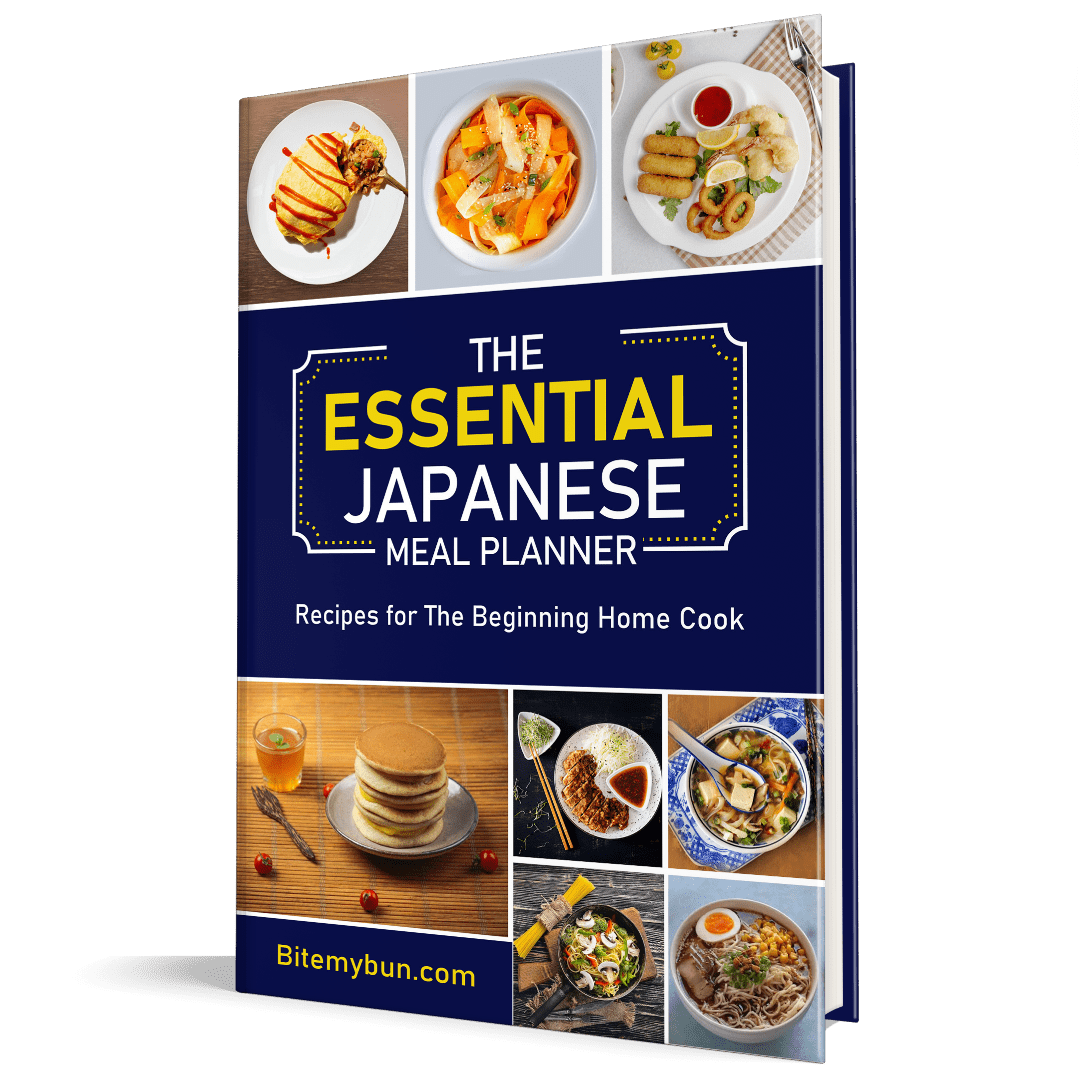 Check out our new cookbook
Bitemybun's family recipes with complete meal planner and recipe guide.
Try it out for free with Kindle Unlimited:
Read for free
Today, there are different ways people can prepare their food, from conventional ovens to outdoor BBQs and food smokers.
However, there's one amazing cooking method in Japanese cuisine you can't miss: teppanyaki!
If you've never heard of teppanyaki, then it's a Japanese cooking style that involves a flat hot plate griddle. It's gained lots of popularity in the western world.
This cooking style requires a teppanyaki grill, where you can grill your steaks, veggies, bacon, pancakes, eggs, and other things.
One interesting thing when it comes to teppanyaki cooking is that it's very fast, and you won't spend a lot of time on the grill preparing your meal.
Having an outdoor grill means you don't need to grill indoors anymore. However, there's one challenge when it comes to teppanyaki cooking—choosing the right grill!
Are you fond of Japanese food or outdoor cooking and experimenting with exotic Asian cuisines?
Then how about owning a teppanyaki grill table where you can cook and serve food to your guests as you all enjoy lots of meals and amazing conversations together?
It's quite different than owning one of these tabletop teppanyaki grill plates, let me assure you. And although they're great, the full experience of teppanyaki is best served on one of these full tables.
If that sounds appealing to you, then continue reading. We're going to talk about teppanyaki grill tables throughout this article!
Whether you're having a simple weekend gathering of friends, coworkers, or family members, or you're throwing a party for a special occasion, the teppanyaki grill table is perfect for preparing exquisite Japanese food for your guests!
Let's look at the top choices real quick:
10 Tips to Save a Bundle on Asian Ingredients!
Introducing our brand new FREE PDF guide: "Saving Secrets: Unveiling the Art of Saving Money on Asian Ingredients" It's your first newsletter email, so start saving today! 📚🧧
We'll only use your email address for our newsletter and respect your privacy
Outdoor teppanyaki grill buying guide
Type of grill
There are three main types of outdoor griddles: freestanding, tabletop, and insert griddle. Let's look at them in more detail. 
Freestanding 
Freestanding griddles are very similar to charcoal or gas grills. These griddles can be attached to carts or stands, and offer plenty of cooking space. They have a stand on which they're built, just like the George Foreman grill. 
Freestanding griddles, like most grills, are gas-powered and have multiple burners. The burners are concealed beneath the flat-steel cooking surface. 
You can get freestanding griddles with extras like grease traps and casters to make them easier to move. Some even have a cooking table that's handy for prep work!
Tabletop
Griddles for tabletop cooking are a bit like hot plates. You place them on the table and the electric ones are used both inside and outside. 
These compact griddles, which only have 1 or 2 burners each, can be used for camping, tailgating, and even cooking at cookouts. They're small and portable, so you can take them with you wherever you go, making them versatile and convenient!
To get a tabletop griddle started, you'll need a small propane tank. That's if you don't want an electric one, of course. But for outdoor cooking, gas and propane tanks are the best and most practical solutions. 
Insert griddle
A compact and convenient insert griddle can be used in place of a separate griddle. It can be used as an accessory to any grill or barbecue. 
These fit over the heating element of a grill, making it a griddle. So if you don't want to invest in a standalone teppanyaki grill, you can just use the insert on top of your existing grill!
These insert griddles are easy to put in and allow you to switch between a grill or griddle at will. It can also be taken along when camping or outdoor cooking is done.
They're lightweight and easy to transport. Also, they're a more affordable option if you're on a budget. 
Size & cooking surface
The first thing to consider when buying an outdoor teppanyaki grill is the size. This includes the total size of the grill, as well as the designated cooking surface.
Outdoor teppanyaki grills are categorized by their size. There are griddles as big as a 4-burner grill or larger. Restaurant teppanyaki grills are usually large, whereas tabletop grills are much smaller.
For outdoor cooking, larger is obviously better if you're cooking for large groups. But you also have compact tabletop models. 
You should consider your needs and choose the right size. A smaller griddle is best for portability and mobility.
Overall, a full-sized, standalone outdoor griddle is the best choice, unless you're only cooking for yourself or want a very small compact camping cooker. 
Portability
A portable grill has wheels, which makes it easier to move around the yard or campground.
Another good feature to have is 2 or more handles so you can maneuver the grill safely and conveniently. 
Some teppanyaki outdoor grills are even foldable so you can make them compact and store them easily. 
Material
When choosing an outdoor grill, you can't overlook the surface or cooktop of the griddle. 
A traditional teppanyaki grill is usually made of cast iron. These days, stainless steel is a more popular option and it makes the teppanyaki more affordable. 
Look for products with a durable griddle. Stainless steel is a great choice. It's durable, resists corrosion, and can withstand outdoor use. 
Cast iron is another option that's durable and retains heat well during cooking. It also gets better with age.
Grease drip tray
The melted fats, grease, and residue have to collect somewhere, right?
If your griddle has a drip tray, then you're in luck because it makes cleaning easier!
Outdoor griddles that are easy to use and clear will capture grease and other runoff as you cook. 
A griddle should be able to collect grease as it is, clearing up your cooking area and preventing grease from getting in your way while you cook. Lots of grease build-up can be scraped off while cooking with a teppanyaki griddle scraper.
The 5 best Teppanyaki outdoor grills reviewed
Here are some of the grills that I've sampled from Amazon.com.
1. Best overall stand-alone outdoor teppanyaki grill: Blackstone 28 inch Outdoor Flat Top Gas Grill
Type: propane grill 
Size: 62.5 x 22 x 36 inches
Cooking surface: 720 sq inches
Material: steel
Grease management system: grease channel
Huge outdoor griddles can be impractical because they take up way too much space in your yard. Plus, if you want to take them camping with you, they're too bulky and heavy. But Blackstone has addressed all of these issues with their 28″ teppanyaki grill!
It's the best midsized teppanyaki in terms of functionality, design, and price. Compared to Blackstone's 4-burner model, this 2-burner has plenty of space to grill meat and vegetables at the same time, but it's also lightweight and portable. 
You only need to replace your BBQ or grill with the Blackstone 28 inch Outdoor Flat Top Gas Grill Griddle Station, and you won't regret your decision!
The grill is easy to assemble and use, which means you'll start grilling in no time.
In addition, using this grill means that you'll do away with the need for charcoal, kerosene, and matchsticks. 
The Blackstone 28 inch Outdoor Flat Top Gas Grill Griddle Station has an interesting feature: an easy start, push-button ignition that's battery-powered. So you only need one simple button push, and you're ready to go!
This grill will take all your stress away from outdoor cooking and allow you to spend most of your time having fun outdoors.
With the Blackstone 28 inch Outdoor Flat Top Gas Grill Griddle Station, you can easily cook pancakes, eggs, grilled cheese, potatoes, quesadillas, and steaks, teppanyaki-style!
In addition, the grill has a bottom shelf, as well as two side shelves, which assist in storage as well as food preparation.
But you can also keep food warm while you cook others, thanks to the adjustable heat zones.
The 2 burners are divided into an H-shaped arrangement on the 28″ griddle. 
The 2 15,000 BTU stainless-steel burners provide equal heat distribution, producing a total of 30,000 BTUs of heat. They have 2 control knobs that can be controlled independently, depending on what you're cooking. This makes controlling the temperature on both sides of the grill simple. 
In addition to this, the grill is fueled by a 20-pound tank, which is safely stored on the grill's left side. Generally, propane is an affordable fuel source and these grills are easier to use than charcoal ones. 
This makes the Blackstone 28″ a great tool for family gatherings and other outdoor cooking events!
If you're looking to do more cooking on a flat surface grill, then these 13 essential teppanyaki tools I've reviewed are great for you.
Another standout feature is the steel base, which has been powder coated. This type of industrial design is popular because it's very durable. Powder-coated steel bases are not only beautiful, but they're also easy to clean. 
Unlike those fixed grills without wheels, this one is easier to move around. The grill comes with industrial-grade caster wheels, which allow you to move the grill quickly. In addition, you can also transport this grill from your campsite to your backyard, thanks to its detachable grill top.
One of the issues with older Blackstone models is that the drip pan wasn't good. To fix this issue, they removed the grease drip pan and added a grease channel you can wipe clean with some paper towels. It doesn't completely address the issue, but it's OK, considering the price. 
The main benefit of having a stainless steel griddle flat top design is that it prevents food from sticking to it. This results in a griddle that is not only well made, but also very affordable, which will make for many happy evenings and afternoons.
Check out the latest prices here
2. Best traditional teppanyaki: Backyard Hibachi
Type: gas grill 
Size: 58 x 36 x 41 inches
Cooking surface: 693 sq inches
Material: stainless steel & wood frame and counter
Grease management system: drip pan
If you're committed to having a full-on teppanyaki cooking griddle and table combo, then this Backyard Hibachi free-standing griddle is your coolest option.
Don't let the name "hibachi" fool you; this table has a built-in teppanyaki flat top griddle. I explain the differences between teppanyaki and hibachi in detail here. 
The cypress wood exterior makes this grill look very stylish and modern.
All of the wooden components are made of durable furniture-grade wood. So the high price is certainly reflected in the design and the quality of the materials.
What I like most about this teppanyaki griddle is that you can feel like a real master chef. You sit behind the griddle and your friends and family sit around it as you cook for them.
They can even put their plates on the counter space and you can simulate an authentic teppanyaki restaurant experience. Honestly, it's so much fun, which makes this grill worth the investment! It's durable, long-lasting, and requires minimal maintenance. 
This is a propane grill, so it's easy to start up and control the temperature. There's an auto spark, made of a cast iron material and an adjustable propane burner. This burner is pretty powerful, so you get even and full coverage heating. 
However, some customers complain that there's a specific low spot in the middle of the griddle, and the grease settles there so it burns, smokes, and smells. It doesn't really affect the overall cooking temps but it can be inconvenient and messy.
If you want to protect the cooking surface, you can buy a hardcover. But even if you just have a grill cover, your cooker will be protected, as long as the wooden components are safely covered.
All wooden parts are coated with a special high-gloss finish that prevents moisture from seeping through. So you can be sure this is a long-lasting grill. 
In terms of actual cooking space, you get a bit less than with the Blackstone grill, but 693 sq inches is plenty of room to make breakfast, meat, and veggies at once. 
The flat-top griddle is already pre-seasoned so you don't have to waste time doing that. 
There's a stainless steel drip tray that's removable so you can place it under the griddle while cooking to collect grease, then wash it easily afterward. 
Portability is a bit tricky with this one because the teppanyaki grill is rather heavy (200 lbs) and it only has 2 wheels. But these are heavy-duty casters and you can pull it quite easily. 
If you want to impress with this cooking station in your backyard, check the latest prices here and get it now!
Blackstone vs Backyard Hibachi
If you want a durable and practical outdoor griddle, the Blackstone is the best seller on the market. It's not necessarily a "true" teppanyaki grill like the Backyard Hibachi, but it does the same things.
For those who want an authentic dining experience, the Backyard Hibachi is the most suitable option. It has a table all around so it's a showstopping entertainment stand-alone grill.  
Budget-wise, the Blackstone is a great cheap alternative for the Backyard griddle but it's not as sturdy or well-built. However, it's got its own advantages, especially when it comes to portability.
Since the Blackstone is lighter and has wheels, you can easily move it around. It also folds down into a compact shape and so it's better suited for camping and all types of outdoor cooking. I can't really imagine traveling with the Backyard griddle because it's bulky and heavier. 
If you compare the cooking results, they're practically the same. Both griddles are propane fueled so you have great temperature control possibilities and the grease is collected separately.
Blackstone is very easy to operate and even more suitable for beginners than the hibachi setup because it's just like any other freestanding gas grill. And you have more space around it without the wooden counters. 
3. Best small electric teppanyaki grill: George Foreman Grill
Type: electric 
Size: 22.2 x 20.5 x 13 inches
Cooking surface: 240 sq inches
Material: metal with nonstick coating
Grease management system: drip tray
Dishwasher-safe plates
Are you hosting a BBQ party for your family or friends? Do you usually forget to get extra propane tanks, just in case?
Then you don't have to worry at all with the George Foreman grill! The only thing you'll need is a power outlet. It's the most convenient teppanyaki cooker!
The grill has a large cooking surface, which allows you to grill up to 15 servings of meats, kabobs, desserts, and even vegetables. Even though this surface is small, you can still work with a spatula and scraper. 
In addition to this, the grill is ideal for grilling outdoors, as well as indoors. Talk about versatility, right? You can use it on your balcony, patio, at the campground, or you can cook in your kitchen!
Now, it isn't the most traditional teppanyaki grill; not at all, actually. But it's very affordable and easy to use!
And if you don't want to make teppanyaki all the time and want to just have a BBQ outside sometimes, this might be a good option.
This is all possible because of the grill's removable grill stands, which are sturdy while grilling on your patio. You can also remove them if you want to grill on your countertop.
This is a feature that the other teppanyaki grills on the list don't offer and it's very useful for apartment dwellers. 
When you add the detachable grill plate, as well as the grease-removing slope, you'll have the power to grill your favorite delicacies, and then clean the grill very easily afterward.
The George Foreman Indoor/Outdoor Grill comes with a George Touch Nonstick Coating.
Many people love this coating because it's very easy to clean, is durable, and can remove the need for oil and butter. So you can make healthier food!
This grill has adjustable temperature settings and heats up quite fast in a maximum of 10 minutes.
It also comes with a temperature probe, which makes it easier for you to select 5 different temperature settings. They'll help you achieve the best results for different dishes!
When it comes to cooking teppanyaki especially, controlling the temperature is very important. I explain why here. 
Clean-up is easy because there's a removable grease tray under the griddle and the plates are all dishwasher-safe, so you can say goodbye to scrubbing. 
The only downside is that the power cord is quite short and this can be inconvenient for some people, especially if you have a larger patio or you're cooking in your RV. 
If you can deal with that issue, then the George Foreman is the best small-budget teppan grill for your home. 
4. Best portable outdoor teppanyaki grill: Blackstone 17 Inch Portable Gas Griddle
Type: gas grill
Size: 17.32 x 21.71 x 8.62 inches
Cooking surface: 267 sq inches
Material: alloy steel
Grease management system: grease trap
Does your family like to hit the road often? If you camp regularly, then you'll need a griddle grill that's suitable for making classic American breakfast faves like pancakes, and also Japanese yakiniku and other meaty BBQ types. 
This is one of the teppanyaki grills that you can use on any occasion. In addition to this, it's the ideal outdoor grill that can be used while camping, tailgating, or just out there in the wilderness. It's easy to use in the trunk of your car because it requires minimal setup. 
But when you're at home, you can use it as your tabletop or countertop teppan griddle both indoors and outdoors on the patio.
This grill heats up very fast and can produce up to 12,000 BTUs of heat, which makes it perfect for grilling almost anything, regardless of the location and time.
From hot dogs and burgers, to stir fry, steaks, and bacon, the Blackstone Table Top Grill – 17 Inch Portable Gas Griddle will make all your grilling dreams come true.
One notable thing about this grill is its "H" shaped burner, which ensures that heat is distributed evenly across the entire grill. So you don't need to deal with cold or hot spots while cooking!
This griddle is designed with an electric igniter that's easy to use. In addition to this, the grill requires just 1 lb propane bottle for fuel.
There's a built-in grease tray under the griddle and you can remove it so cleaning isn't a hard task. The stainless steel griddle is also quite easy to clean with a spatula and then with some dish soap after use. 
This grill saves a lot of storage space since you only need to store its top in an upside-down position on top of its body once you're done using it.
Check out the latest prices here
George Foreman vs Blackstone Portable 
It comes down to personal preference: electric vs gas.
The George Foreman is a completely electric grill but it's limiting because you can only use it near a power outlet and it has a short cord.  I'd recommend it as an at-home teppanyaki griddle, not a camping one.
On the other hand, the portable Blackstone small grill is the perfect outdoor cooker for RVing and camping. Its compact size and spacious steel cooking surface make it perfect for an authentic teppan-style dining experience on the go.
Also, it's a gas grill so you don't have to worry about power cords and outlets. Propane is affordable and lasts a long time, so it's great if you want hassle-free food. 
The design of both these griddles is very different. If you prefer a freestanding grill with removable legs, the George Foreman teppanyaki is the top choice, whereas if you like the idea of a tabletop grill more, Blackstone makes the best grills in this category.
5. Best outdoor teppanyaki grill plate: Little Griddle GQ230
Best for outdoor gas grill
Type: grill top/insert 
Size: 18″x13″x3″
Cooking surface: 234 sq. inches
Material: stainless steel
Grease management system: grease trough
If you want a griddle top or insert you can use on top of your existing grill, you can count on the Sizzle-Q. It depends on the size of your existing grill, but this is compatible with many of the popular gas models. 
This is a professional teppanyaki grill for any outdoor grilling enthusiast who's always after quality results.
The grill is made out of heavy-gauge stainless steel, and its manufacturer has observed the highest standards while developing this grill. Since it's stainless steel, it's nonstick. You can also use spatulas and griddle scrapers without worrying about scratches. 
Basically, this grill will allow you to grill anything outdoors, starting from vegetables to your favorite meat.
You can easily use it on top of your gas or charcoal grill for a great outside teppanyaki experience. Or you can even use it indoors on your gas stove. I'd recommend it for outdoor cooking though, because it can get smoky when using it. 
In addition to this, this grill features a grease drip tray, as well as sidewalls to prevent food from spilling as you grill. The grease tray is useful because it makes cleaning easier. 
Furthermore, the Little Griddle GQ230 100% Stainless Steel Professional Quality Griddle comes equipped with an underside cross-bracing, which is vital when it comes to even heat distribution.
Here's a Little Griddle being used on an outside barbecue:
The grill's detachable handles fasten securely to the grill, and they make it easier to move the grill around. In addition, they also make it easier to clean.
You'll definitely have fun when cooking on this grill!
In addition to that, you won't have a hard time when it comes to cleaning, and it'll definitely deliver the best grilling results for any outdoor cook.
It's a professional line teppanyaki grill and I was amazed at how affordable it is to buy it here.
Also, read about these best grill with griddle tops if you're looking for more versatility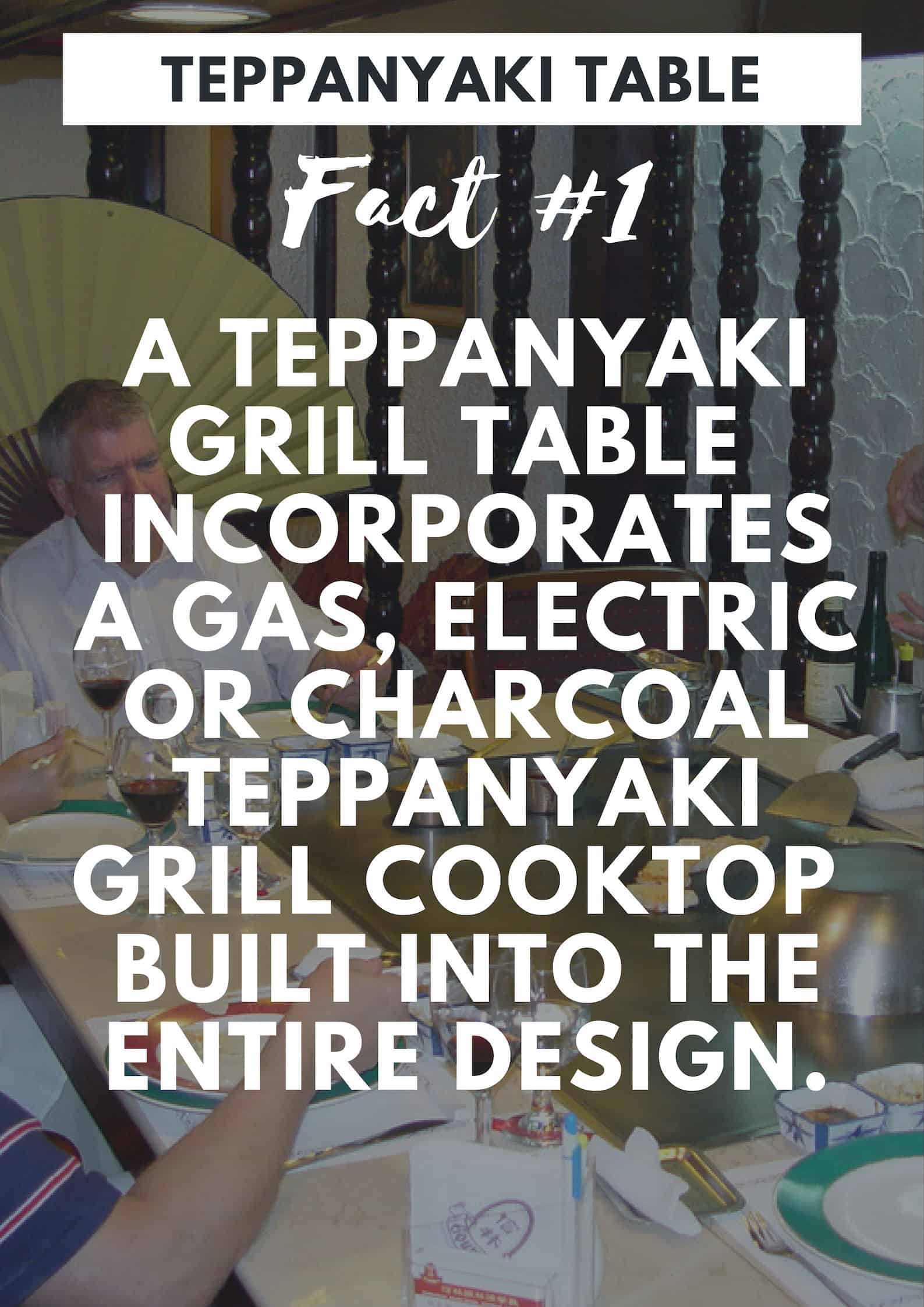 Have an outside teppanyaki party
Basically, you can invite your family and friends over for any occasion you want to celebrate. You can even invite them for a simple dinner just to enjoy and impress them with the teppanyaki grill table.
Still, birthdays, job promotions, engagements, college admissions, and college graduations are always great reasons to gather around the teppanyaki grill table, eat your favorite meals, and talk about your bright futures.
Cooking beef teppanyaki with vegetables, rice, and a cold glass of beer under the bright starry summer skies in your backyard is just heaven!
Or you could also chomp on stir-fry shrimp teppanyaki with mushrooms, sushi, side dishes with soy-based sauces and wasabi, plus a glass of red or white wine, or even sake to make your dinner more Japanese-themed. It'll make you take a bite with every word you'll utter from your mouth.
You'll have endless options of preparing teppanyaki-style recipes for your guests and setting the right mood for any occasion!
Don't forget to check out my top 5 how to teppanyaki tricks: watch & learn (incl video tutorial)
Fuel for your outdoor teppanyaki grill
The teppanyaki grill table usually comes with a propane gas tank and a double or quadruple burner stove. However, there are also electric-powered ones, as well as charcoal-fueled table modifications.
Most manufacturers allow you to choose which fuel type you want to have installed in your grill table.
You can even opt to have an induction hob to power your teppanyaki grill table for a faster turnaround time when cooking your favorite teppanyaki-style recipes.
Look at all the accessories teppanyaki cooking has to offer in this post
What are the benefits of cooking outdoors?
Teppanyaki griddle cooking is extremely easy to learn, as th

e learning curve is very low.

 It isn't like a gas or charcoal grill, which can cause flare-ups, hot spots, or other problems.

 

Griddles are very easy to use and eliminate many of the variables associated with grilling.

Temperature control is easy.

 

Griddles for outdoor cooking use the same burners as a traditional grill.

 But they

provide better and more consistent temperature control due to their flat, smooth cooking surfaces.

 

Griddles won't alter the way food is cooked and allow you to have more control over the final results and temperature.

Large cooking surface.

 

The griddle provides a lot of cooking space.

 

Flat-top grills are able to hold a lot more food and can be used to cook multiple dishes on one surface.

 

You can cook for many people at once or master multiple dishes with one griddle.

You can cook almost anything on a traditional grill, but o

utdoor griddles offer even more possibilities.

 

It's a mix of a grill and large pan, thanks to its smooth, even surface.

 It can cook delicious meals, master meats, and even make side dishes. Best of all, you can make yummy pancakes and savory okonomiyaki too!
Check out our teppanyaki buying guide for home grill plates and accessories.
Conclusion
There are a lot of teppanyaki-hibachi grills sold in the US, as well as in Europe, Asia, and other markets in the world. There are also hundreds of different designs and features to choose from with varying price ranges as well.
However, the teppanyaki-hibachi grill table stands out, as it allows for guests to enjoy the chef while they're preparing their favorite teppanyaki-style dishes right in front of their eyes.
This is actually how the Japanese did it back in post-WWII Japan when foreign tourists were pouring in and were expecting to be entertained by such cooking prowess!
Apparently, the teppanyaki-hibachi grill table is more often than not marketed to restaurants, hotels, and resorts, as it's just practical to sell them in droves with such business establishments than individuals who will probably only purchase the cheapest and smallest tables the sellers have.
Still, those who can afford to buy one of these would feel very fortunate, because it's both practical and also a great way to impress your guests.
In case you're planning to buy one for personal use or you own a restaurant and you also want to offer teppanyaki-style food to your guests, then check this website and choose a variety of teppanyaki-hibachi grill tables from their product line.
Of course, there are a lot of other sites where you can also find teppanyaki-hibachi grill tables (we've already mentioned them at the beginning, but you can do a Google search to expand your search).
If you like outdoor cooking and Japanese food, you should also read my post on the best yakitori charcoal grills, which are excellent for grilling meats and vegetables outside.
Also read about these top Binchotan grills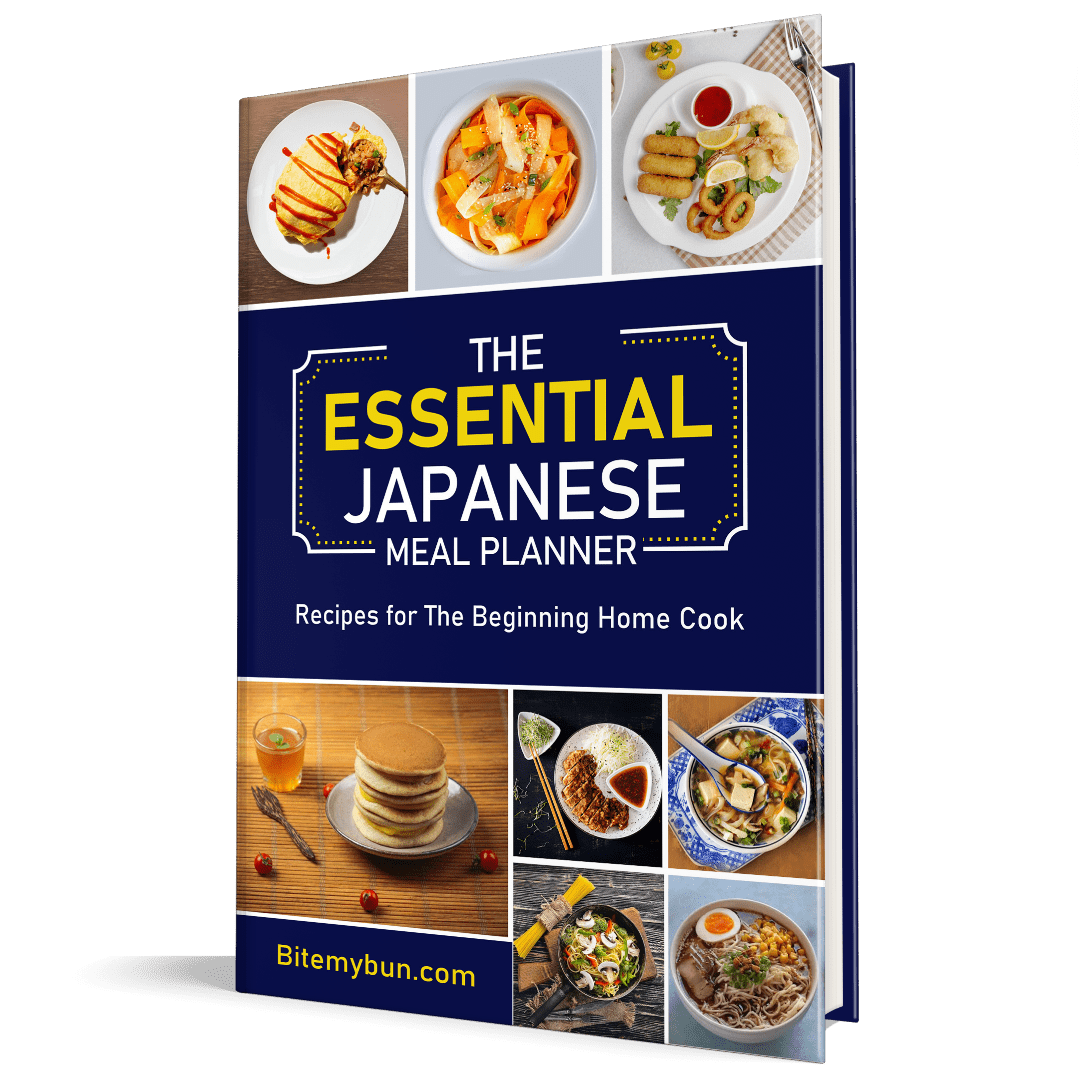 Check out our new cookbook
Bitemybun's family recipes with complete meal planner and recipe guide.
Try it out for free with Kindle Unlimited:
Read for free
Joost Nusselder, the founder of Bite My Bun is a content marketer, dad and loves trying out new food with Japanese food at the heart of his passion, and together with his team he's been creating in-depth blog articles since 2016 to help loyal readers with recipes and cooking tips.