I love creating free content full of tips for my readers, you. I don't accept paid sponsorships, my opinion is my own, but if you find my recommendations helpful and you end up buying something you like through one of my links, I could earn a commission at no extra cost to you.
Learn more
Today, there are different ways in which people can prepare their food, from the conventional ovens to the outdoor BBQs and food smokers.
However, it can be a surprise if you don't know one of these cooking processes—Teppanyaki.
Well, if you have never heard about Teppanyaki, it is Japanese cooking style, which has gained lots of popularity in the western world.
This cooking style requires a Teppanyaki grill, where you can grill your steaks, veggies, bacon, pancakes, eggs, and other things.
One interesting thing when it comes to Teppanyaki cooking is that it's very fast, and you won't spend a lot of time on the grill preparing your meal.
However, there is one challenge when it comes to Teppanyaki cooking—choosing the right outdoor Teppanyaki grill.
Having an outdoor Teppanyaki grill means that you don't need grill indoors anymore.
Are you fond of Japanese food or outdoor cooking and experimenting on exotic Asian cuisines?
Then how about owning a teppanyaki grill table where you can cook and serve food to your guests as you all enjoy lots of meals and amazing conversations on it together?
It's quite different than owning one of these tabletop Teppanyaki grillplates, let me assure you.
And although they are great, the full experience of Teppanyaki is best served on one of these full tables.
If that sounds appealing to you, then continue reading because we're going to talk about teppanyaki grill tables throughout this article.
Whether it's a simple weekend gathering of friends, co-workers, or family members, or you're throwing a party for a special occasion the teppanyaki grill table is perfect for preparing exquisite Japanese food for your guests!
Let's look at the top choices real quick:
The 5 best Teppanyaki outdoor grills reviewed
Here are some of the grills that we have sampled from amazon.com
Best Outdoor Teppanyaki grill plate: Little Griddle GQ230
This is a professional Teppanyaki grill for any outdoor grilling enthusiasts who is always after quality results.
The Little Griddle GQ230 100% Stainless Steel Professional Quality Griddle it the ultimate outdoor Teppanyaki grill, and it is a flagship product of Little Griddle.
The grill is made out of heavy-gauge stainless steel, and its manufacturer has observed the highest standards while developing this grill.
This grill will give you an outdoor grilling experience, and give you a very wide range of grilling possibilities.
Basically, this grill will allow you to grill anything, beginning from vegetables to your favorite meat.
You can easily use it on top of your gas or charcoal grill for a great outside Teppanyaki experience. Or, you can even use it indoors on your gas stove.
Little Griddle has used 100% stainless steel material when manufacturing this grill.
In addition to this, this grill features a grease well, as well as sidewalls to prevent food from spilling as you grill.
Furthermore, the Little Griddle GQ230 100% Stainless Steel Professional Quality Griddle comes equipped with an underside cross-bracing, which is very vital when it comes to even heat distribution.
Here is a Little Griddle being used on an outside barbecue:
The grill's detachable handles fasten securely to the grill, and they make it easier to move the grill around. In addition, they also make it easier to clean the grill.
You will definitely have fun when cooking on this grill.
In addition to that, you won't have a hard time when it comes to cleaning this grill, and it will definitely deliver the best grilling results for any outdoor cook.
Notable features:
Underside cross bracings which promote even heat distribution
Removable side handles which make it easier to move the grill around
4" sidewalls which help in keeping the food contained inside your grill
A grease well that makes cleaning easier
100% stainless steel material (restaurant grade)
It's a professional line Teppanyaki grill and I was amazed at how affordable it is to buy it here.
Best stand-alone Outdoor Teppanyaki grill: Blackstone 28 inch Outdoor Flat Top Gas Grill
You only need to replace your BBQ or grill with the Blackstone 28 inch Outdoor Flat Top Gas Grill Griddle Station, and you will not regret your decision.
The grill is easy to assemble and to use, which means you will start your grilling in no time.
In addition, using this grill means that you will do away with the need for charcoal, kerosene, and match sticks.
The Blackstone 28 inch Outdoor Flat Top Gas Grill Griddle Station has an interesting feature—an easy start, push-button ignition, which is battery powered.
Therefore, you only need one simple button push, and you are easy to go.
This grill will take all your stress from outdoor cooking, and allow you to spend most of your time having fun outdoors.
Notable features:
Extra-large cooking surface – this grill comes with a 470 sq. in. of cooking surface, which makes this grill ideal for cooking breakfast, lunch, and dinner. With the Blackstone 28 inch Outdoor Flat Top Gas Grill Griddle Station, you can easily cook pancakes, eggs, grilled cheese, potatoes, quesadillas, and steaks Teppanyaki style. In addition to this, the grill has a bottom shelf, as well as two side shelves, which assist in storage as well as food preparation.
Easier to move around – the grill comes with industrial grade caster wheels, which allow one to move the grill quickly. In addition, you can also transport this grill from your campsite to your backyard, thanks to its detachable grill top.
Durable – the Blackstone 28 inch Outdoor Flat Top Gas Grill Griddle Station is designed with a powder-coated steel frame, thick cold-rolled steel top, and stainless steel burners, which ensure the durability of the grill. In addition to this, the grill is easy to clean, which means you don't have to spend a lot of time cleaning the grill once you finish grilling.
You can easily control the heat—this grill has two-15,000 BTU stainless steel burners, which can be controlled independently, depending on what you are cooking. These burners produce a total of 30,000 BTUs of heat. In addition to this, the grill is fueled by a 20-pound tank, which is safely stored on the grill's left side.
It's still very affordable and most of all durable, check out the latest prices here on Amazon
If you're looking to do more cooking on a flat surface grill, than these 13 essential Teppanyaki tools I've reviewed are great for you.
Best portable outdoor Teppanyaki grill: Blackstone 17 Inch Portable Gas Griddle
This is one of the Teppanyaki grills that you can use in any occasion. In addition to this, it is the ideal outdoor Teppanyaki grill, which can be used while camping, tailgating, or out there in the wilderness.
This grill heats up very fast and can produce up to 12,000 BTUs of heat, which makes the grill perfect for grilling almost anything, regardless of the location and time.
From hot dogs and burgers, to stir fry, steaks, and bacon, the Blackstone Table Top Grill – 17 Inch Portable Gas Griddle will make all your grilling dreams come true.
One notable thing about this grill is its "H" shaped burner, which ensures that heat is distributed evenly across the entire grill.
If you want to impress your family and friends with mouthwatering meals, then get a Blackstone Table Top Grill – 17 Inch Portable Gas Griddle today.
This grill will allow you to grill effortlessly, regardless of your location.
Notable features:
Portable and convenient – the Blackstone Table Top Grill – 17 Inch Portable Gas Griddle has been designed with an electric igniter, which is easy to use. In addition to this, the grill requires just 1lb propane bottle for fuel, and come with an in-built grease tray. This the ideal outdoor Teppanyaki grill for tailgating, camping, hunting, road trips, and any other outdoor use.
Easy to clean – one notable thing with Blackstone grills is that they are easy to clean, and this doesn't change with this particular grill. Its surface is easy to clean, and it won't take much of your time.
Easy to store – this grill saves a lot of storage space since you only need to store the grill's top in an upside-down position on top its body once you are done with using it.
Large cooking surface – this grill comes with a 260 sq. in. of cooking surface, which is made out of heavy-duty material for durability and versatility.
Even and fast heating – this grill is equipped with a stainless steel "H" shaped burner, which ensures fast and even heat distribution. In addition to this, you will be able to enjoy 12,000 BTU of heat output for faster heating.
Check out the latest prices on Amazon
Also read about these best grill with griddle tops if you're looking for more versatility
Best small outdoor teppanyaki grill: George Foreman Grill
Are you hosting a BBQ party for your family or friends? Then you don't have to worry at all.
The George Foreman Indoor/Outdoor Grill has a large cooking surface, which can allow you to grill up to 15 servings of meats, kabobs, desserts, and even vegetables.
In addition to this, the grill is ideal for grilling outdoors, as well as indoors.
Now, it isn't the most traditional Teppanyaki grill, not at all actually.
But it's very affordable and easy to use, and if you don't want to make Teppanyaki all of the time and sometimes just have a BBQ outside, this might be a good buying option.
This all can happen because of the grill's removable grill stands, which is sturdy while grilling on your patio, and you can also remove it in the event you want to grill on your countertop.
When you add the detachable grill plate, as well as the grease-removing slope, you will have the power to grill your favorite delicacies, and then clean the grill very easily afterward.
Notable features:
This is the ideal grill for tailgating since it can grill over 15 servings at a go. Its 240 sq. in. circular grilling surface allows you grill for a large gathering of up to 15 people.
The George Foreman Indoor/Outdoor Grill comes with a George Touch Nonstick Coating—many people love this coating because of various reasons. It is very easy to clean, durable, and can remove the need for using oil and butter.
Outdoor/indoor removable stand—you should never stop grilling because of the weather. This grill comes with removable stands, which allows one to choose the option of either grilling in the patio or in the kitchen countertop.
Adjustable temperature settings—the George Foreman Indoor/Outdoor Grill come with a temperature probe, which makes it easier for one to select 5 different temperature settings. These settings make it easier for one to achieve the best results for different foodstuffs.
Apartment approved—one notable thing about the George Foreman Indoor/Outdoor Grill is that it doesn't need any charcoal to grill since it is fully electric. This means you can use it in your apartment, without worrying about your landlord.
Best Teppanyaki grill table: DCYourHome Blackstone Table Accessory
A teppanyaki grill table is a custom-built table that incorporates a teppanyaki grill and cooktop (e.g. gas burners stove, electric, charcoal, or other fuel types) used mostly for outdoor cooking and picnicking that has a table built into the entire design.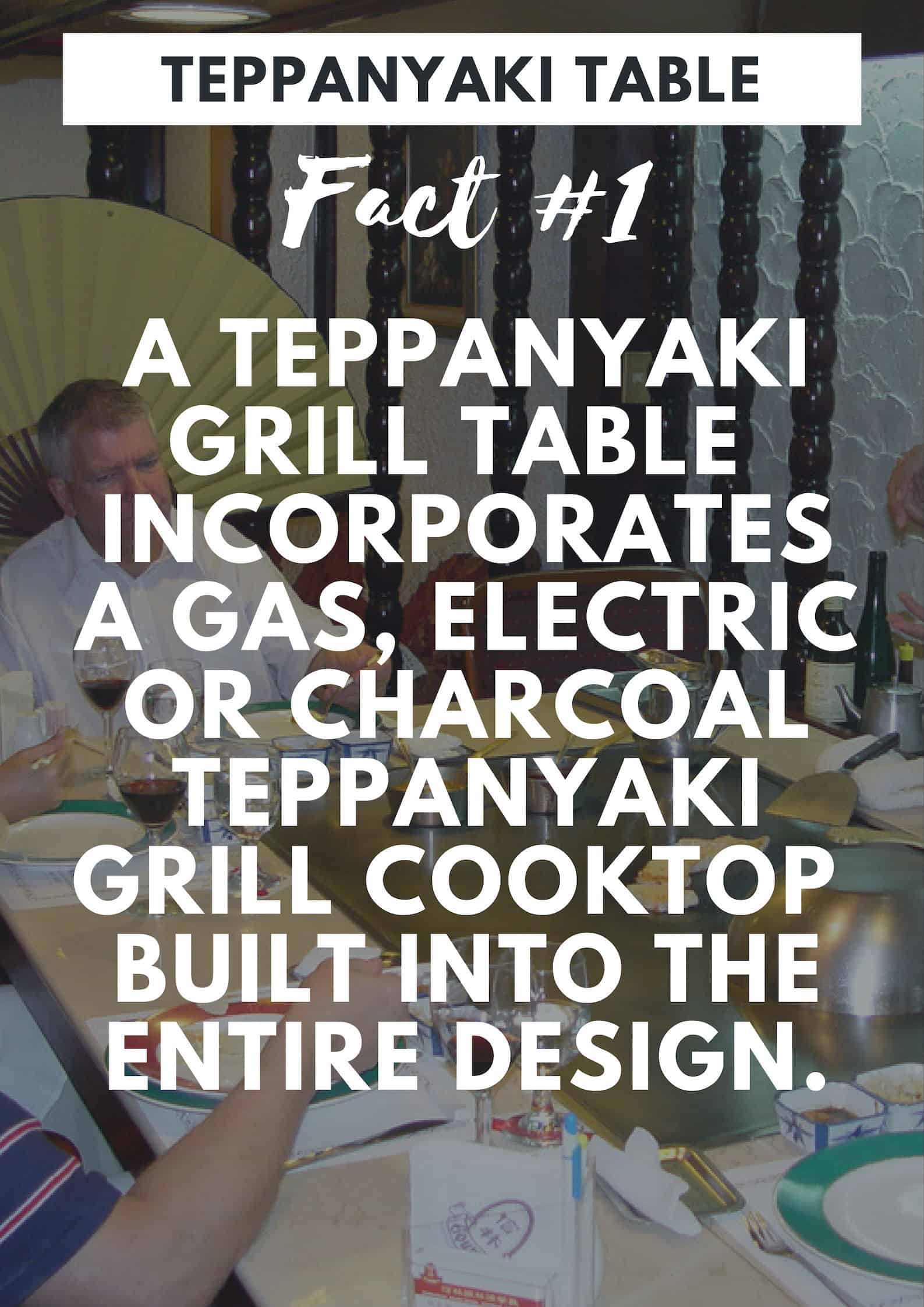 Depending on the size of the table it can seat between 3 and up to 12 people at one time, which can accommodate lots of guests if you have a bigger backyard in your property or terrace space in your condominium apartment.
In some cases, the teppanyaki table is also fitted with not just a teppanyaki griddle, but a hibachi grill as well.
So with the griddle you can enjoy cooking pancakes, bacon, eggs, hash browns, veggies, and more, while the hibachi grill is ideal for grilling kabobs, burgers, steaks, chicken, pork, fish, and other related dishes.
The problem with custom tables is, they can get expensive fast!
There are endless places where you can buy the teppanyaki-hibachi grill table, but you may not find a lot of it in Japan as other people from other countries tend to be more enthusiastic about designing and enhancing the traditional teppanyaki grill than the Japanese do.
There are hundreds of unique designs of teppanyaki-hibachi grill tables too and the price range from a few hundred to several thousand dollars plus shipping fees depending on the quality of the materials used, name brand, and where you want the item shipped to.
However, the price of the teppanyaki grill table does not determine its quality; that being said most higher-priced tables are often built with high quality, so just choose the table that suits both your budget and needs in perfect balance.
If you were to buy one online, Amazon is a very good place to start, and the table to go with is this Blackstone table attachment:
Below are more reviews of other tables we considered before choosing our very best in the DCYourHome.
Is it Easy to Install the Teppanyaki Grill Table?
It won't be incredibly easy to install the teppanyaki grill table once you've received it from the shipping company, but it won't also be as arduous as assembling an IKEA set or making a LEGO Lamborghini or something to that degree.
I think it will look something similar to this barbecue table assemble video demonstration and you should be able to put it together by yourself no need for extra help.
If you're very good at understanding and following the directions and instructions in the user's manual, then you should be able to complete the installation of the table faster than what's normally expected.
If all goes well, then you may even be able to prepare sumptuous teppanyaki-style meals in less than an hour!
And now let us look at some of the advantages and disadvantages of the teppanyaki grill table below.
Pros
It offers the convenience of cooking and serving meals to your guests instantaneously.
It allows for outdoor cooking which not only makes for great family, friends or co-workers food gathering, but also enjoy a healthy conversation over it.
People will know what are the ingredients in the food that they eat, so they'll be more interested to eat your food.
It allows you to cook multiple meals in a short time.
It's a great way to impress your family and friends.
Easy to clean and maintain.
Aesthetic charms.
Cons
Some people may find it difficult to install or assemble the table and there might be a back and forth communication between them and the customer service departments of their respective teppanyaki grill manufacturers in some ocassions.
Your guests might suffer minor burns if they accidentally touch the edges of the metal grill and it might be due to the fact that they can't distinguish between the grill and the wooden table, because of the seamless finish.
Buying the ingredients for your food might also be expensive, especially since it is expected of you to throw a buffet dinner or something.
Also read: the best Teppanyaki grill plates for your induction hob
Other Top Teppanyaki Grill Tables we considered and Reviews
Having given a thorough introduction about the teppanyaki grill table, it is now time to review the different kinds of teppanyaki grill table available in the market today. Fortunately, there are a lot of brands competing for this particular market niche which makes their prices competitive.
I recommend that you compare the different kinds of teppanyaki grill table and see what you can get for your money's worth.
And now let's look at some of the best teppanyaki grill tables below:
Cookeriyaki 12 Seat Teppanyaki Equipment (Arched Grill Table)
The first entry for our review is the Cookeriyaki Teppanyaki Arched Grill Table which is powered by either electromagnetic induction (380V/8KW), liquified natural gas (LNG 1.2m³/h) or liquified petroleum gas (LPG 0.68Kg/h).
Cookeriyaki is a high-end cooker and oven manufacturer that also has a product range specifically developed for the teppanyaki grill table market with their latest models showcased on ther website.
This 12-seater teppanyaki equipment is a simple and easy to operate, no smoke, environmentally friendly and energy-saving product.
The company claims they mostly market their products to restaurants, resorts and hotels, but they have a lot of interesting and affordable products that if you're willing to invest, would be a great addition to your home appliances.
Benefits:
Innovative and environmentally friendly design concept that's customizable to your needs.
Energy efficient and eco-friendly green teppanyaki grill that can instantly heat the grill plates within 3 minutes thanks to electromagnetic induction (gas fuel can heat the grill within 3 – 5 minutes).
All Cookeriyaki teppanyaki grill tables are built with special considerations on the steel plates or the grill plates, which are subjected to fire treatment, anti-rust treatment, grinding and polishing and other specialized technologies in the assembly line.
The steel plate was also designed to boost the negative ions in the plate with the help of electromagnetic induction. The heat therefore expels less of the protiens and other nutrients which makes every meal you cook in it healthier.
A lot of attention to detail has been placed in every Cookeriyaki teppanyaki grill table to give both the cook/chef and the guests/customers a more fashionable experience while dining.
Protection:
Smart control panel that allows for simpler and time-saving operation. Prepare your teppanyaki-style recipes with ease and convenience while you and your guests enjoy the safety built into the device unnoticed.
Super strong soot adsorption ensures zero emission in the restaurant or in your house.
Easy to disassemble for cleaning and maintenance which will make the product last longer.
It also features a silent air circulation system that diverts smoke from the direction of the guests. They can therefore enjoy their meals without having to smell the unwanted odors of oil and other nauisance.
Greenark Hibachi Grill Electromagnetic Heating U – Shaped Teppanyaki Grill Table
This China-made teppanyaki grill table that's more of a pentagonal than U-shaped cooking equipment/table has a 1970s retro vibe to it! It features multi-colored lines and top that you would feel more like a DJ on a turntable rather than a chef preparing teppanyaki-style cuisines.
The table has backlights so it will give you an out-of-this-world experience once they're turned on at night, which makes your teppanyaki dinner experience all the better.
The grill body made of German 304 stainless steel alloy with approximately 20mm thickness, while the surrounding table built into it is made from high grade polyethylene materials topped with red hued plexiglass with flourescent backlighting.
The table can accommodate between 7 – 10 seats and shimmers with mesmerizing lights from the bottom as the chef serve you your meals.
The Greenark Teppanyaki-Hibachi Grill is powered by LPG or electromagnetic induction hob, is made of stainless steel and polyethylene and is designed to cook beef, mutton, chicken, fish, shellfish, vegetable, rice, noodle, etc.
Advantages of Electromagnetic Induction Teppanyaki Grill
Self assembled electromagnetic plate and motor that's specially designed and developed for teppanyaki equipment.
Comes with the German Infinon power module and NEC rectifier.
Built with cutting-edge technology certified by UL and ROHS (Restriction of Hazardous Substances).
Significant reduction of electromagnetic radiation from the induction hob at only 18KHz – 35,000KHz which lower than the 100KHz European standard.
Advantages of Built-in Electrostatic Fume Purifier
Able to absorb fume particles from 0.1 micrometer and upwards with processing efficiency between 93 – 97 percent.
Has easy cleaning technology that incorporates high/low voltage dust collecting plate separation system.
Advanced point discharging technology.
Auto power shutdown if there is fluctuations in the power output.
Cookeriyaki Smokeless Japanese Electric Rectangle Teppanyaki Grill Table
Every month new cooking tips in your email?
Japanese recipes, cooking tips and more with the first email our FREE mini-recipe guide "Japanese with ease"
We'll only use your email address for our newsletter and respect your privacy
Here's another lavishly decorated teppanyaki grill table that exceeds both in terms of aesthetics and technical features! While the focus of most teppanyaki grill tables is in their food-grade stainless steel this particular teppanyaki grill table is heavily decorated with marble tiles all over the countertop as well as the box apron.
One look and you'll instantly fall in love with it! In fact, luxury is too poor of a word to use to describe it. It is elegant, gorgeous and very appealing. It's like discovering a buried pirate treasure worth billions of dollars!
But with all the superlatives set aside this teppanyaki grill table is quite capable. It is designed to accommodate up to 8 people and the grill is responsive enough to cook all sorts of teppanyaki-style recipes.
The grill table is powered by either a cartridge heater, electromagnetic plate or gas burners (you may choose which type of heating system you will want for your teppanyaki grill table.)
Energy consumption is as follows:
Electricity – 380v/8kw
(Liquefied natural gas) LNG – 1.2 m3/h
(Liquefied petroleum gas) LPG – 0.68KG/h
The table is easy to install and is also easy to disassemble and clean. It is sold for $1,899.00 – $3,199.00 per set from Alibaba.com.
Greenark Indoor Commercial Griddle Plate Built In Hibachi Grill Oval Shape
Here's another great product from Greenark! This oval-shaped teppanyaki-hibachi grill table is a combination of great woodwork, food-grade stainless steel grill plate, and exquisite marble top finish. The bottom part of the table even has light fixtures in it that give the impression of a soft glow, which accentuates the woodwork surrounding it.
This table will comfortably seat up to 10 people and the natural gloss of the marble finish on it is exemplary of 5-star hotels, restaurants, and resorts.
Powered by electromagnetic induction heating you won't have to wait for 10 minutes for your meals to be served.
It also has a built-in air blower as well as an electrostatic fumes purifier which lets you smell the aroma of the food, but never the unpleasant odors of burnt oils and fumes.
It has a fairly large cooking space of 600 x 400 square millimeters and that entire steel plate heats up with the induction hob rings scattered all over it, which allows for the chef to cook multiple recipes at the same time.
Overall this grill table combines the essential elements of the functionality provided by the advanced technology built into it as well as the aesthetics featured in high-class restaurants and hotels.
Have an outside teppanyaki party
Basically, you can invite your family and friends over for any ocassion that you want to celebrate and you can even invite them for a simple dinner just to enjoy and impress them with the teppanyaki grill table.
Still, birthdays, job promotions, celebrating the engagements of couples, graduating from college, getting admitted to a prestigious college or university are always great reasons to gather around the teppanyaki grill table, eat your favorite meals and talk about your bright futures.
Cooking a beef teppanyaki with vegetables, rice and a cold glass of beer under the bright starry summer skies in your backyard is just heaven!
Or you could also chomp on the stir-fry shrimp teppanyaki with mushrooms, sushi, side dishes with soy-based sauces and wasabi plus a glass of red or white wine, or even sake to make your dinner more Japanese-themed will make you take a bite with every word you'll utter from your mouth.
You would have an endless option of preparing the teppanyaki-style recipes for your guests and setting the right mood for the ocassion.
Fuel for Your outdoor Teppanyaki Grill
The teppanyaki grill table usually comes with a propane gas tank and a double or quadruple burner stove; however, there are also electric-powered ones as well as charcoal fueled table modifications.
Most manufacturers allow you to choose which fuel type you would want installed in your teppanyaki grill table. You can even opt to have an induction hob to power your teppanyaki grill table for a faster turn-around-time when cooking your favorite teppanyaki-style recipes.
How to use an outdoor teppanyaki fire pit
And you thought you've seen the best that a teppanyaki iron griddle can do, now didn't you? Well, you ain't seen nothing yet!
It seems that the Japanese have no limits to their creativity and ingenuity, because while the teppanyaki grill is impressive by all measure there is another device that rivals its magnificence in the cooking department – and that is the outdoor teppanyaki fire pit.
Much like its progenitor (the teppanyaki grill) the teppanyaki outdoor fire pit came about decades after the grill first appeared a few years just after WWII.
It's a very handy cooking device as it can be used as a coffee/tea table during the day, a barbecue grill in the afternoon or at night if you remove the cover plate and replace it with the cooking grill on top, and an open fire pit to counterbalance the cold evening where you and your family and friends can gather 'round for some warm and cozy chat.
The base of the teppanyaki firepit is akin to that of a hibachi, but a basin and a large flat toroid shape cover table is added on top of it.
So one can argue that it is a combination of the hibachi design plus an assortment of other useful designs that made it a great cooking tool and a fire pit all in one.
Look at all the accesories Teppanyaki cooking has to offer in this post
What is a Teppanyaki Outdoor Fire Pit and Why was it Invented?
A teppanyaki outdoor fire pit is a multipurpose outdoor heating device, barbecue grill, and a coffee table.
While the hibachi (the basis for its design) also served a similar purpose this new device, however, can do a lot more as it appears.
There is no definitive date as to when it was exactly invented and it cannot also be attributed to ancient Japanese designs, or be remotely related to the regular teppanyaki iron griddle which appeared after the Second World War.
Therefore it can only be assumed that it evolved from normal outdoor fire pits which have already been in circulation since ancient times.
The reason for its creation is that manufacturers wanted to sell something new and an alternative to the teppanyaki iron griddle where light cooking outdoors would make it fun and exciting.
It also allows the user to grill foods such as steak, shrimp, chicken barbecue and other meats and vegetables. The cover plate which also serves as the coffee/tea table when you're not burning coals in can also be used as toroid-shaped teppanyaki grill as opposed to the standard rectangular grill.
And, of course, you can also use it as an outdoor fire pit for all your evening leisure time.
In this post here I've reviewed some more outdoor Teppanyaki grills so you'll have a few more options to choose from when it comes to cooking outdoors.
Why Would You Need One Anyway?
That's a good question! Why would you need an outdoor teppanyaki fire pit when you already have a stove, freestanding oven and maybe even a decent charcoal grill?
Well, for one thing, there is no substituting a portable fire pit. The teppanyaki outdoor fire pit can help you transform your patio into a cozy place at night in minutes even when temperatures drop to less than 10° Celsius.
Of course, you can also build an open fire pit in your backyard or patio, but that would be too costly to consider versus the alternative, which is the teppanyaki portable outdoor fire pit, which is like the opposite of a built-in grill in our kitchen.
You could reminisce the old times with your family and friends as you talk by the fire pit, tell jokes to entertain yourselves or plan your strategy for your next volleyball game or something.
Keeping the air in your vicinity warm enough will help you enjoy the night even more, and don't even get me started on staring at the beautiful night sky because that takes things on a whole new level!
You could cook dozens of teppanyaki cuisines too if you'll put the cover plate on and enjoy various kinds of Japanese and Western foods; or even other recipes that are not from either region.
Grill all sorts of food just by placing the barbecue grill on top and diversify your food selection further.
The teppanyaki portable outdoor fire pit has just too many advantages and uses to not own one and that is all the reason you need to put this baby in your inventory.
Delicious outdoor teppanyaki recipes
Teppanyaki BBQ Vegetables Recipe
Ingredients:
• 1 quarter white cabbage
• 2 carrots
• 1 zucchini
• 4 spring onions
• 1 small red capsicum
• 1 teaspoon sesame oil
• 2 teaspoons rice wine vinegar or 2 teaspoons white wine vinegar
• 1 tablespoon light soy sauce
• 2 teaspoons mirin or 2 teaspoons dry sherry
Cooking Directions:
Peel the carrots
Peel the onions too, but remove only the outer later and its ends
Cut the capsicum and remove its seed
Cut off both ends of the zucchini too
French cut the vegetables
Turn on the teppanyaki griddle, set to high heat and spread some vegetable oil on it
Stirfry vegetables for one minute./ Stir-fry the vegetables first and cook it for 60 seconds
Pour in the sauces at this time
Keep cooking and stirring them for another 2 minutes
Take a quick taste test to see if you've achieved the desired taste. If not, then add more sauces until you do.
More info on the vegetable recipe here
Teppanyaki (Mixed Barbecue) Recipe
Ingredients:
• 4 large uncooked prawns (200g)
• 2 garlic cloves, crushed
• 60 ml Japanese soy sauce
• 1 small red chile, seeded, chopped finely
• 350 g chicken breast fillets, skin on, cut into 5cm pieces
• 500 g beef, eye fillet sliced thinly
• 4 fresh shiitake mushrooms
• 1 medium yellow onion, sliced thinly (150g)
• 50 g snow peas, trimmed
• 1 medium red capsicum, seeded, chopped coarsely (200g)
• 4 green onions, chopped finely
For the Dipping Sauce:
• 125 ml Japanese soy sauce
• 1 tablespoon mirin
• 1 tablespoon brown sugar
• 1 tablespoon grated fresh ginger
• 1⁄2 teaspoon sesame oil
Cooking Directions:
Peel the prawns and remove their veins using a deveiner. Get a medium-size bowl and combine the sauce and chilli, garlic and then add the beef, chicken and prawns afterward. Mix thoroughly and set it aside for later use.
Cut off the stems of the mushrooms and then place each head on the chopping board and cut a cross pattern on top dividing them into 4 pieces.
Turn on teppanyaki grill, set temperature to high heat and spread sesame oil over it. Start cooking the ingredients (but not the onions as they are served fresh) by batches between 3 – 5 minutes each until the vegetables are soft and tender. Cook the chicken through (may take about 10 minutes or more) and then cook the beef and prawns later on (around the same amount of time).
Serve with green onion and individual bowls of dipping sauce.
In order to make the dipping sauce just mix the dipping sauce ingredients in a small skillet and cook-stirring them until the sugar has melted.
Beef Teppanyaki
Ingredients:
• 3 tablespoons soy sauce
• 2 tablespoons sweet cooking wine (mirin)
• 1 teaspoon garlic powder
• 1 teaspoon ground black pepper
• 1/2 teaspoon ground ginger
• 1 pound beef chunks, very thinly sliced
• 3 tablespoons vegetable oil
• 1 tablespoon sweet cooking wine (mirin)
Cooking Directions:
In a small bowl combine the ground ginger, black pepper, garlic powder, mirin and soy sauce. Toss in the sliced beef and mix thoroughly, then leave for 1 hour to marinate.
Pour the vegetable oil over the teppanyaki grill and set heat to medium-high. This time start frying the beef slices for 8 – 10 minutes, and then transfer them onto a large plate once cooked.
Take the leftover marinade and cook them in a small skillet over low heat. Add more mirin and saute' until the sauce gets thicker (this should take about 1 – 2 minutes) Use this as the sauce for the beef and pour it on top of them and serve.
More info on the teppanyaki beef recipe here
Nutritional Information
Beef Teppanyaki
Servings Per Recipe: 4
Amount Per Serving
Calories: 411
Daily Value (%)
Total Fat: 32.1g 49 %
Saturated Fat: 10.0g
Cholesterol: 76mg 25 %
Sodium: 740mg 30 %
Potassium: 380mg 11 %
Total Carbohydrates: 5.4g 2 %
Dietary Fiber: 0.3g 1 %
Protein: 21.7g 43 %
Sugars: 4g
Vitamin A: 2IU
Vitamin C: 0mg
Calcium: 14mg
Iron: 3mg
Thiamin: 0mg
Niacin: 8mg
Vitamin B6: 0mg
Magnesium: 29mg
Folate: 9mcg
Outdoor Fire Pit Safety
The teppanyaki outdoor portable fire pit is indeed something else than a pit and the value that it adds to your cooking experience is worth more than the price tag that the manufacturers have placed on it.
Having said that, you may want to look into fire pit safety and fire prevention tips as the portable fire pit is potentially hazardous. First, we'll discuss maintenance of the teppanyaki portable outdoor fire pit.
Since it will be placed outdoors for the remainder of its lifespan, then it is best that you clean it regularly after use and put a cover over it when not in use.
Being left out in the open your portable fire pit is at the mercy of the elements and the wind and rain can quickly wither it away.
For fire safety precautions always remember to put out the charcoal fire when you're done using the teppanyaki portable outdoor fire pit.
You can either just pour the burning coals on the ground in your backyard away from your house and pour water over it, or you can buy the Son of Hibachi specially-made Snuff Out Pouch and extinguish the coals in this handy bag.
Also when you're using the fire pit do not put flammable stuff close to it (i.e. paper, dry leaves, aerosol sprays, alcohol, kerosene, etc.).
Check out our teppanyaki buying guide for home grill plates and accessories.
Conclusion
There are a lot of teppanyaki-hibachi grills sold in the US market as well as in the European, Asian and other markets in the world. There are also hundreds of different designs and features to choose from with varying price ranges as well.
However, the teppanyaki-hibachi grill table stands out as it allows for guests to enjoy the chef preparing their favorite teppanyaki-style dishes right in front of their eyes.
This is actually how the Japanese did it back in post-WWII Japan when foreign tourists were pouring in and are expecting to be entertained by such cooking prowess.
Apparently the teppanyaki-hibachi grill table is more often than not marketed to restaurants, hotels, and resorts as it is just practical to sell them in droves with such business establishments than individuals who will probably only purchase the cheapest and smallest tables the sellers have.
Still, for those who can afford to buy one of these would feel very fortunate, because it is both practical and also a great way to impress your guests.
In case you're planning to buy one for personal use or you own a restaurant and you also want to offer teppanyaki-style food to your guests, then you may check on this website and choose a variety of teppanyaki-hibachi grill tables from their product line.
Of course, there are a lot of other sites where you can find teppanyaki-hibachi grill tables from also (we've already mentioned them at the beginning, but you can do a Google search to expand your search).
If you like outdoor cooking and Japanese food, you should also read my post on the best Yakitori Charcoal grills which are excellent for grilling meats and vegetables outside.
These are some of the best outdoor Teppanyaki grills that you can find on amazon.com.
However, there are some other essential things that you should also look out for like the size of the grill and portability of the grill before buying it.
In addition to this, you should also consider the number of people you shall be preparing food for this grill.
Every month new cooking tips in your email?
Japanese recipes, cooking tips and more with the first email our FREE mini-recipe guide "Japanese with ease"
Also read about these top Binchotan grills
Joost Nusselder, the founder of Bite My Bun is a content marketer, dad and loves trying out new food with Japanese food at the heart of his passion, and together with his team he's been creating in-depth blog articles since 2016 to help loyal readers with recipes and cooking tips.